Art to help Katuwapitiya attack suvivors
By Ruqyyaha Deane
View(s):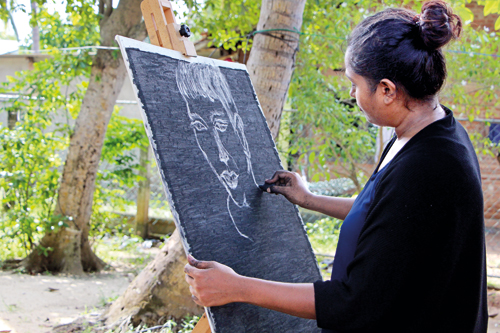 "We believe the younger generation of Sri Lanka is going to be the hope of this country and that is why we decided to reach out to the youth," says Founder of The Hope House of Ceylon (THHC) Pavithra Perera on the mission of her NGO.
Currently living in Netherlands, Pavithra  has been working on The Hope House of Ceylon for over three and half years using her background in law and international relations.
The Hope House of Ceylon will focus its efforts on providing mental health care and career training to youth as Pavithra came to the realisation that mental health is still largely stigmatized in Sri Lanka.
After the Easter Sunday attacks, The Hope House began to organise mental health care programmes for affected youth  through group activities with family and friends. Looking to highlight the importance of mental health during these trying times led to the concept of an art exhibition, says Pavithra.
An amateur artist who struggled with depression and stress herself, Pavithra discovered therapy in the form of art. She has used art to help the victims of the Katuwapitiya attack by drawing  portraits of those who survived.
"We all are born with similar faces, yet it is with the experiences we go through in our lives that can we see the change on our faces," says Pavithra.She has titled the exhibition 'Asymmetry', to highlight the importance of  understanding that people are different from each other.
'Asymmetry', will be the first official project of The Hope House of Ceylon. The exhibition will be on from July 17 to July 21 at the Lionel Wendt Art Gallery. Proceeds from the exhibition will go towards the mental health rehabilitation programmes that the organisation hopes to initiate.