Dengue on the rampage
By Kumudini Hettiarachchi
View(s):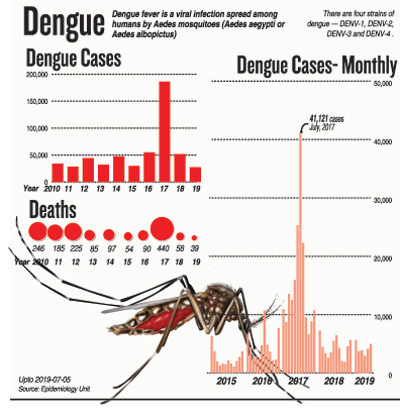 The dengue virus is once again rampaging through the country with the Western Province being the worst-hit.
"We have had 25,200 dengue cases in the first six months of this year (January to June 2019) with 39 deaths. Twenty of these deaths were in the Western Province. In June alone, around 7,000 people have been affected by dengue in many areas," Negombo Hospital's Consultant Paediatrician, Dr. LakKumar Fernando told the Sunday Times, quoting epidemiological data.
Dubbing the trend of dengue in the past three months as "a steady and rapid rise", this dengue expert pointed out that in April there were 3,000 cases, in May 4,000 cases and in June 7,000 cases. From April to June, the number of cases had more than doubled.
The red light of danger is shining that dengue is on the rise all over the country, he said, pointing out that currently there is an epidemic in Matara.
Even though there is a circulation of all the dengue virus types, the dominant one now seems to be Serotype 3, while there are a few of Serotype 4 as well, says Dr. Fernando, peering closely at the four dengue virus serotypes – DENV1, DENV2, DENV3 and DENV4. Last year, however, 92% of the dengue cases were due to Serotype 2.
Lamenting that preventive action seems to be coming quite late, like closing the shutters after the virus has gone all over, he reiterates that Sri Lanka does not seem to learn from past lessons.
He cites 2017, when Sri Lanka was caught in the vice-like grip of a major dengue epidemic. In the first half of the year, there were 100,000 cases and in the second half of the year too there were another 100,000 cases. So where was the preventive action at least in the second half of the year? There was none.
In the case of dengue deaths though, the pattern changed. There were 300 deaths in the first half of the year but the clinicians and hospitals managed to curb it to 100 deaths in the second half, he points out.
Dr. Fernando who feels that we seem to be following the same pathway down a slippery dengue slope this year too (as in 2017), urged not only strong preventive action but also effective follow-up action when there are dengue cases emerging from a particular area.
Pointing out that the signs from the first half of this year are not good, he says the rising dengue numbers seem second only to 2017.
Next he turns the spotlight on the behaviour of the dengue virus – every time a person gets a dengue infection, that person gets lifelong immunity to that strain or serotype. This is while gaining limited 'cross-immunity' to the other three strains for about six months to one year.
In 2017, men, women and children would have been exposed to DENV2, some falling ill and others being asymptomatic (10 times or more people were asymptomatic), it is learnt.
With that dengue spell of DENV2 in 2017, many people would have got lifelong immunity to DENV2 and cross-immunity to DENV1, DENV3 and DENV4. Now, that cross-immunity has worn off. With the likely culprit this time round (2019) being DENV3, people are susceptible once again, said Dr. Fernando, adding that the virulence may also increase.
This attack of dengue is likely to manifest as Dengue Haemorrhagic Fever (DHF), he warns.
'Impose Maximum Retail Price for FBC & NS1 Antigen Test'
The Full Blood Count test and the Dengue NS1 Antigen Test are too costly, says Dr. LakKumar Fernando, urging that a Maximum Retail Price (MRP) be set for them.Comparing the Dengue NS1 Antigen Test to a Full Blood Count (FBC) test, he says that even in the government sector, taking into account reagent and machine maintenance costs as well as the payment for medical laboratory technicians, an FBC is around Rs. 500. The NS1 Antigen Test is done on a test-kit with a drop of blood at the bedside, with no overhead costs.But private laboratories are charging as much as Rs. 2,300 or slightly more for these tests, the Sunday Times found after a round of calls.Dr. Fernando argued that even if a laboratory charged Rs. 1,000 each for these tests, it would make a 100% profit.

As a measure to better manage and control dengue, the government should impose an MRP on the FBC and the NS1 Antigen Test, says Dr. Fernando.

He cites the case of the 2011 dengue epidemic in Punjab, Pakistan. "The Pakistani authorities set an MRP of Pakistani Rs. 90 on the FBC and sealed any lab which overcharged the patients."
What you can do – at a glance
Here are some important suggestions by Dr. LakKumar Fernando who stresses that never should a fever be neglected. Many dengue deaths occur because people seek medical treatment too late.
Prevention –

Try as much as possible to prevent being bitten by mosquitoes – wear protective clothing, such as long-sleeved tops and trousers.
Use a mosquito repellent. Be aware of the biting times of the dengue mosquito – 6 to 9 in the morning and 3 to 7 in the evening.
Check the environs of your home, workplace, school and tuition class for mosquito breeding sites and clear them immediately. Be very cautious if there are construction sites as they are the ideal breeding grounds for these tiny mosquitoes.

Follow-up action –

If a patient has had dengue but has travelled, there needs to be immediate mopping up operations of mosquitoes and breeding places, with a rapid response.

If, however, you are ill –

If you have fever, the easiest way to find out whether you have dengue is by getting yourself tested with a Dengue NS1 Antigen Test. This blood test has to be done within 18-24 hours of the onset of high fever.
If the Dengue NS1 Antigen blood test comes out positive, go to hospital immediately and seek advice.

You may not necessarily need to be admitted to hospital, stresses Dr. Fernando, explaining that at the end of Day 1 of knowing that you have dengue, a full blood count (FBC) is a must. The FBC should be repeated at the end of Day 2 as well.
This will help to check out the trend of dengue by seeing the rapidity with which the platelets are dropping and the development of the disease.
Eg. If Patient A's Day 1 platelet count is 400,000 and Day 2 is 200,000, this would be considered rapid, as opposed to Patient B whose platelet count drops from 200,000 on Day 1 to 190,000 on Day 2.
Seeing this rapid trend of Patient A, he/she should be admitted to hospital.
If the platelet count drop is not rapid, the patient can be managed at home but with regular blood checks and being in touch with the doctor.

Just because the fever settles does not mean that you have overcome dengue, reiterates Dr. Fernando. You need to feel fit and not lethargic or weak. Even if the fever has settled but you are not feeling well, you need to get admitted to hospital.
DG explains action being taken to keep dengue at bay

A concerted effort is being made to keep dengue at bay, stresses the Director-General of Health Services, Dr. Anil Jasinghe, explaining that unfortunately this is the season for dengue.

He explains that dengue usually starts in the major cities (urban areas) and is taken to the villages (rural areas) when the migrant worker populations move back and forth.

Zeroing in on construction sites, he says that with concrete having to be kept wet, there is a major dilemma as they turn into mosquito breeding grounds.

"We have now made contractors aware that they should either keep their sites dry and free of water collections or apply larvicides to water collections that are essential for the work," said Dr. Jasinghe, adding that working closely with the Registrar of Pesticides, the Health Ministry has secured approval for five larvicides which are now available for sale with pest control companies. The ministry is also in close touch with the Construction Industry Development Authority (CIDA) to get its message across to contractors across the country.

Simultaneously, we are carrying out multi-pronged activities such as public awareness campaigns both at ministry level and Medical Officer of Health (MOH) level, he said citing Piliyandala where the MOH will conduct a campaign on July 13 and 14.

Another aspect is entomological studies (the scientific study of all stages of the dengue mosquito), while also meeting other major players such as the local government stakeholders, it is learnt.

With some (large construction sites or even schools) being lackadaisical in complying with dengue control measures, we may be compelled to "name and shame" them, pointed out Dr. Jasinghe.
Matara hospital facing dengue onslaught

The Matara District General Hospital is facing a major dengue onslaught and is struggling to cope with the flood of patients coming in, the Sunday Times learns. Patient numbers reveal all – usually, the hospital gets around 60 dengue patients monthly, but in June it had to treat around 250 dengue cases, both adults and children.

"In the past five days of July, we had close to 100 dengue patients (adults and children)," said Consultant Paediatrician Dr. Saman Abeywardana when contacted by the Sunday Times last morning.

The situation is "alarming" because the 1,059-bed Matara Hospital does not have the necessary facilities to deal with the dengue crisis which is likely to worsen with the monsoon setting in, sources said.

The excuse for not upgrading the facilities and infrastructure is that the hospital will soon be re-located at Kamburugamuwa, it is learnt.

But this is an excuse that has been given from 2007, more than 10 years ago, sources confirmed, which has not panned out and it is the patients who are suffering.

The Matara Hospital caters to the whole of the Matara district, with patients from far-off areas including Deniyaya, Walasmulla, Kamburupitiya and Beliatta seeking treatment here.

Dr. Abeywardana lamented that the High Dependency Unit (HDU) where they monitor the dengue-hit children who go into the critical leaking stage has only three beds.

"My ward has 15 children with dengue currently, five of whom started leaking. Luckily, two have recovered but three more are still in this stage," he said, worrying what would happen if more children in this stage come to hospital.

A basic need in dengue critical phase management is a multi-monitor, which keeps track of parameters such as pulse, respiration, blood pressure and oxygen saturation, said Dr. Abeywardana, concerned that he had only three such monitors. "We can save many lives and also strive hard to have a dengue zero death rate if we have these basic facilities."

Such monitors and HDU beds are also needed by children with other serious illnesses, it is understood.