Rodney Perera assumes duties as Sri Lanka's new Ambassador to the US
View(s):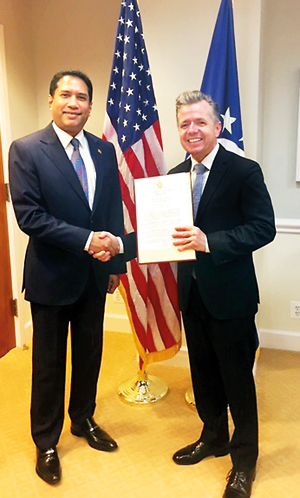 Rodney Perera assumed duties as Ambassador of Sri Lanka to the US, on Monday, ending a 22-month hiatus in the ambassadorial post at the Sri Lanka embassy in Washington DC.
Prior to this appointment, Ambassador Perera was Sri Lanka's Ambassador to Belgium, Luxembourg and the European Union (EU).
After assuming duties at the Sri Lanka embassy, Ambassador Perera expressed his hopes that relations between the two countries would be further strengthened and expanded, encompassing all conceivable areas of interest, during his tenure.
He also requested all staff to redouble their efforts and rededicate themselves to serve the motherland with commitment, determination and steadfastness, while emphasising the importance of keeping members of the Sri Lankan community engaged at all times, with a view to promoting Sri Lanka's image and interests in the host country.
As a career diplomat, Ambassador Perera is a member of the Sri Lanka Foreign Service for over three decades. He held senior posts in Sri Lanka Missions abroad and in the Ministry of Foreign Affairs. He held the post of Additional Secretary and was the Ministry Spokesman from 2013-2014. Ambassador Perera also served as Sri Lanka's Ambassador to Norway from 2009-2012 and to Italy from 2003-2007.
Ambassador Rodney Perera holds a Master's Degree in International Relations from Columbia University, New York. He is also the recipient of "Grande Ufficiale-Ordine Della Stella Della Solidarieta" (Grand Officer of the Order of the Star of Italian Solidarity)- highest Italian civilian honor bestowed by the President of the Italian Republic, in May 2007.