'Rocket Man' Brings Elton back to life
View(s):

Rocket Man' is a 2019 biographical musical film based on the life of the popular musician Elton John. Directed by Dexter Fletcherand written by Lee Hall, it stars Taron Egerton as John, with Jamie Bell, Richard Madden, and Bryce Dallas Howard. The film follows John's early days as a prodigy at the Royal Academy of Music up to his eventual musical partnership with Bernie Taupin. The film is titled after John's 1972 song 'Rocket Man'.

Released on Friday, 17th May, 'Rocket Man' is now screening at the Liberty Screen 1 and at the Scope Cinema complex at the Colombo City Centre.

Rocket Man premiered at the Cannes Film Festival on May 16th,  2019, and is scheduled to be released in the United States on May 31st, 2019 and was released in the United Kingdom on May 22nd, 2019 by Paramount Pictures. The film received positive reviews from critics, with Egerton's portrayal of John receiving a generally favourable reception. It is also noted as being the first major Hollywood production to show gay male sex on-screen

Rocket Man is an intimate portrait of the life and times of English musician Elton John, from his early years at the Royal Academy of Music to his ascension as a legendary artiste and cultural icon. The film follows the fantastical journey of transformation from shy piano prodigy Reginald Dwight into international superstar Elton John. This inspirational story — set to Elton John's most beloved songs and performed by star Taron Egerton — tells the universally relatable story of how a small-town boy became one of the most iconic figures in pop culture. ROCKETMAN also stars Jamie Bell as Elton's longtime lyricist and writing partner Bernie Taupin, Richard Madden as Elton's first manager, John Reid, and Bryce Dallas Howard as Elton's mother Sheila Farebrother.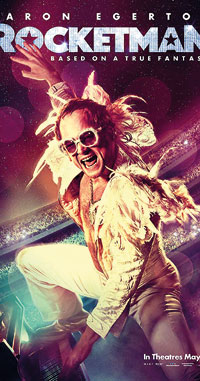 Would it be giving Rocket Man too much credit to assume that the filmmakers behind this Elton John biopic (who include executive producer Elton John) are at least faintly aware of their film's hoariness. The movie opens, like so many musical biographies (and one timeless spoof) before it, with a famous singer reflecting on the ups and downs of his life. But when Elton John (Taron Egerton) marches into a 12-step-style recovery meeting in a gray, nondescript room, he's wearing an enormous, winged devil costume, as if he just stepped off the stage at the Nassau Coliseum. The movie at least has the decency to wink at the blatant artifice of the structure it's assembling.
Director Dexter Fletcher is familiar with biopic artifice; he recently took over the final stretch of filming on Bohemian Rhapsody after Bryan Singer got himself fired, and he previously teamed with Egerton on the true-life underdog sports story Eddie The Eagle. He knows that boilerplate for a movie like this must include fraught parental relationships, in this case young Reginald Dwight's vaguely disinterested mom (Bryce Dallas Howard) and extremely distant, then entirely absent dad (Steven Mackintosh), who offer little in the way of encouragement of his prodigious piano playing. But Reggie qualifies for a scholarship, changes his name, and in casting about for a music-biz career gets paired with lyricist Bernie Taupin (Jamie Bell). Fame, fortune, and desperate attempts to feel properly loved ensue.