'Purana Gama': Recreated ancient village for future generations
View(s):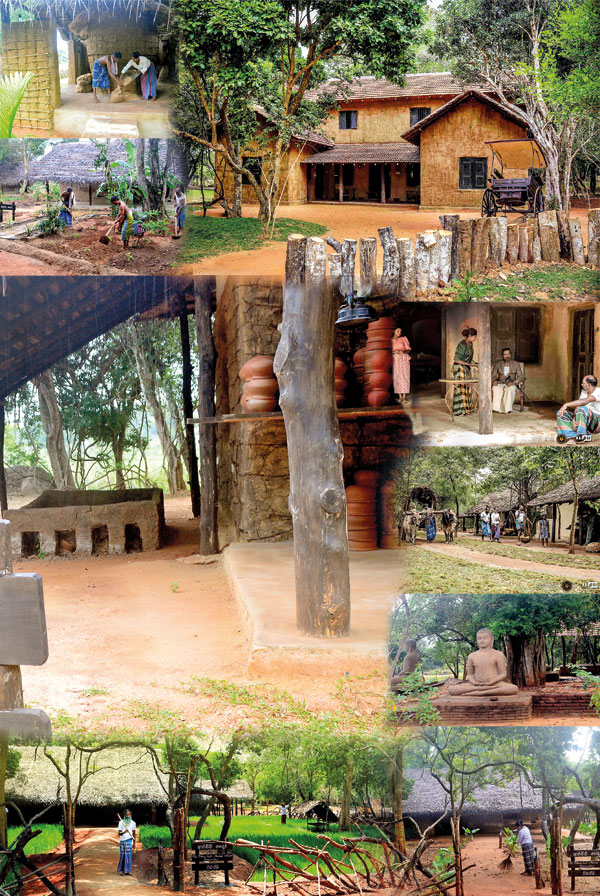 Anuradhapura is one of the biggest conventional tourist destinations in the country and is the most adored living heritage city of Sinhala Buddhists of Sri Lanka. It has become a central hub for both Sri Lankan religious travellers and foreign travellers to explore the surrounding area. It is the home to preserved ruins, renovated great Buddhist shrines and massive man-built rainwater reservoirs.
The human settlements around the great reservoirs had created new subcultures amongst the main Sinhala rural order and traditions.
'Nuwara Kalaviya' was a newly created settlement in Anuradhapura district nourished by the three lakes: Nuwara Wewa, Kala Wewa and Padaviya Wewa, where the concept of traditional village doctrine was stretched out in an early epoch of the 19th century. This new sub culture was created by the people from Kandyan kingdom, who escaped the harassments and suffering due to British rule in Kanda Udarata.
This dying culture is now re-created in Nochchiyagama, Anuradhapura as 'Purana Gama' (Ancient Village), the latest tourist attraction. Set up in an eight acre land, 'Purana Gama' is a brain child of B. Chandrasiri, the creator of the Golden Award winning Forest Rock Garden Resort, Anderawewa.
'Purana Gama', opened in June 2018, is reincarnation of old Sinhala village culture in the modern time as a tourist Resort.
'We created this village to offer the traditions and day to day rural life experience to outsiders of the country as well as, for Sri Lankans, who has never experienced such lifestyle' said B. Chandrasiri, Managing Director of the Purana Gama Project.
'Purana Gama' features twelve traditional village houses from Korale Gedara, Arachchi Gedara, Govi Gedara to Guru Gedara. All housing units comprises two rooms with all modern amenities including A/c, en suite modern bathroom.
'Only up stair house is Korale Gedara, the village headman's house has three rooms. All rooms have built with traditional Sri Lankan architecture using clay to cover the walls. All housing units are according to the respective livelihood of the house owner' explained Priyantha Udaya Kumara, the Manager of the Purana Gama.
Wadu Gedara, Hetti Gedara, Badda rala Gedara, Wele Gedara, Redi Gedara, Devol Gedara, Yak Gedara and Nekath Gedara are the rest of the housing units with two rooms each totalling 24 luxury bed rooms. 'Our staff wears traditional uniforms- redda, hette and sarong and even guests are encouraged to wear sarong and other traditional cloths. The guests would be picked up in bullock carts at the reception and taken to the Gama' Priyantha added.
The main restaurant is named 'The Kade', Roti Kade and bath Kade' are open sky and interior dining areas. Kamatah, Ambalama, Kadamandiya, Pinthaliya and Pansala are other traditional entities connected to the village.
'All kitchen utensils, restaurant and dining items are made with traditional clay. A typical village pola, fish market and tea kiosk too is created along with other traditional themes to take guests mind back to the ancient era' Manager Priyantha said. Cuisine is strictly traditional Sri Lankan food and 'Village Ammes' cook the authentic 'Nuwara Kala Viya' food that can enjoy and discover the secrets behind the preparations.
"We serve only authentic Sri Lankan cuisine and I am sure some of the dishes are not experienced or even heard by Sri Lankans. Kurakkan Thalapa and pittu with lake fish, traditional rice with polos and mixed kola mellun and thibbatu, manioc with kochchi are some of the popular dishes' he added.
Apart from experiencing the heritage aspect of Purana Gama, it is surrounded by history and religious attractions. Purana Gama is just 40 to 60 minutes away from the country's largest parks, Wilpattu, Minneriya andKaudulla National Parks.
Kala Wewa, Avukana, Ritigala, Hurulu Wewa Park and Thanthirimale are just one to two hours drive away from the Purana Gama. The popular attraction is the ancient rock monastery in the area 'Isin Bessa Gala' (where the rishis landed) off Medawachchiya.
For more details contact 0777443812, 0777708788, 0763594769 or log onto
www.puranagama.com
Pix by Neil Siriweera