Bringing 'Aladdin the ballet' to life
Cast members of the Deanna School of Dancing chat with Sashini Rodrigo on the upcoming production
View(s):
If Rishika Seneviratne had been handed a magic lamp when she was a little girl, her wish would've simply been to pick up ballet. Genie or not, her wish did come true when she was two years old. Rishika was among the several 'Aladdin the ballet' cast members who shared their story with us this week. The show, which is being put together by the Deanna School of Dancing, will take place on May 31 to June 3 at the Bishop's College Auditorium from 4pm onwards.

"I realized I wanted to dance as soon as I learned to walk, I think! When I learnt to take my first steps, I was skipping, dancing, laughing," Rishika recalls. She will be portraying the lead role 'Aladdin', together with Inara de Silva.
Rishika has been dancing at the school for the past four years. She tells us dance is her everything. "I can go into that magical world that no one knows except me and I'm the only one who can enter." Back at school, for Rishika who is not a talkative person, dancing is her way of showing her emotions, and relating a story.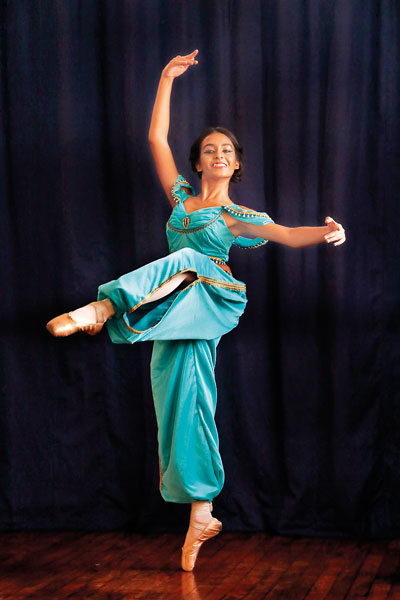 As the other young ballerinas go about their stretching, Inara joins our conversation. Aside from the moves, Inara also loves dance because of the friendships she's made over the years. In fact it was through 'Aladdin' that she found a good friend in Rishika. "I met her recently but she's like a sibling to me now," she says.
The pair describe 'Aladdin' as a mischievous person, who enjoys getting into trouble with his monkey 'Abu'. Although he is a lonely person in general, he wishes for a luxurious life like the princes and princesses in other kingdoms. Despite all of this though, Aladdin still remains playful, sassy and flirtatious, according to them.
Together they hope to portray 'Aladdin' by making the audience a part of it. "Expect the unexpected," they tell us while adding the audience can expect a show they've never seen before.
Rishika will be portraying Aladdin on May 31 and June 2, while Inara will take over the role on June 1 and June 3.
'Princess Jasmine' forms an integral part of the story as the other main leads. Unlike most monarchs in the story though, she is much more free, playful and mischievous by nature. She is portrayed by Lisara Gallage (16) and Shanaya Pereira (16).
Just like their character, both Lisara and Shanaya have bubbly personalities which makes it easy for them to fit into the role. The pair found their dancer's feet at the age of two and have continued since. "We feel free, when we do the steps and present ourselves," they tell us.
Their friends often think of the two as twins, we are told, and it comes as no surprise because this is the seventh show in which they will be portraying the same character. This time around too, they hope to deliver a stellar performance and hope their audience will be surprised and enjoy the show to the fullest.
As the two Jasmines go back to their routine, we are introduced to Sethumi Wickramamunige (10) and Ariyanna Gunasekera (10) who will be portraying 'Abu', Aladdin's faithful monkey. Dressed in their brown onesies, the two little monkeys tell us ballet to them is a form of self-expression.
"I love all the poses and techniques that you do and when you get really good at it, you'll be able to do very well. It's a very graceful thing to do," Ariyanna explains. Sethumi on the other hand enjoys going to watch ballets all over the world. With a serious look on her face, she tells us she looks forward to dancing on pointe shoes as she gets older.
Abu is a lot of silly things put together, and they enjoy playing him because he is both mean and kind at the same time. Pix by M.A. Pushpakumara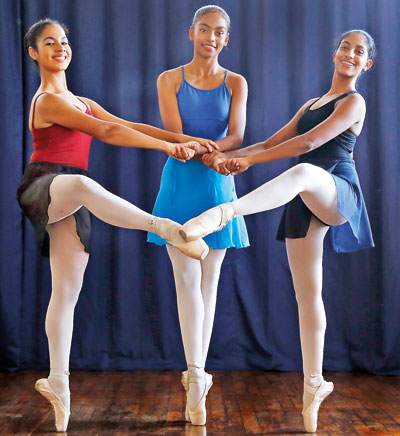 Both Ariyanna and Sethumi find themselves lucky to be portraying this character and are looking forward to the show, along with the entire cast of over 600 students at Deanna's School of Dancing that will be taking part in what promises to be a truly magical production.
Tickets are priced at Rs. 3,500, Rs.3,000, Rs. 2,500, Rs.1,500 and Rs. 1,000