The birth, growth and spread of IS terrorism in SL
By Our Political Editor
View(s):
President Sirisena leaves for China tomorrow
Zahran prepared for a second wave of attacks
Former US Ambassador Blake plays role of peace broker
Speaker reveals plot to attack parliament on April 21
At least a section of the government – those with the Presidency – appear to believe that the worst is over after the April 21 Easter Sunday carnage. This has in no small measure fueled euphoria and even overconfidence in them.
In reality, the armed forces and the police through a coordinated campaign against IS-backed terrorists are slowly but surely, unravelling those behind a ruthless network, their financial operations backed by foreign sources and those operating under cover. That continuing process is time consuming. More importantly, the focus is entirely on operational aspects of all that happened. What of the other key aspects? Who are the political masterminds including government politicians who allegedly aided, abetted, raised funds and defended those involved? This has not received attention so far, not even a probe. It is no secret that powerful elements are stifling them.
What is the degree of foreign involvement and leadership that helped build a carefully thought out process of recruitment and mental inculcation for suicide bombings?  Would threats emanating from an international terror group — which has been resisting some of the world's strongest military forces such as those of the United States — succeed in building a terror machine in Sri Lanka and accomplishing targets to its liking, simply fold up after just one bloody rampage? Have the names of those key persons behind the copper factory at Wellampitiya, that provided the inputs for bomb making, been identified? Did they use a retired intelligence officer for a cover-up?
Police are only now probing their own blunder – how bail was given to nine suspects working at the factory. Just another of the comedy of errors they are causing every week. There were more, too. The detection of a mere jacket worn over a T-shirt was branded a suicide jacket. Bare land in some areas were identified as "training camps" making them a laughing stock among their counterparts. High time the acting Police Chief Chandana Wickremeratne worries about his own Department's credibility.
Thanks to the armed Forces and even the Police who moved in after the carnage, there is public confidence. It is their role that is helping in the gradual return of an air of normalcy, for businesses to resume, for offices to open, for banks to do business and even politicians to engage in their popular art — make contradictory or ill-informed statements on the intricacies of international terrorism. Yet, none of the security bosses or the acting police chief has declared so far that there was normalcy and IS terrorism is a thing of the past in Sri Lanka. They know they cannot say so just yet.
The main force, in the counter-terrorism exercise after April 21, is the Sri Lanka Army. Its Commander Lt Gen Mahesh Senanayake has been working late hours in the campaign together with Navy Chief Vice Admiral Piyal de Silva, Air Force Chief Air Marshal Kapila Jayampathy and the acting Police Chief Chandana Wickremeratne.
This new terrorist phenomenon is not something unusual for a country like Sri Lanka, which has suffered under separatist terrorism for nearly three decades. That, too, from a group more sophisticated than the pro-IS extremists. After a major attack, it is a pattern for guerrillas to maintain a lull on the operational front. This is when the alertness of the Security Forces and Police is at maximum with stringent security measures at peak. They seize the opportunity when such high levels of security inevitably drop. Geographically, the Tiger guerrilla terrorism was centered largely on the North and the East, their so-called homeland. They did carry out sporadic attacks every now and then on targets elsewhere. In the case of the IS-backed terrorists, the attacks on six different targets on April 21, show a larger footprint.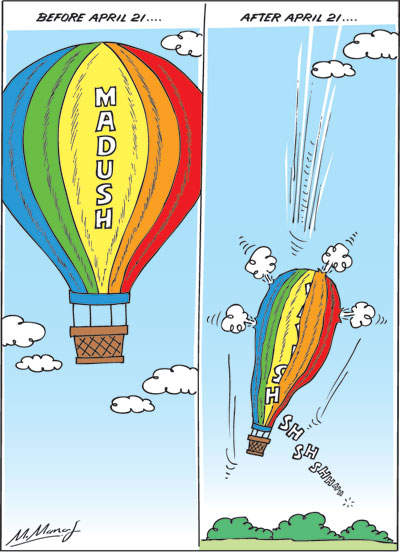 This is where the remarks of President Maithripala Sirisena to the diplomatic community and UN agencies last Tuesday become cause for very serious concern. "Ninety-five percent of the terrorist suspects have already been arrested or accounted for and only two or three suspects are to be apprehended," he declared. He said he was confident that with the help of foreign intelligence agencies, "the threat of terrorism could be curbed very soon." Therefore, President Sirisena made the unusual request to the envoys to lift travel restrictions. It is the sole prerogative of the countries concerned, which have their own channel for feedbacks from Sri Lanka, coupled with their own intelligence inputs, to take such a decision.
If President Sirisena's statements are to be taken seriously, only a meagre five percent of the IS terrorism remains to be tackled and he assures "they will end very soon." He later raised it to 99 per cent when he spoke in Parliament leaving only a minuscular one percent. Chief of Defence Staff (CDS) Admiral Ravindra Wijegunaratne gave a power point presentation and provided the names of those who were now being sought after. The Thai Ambassador Chulamanee Chartsuwan asked whether a list of wanted persons could be made available to her. She wanted to on pass them to her government for action. President Sirisena agreed that it could be done confidentially. A UN official said some countries had agreed to take some of the Ahmadi Muslim refugees who had come here from Pakistan and sought asylum from the UN refugee agency. They have left their homes in Negombo fearing attacks. Some crowded a garage at the Negombo Police Station. She did not name the countries and said the matter was still being worked out.
Unfortunately for Sri Lanka and its people, President Sirisena is alone in making the assertion that the IS terrorism in Sri Lanka would "end soon." Quite understandably he wants normalcy soon, but that sends a wrong message. He even brushed aside advice from members of his family to delay the wedding of his son. He argued that would show the world there is still no normalcy. Therefore, he held a wedding ceremony at the Colombo Hilton under a very heavy security cordon. His son Daham married Nipuni, daughter of Athula Weerarathne, the owner of Elcardo, an aluminum products company. Except for family, friends and select prominent businessmen, no politicians were invited. There were businessman Harry Jayawardena, Dhammika Perera, Sumal Perera, Raja Mahendran and Ashok Pathirage among them. The wedding was originally scheduled to be held at the Shangri La Hotel. The hotel management of this hotel sought time from Sirisena, after he met representatives of the business community on May 6, to apologize over the inability to host the wedding.
The Colombo Hilton was like a fortress. Hundreds of troops surrounded the hotel complex and visitors there were frisked. The roads were blocked off, some areas by lining up buses to form a wall. Plainclothesmen swarmed the environs of the five-star hotel in Fort. Funny enough, some came in three-wheeler scooters which they drove.
President Sirisena's partner in governance, the United National Party (UNP)-led United National Front (UNF) does not claim the IS menace would end soon. Instead, many of its ministers are still laying the blame on Sirisena for not acting on intelligence warnings. The President claims he was unaware. On Friday (May 3) Prime Minister Ranil Wickremesinghe did not take part in a meeting of the National Security Council (NSC) though he was invited. Such meetings are taking place at least three times a week now.
Contradictory statements
President Sirisena and Premier Wickremesinghe were also contradicting each other. President Sirisena told Parliament last Tuesday, "Our intelligence services are doing a good job — 99 per cent of those responsible have been arrested and within the next three days the rest of them will be taken in." However, Premier Wickremesinghe declared on the same day, "As I have mentioned on several occasions the threat is not over as yet. This is because we are subjected to global terrorism.  Though persons involved have been arrested in Sri Lanka, there are other ways these terrorists can intervene in Sri Lanka."  This view was in fact endorsed by Field Marshal Sarath Fonseka, the man who led troops to military victory against Tiger guerrillas, in May 2009. Speaking in Parliament on Wednesday, he declared that it would take a minimum of two years to eradicate the new terrorist menace. The contradictory remarks prompted Opposition Leader Mahinda Rajapaksa to say in Parliament that the government should speak in one voice. The bitterness between the two ruling leaders is so high it would be much easier to put a Sri Lankan on the moon.
President Sirisena also told the weekly Cabinet meeting on Tuesday that the main IS-backed terrorist cell in Sri Lanka had been busted. He appears to have taken a leaf from former US President Barack Obama. On no occasion did Sirisena refer to IS or ISIS in his Sinhala speech. Instead he made reference to Akuru Dekey Sanvidanaya and Akuru Hatarey Sanvidanaya or the two letters as well as four letter group.
At the same cabinet meeting, there was also an incident which highlighted that all was not well within the UNP. Ports and Shipping Minister Sagala Ratnayake had presented a cabinet memorandum to increase port tariffs. First to raise objections was Minister Malik Samarawickrema. He said President Sirisena had told a meeting of business leaders on May 6 that he would not impose any more tariffs. Minister Ratnayake's proposal, he said, would go counter to the assurances given by the President. That saw Samarawickrema having arguments with with both Minister Ratnayake and Premier Wickremesinghe. At the end, the cabinet memorandum was not approved. The issue became the talking point at the highest levels of the UNP as internal feuding is reaching newer levels.
It is in this uneasy backdrop that President Sirisena, perhaps confident that nothing untoward will happen or prompted by a sense of urgency, leaves tomorrow for a visit to Beijing, the Chinese capital. Though the visit is from May 12 to 16, he will stay in Beijing for a meeting with his Chinese counterpart Xi Jinping. He will also have a meeting with Chinese Prime Minister Li Keqiang.
Officially he is expected to take part in a "Conference on Dialogue of Asian Civilizations" that will open on Wednesday – an event attended by 2,000 government officials and representatives from 47 Asian countries.
The sudden visit has raised eyebrows in diplomatic circles in Colombo. The political heat generated by the Easter Sunday carnage has not cooled down. Questions are being raised over the urgency of the visit with unverified claims by sections backing the presidency that the IS attacks were aimed at stifling China's Belt-and-Road Initiative (BRI). These sections confirmed President Sirisena would discuss matters arising from the carnage and brief Chinese leaders on the steps taken so far by his government. Among those killed in the April 21 Shangri-La hotel blast were four Chinese scientists from their Oceanographic institute. They were in Colombo as part of their BRI programme.
The backdrop to the visit is the rapidly mounting military tensions this week between the United States and China. It comes just weeks after Admiral Philip Davidson, Commander of the US Indo-Pacific Command, testified before the Senate Foreign Relations Committee. In his statement Admiral David renounced Beijing and called for stronger US-Sri Lanka military relations. Among the highlights:
"….. Sri Lanka has handed over the deep water port of Hambantota to China on a 99-year lease due to its mounting debts to China, which has caused international concern. Despite the political upheaval, it is in our interests to continue military collaboration and cooperation with Sri Lankan Forces. USINDOPACOM cooperation with the Sri Lankan Military centres on building capacity in maritime security and maritime domain awareness, humanitarian assistance and disaster relief as well as humanitarian demining, medical assistance, and peacekeeping operations….."
Among other matters President Sirisena proposes to discuss, sources close to the Presidency said, would be projects over which he is seeking assistance from China. They include ones which he wants China to set up in the Polonnaruwa District. Among them: a housing complex, a water project, a modernised railway line and an irrigation project. Some of the Chinese companies and a leading business conglomerate, which has access at the highest levels, have laid the ground work. These sources said some of the proposals awaiting fruition were unsolicited. One of the Chinese companies vying for a project was in the eye of a controversy and a local official involved is hiding. In fact, Interpol assistance has been sought to track him down.
The fact that President Sirisena has prioritised plans to further develop Polonnaruwa, his home turf, makes it evident that he had no plans to call for an early presidential election. He wants to make sure the new projects are fast tracked too in the belief that it would generate employment and more votes.
Winning such votes, particularly for those on both sides of the government, the President and the UNF, is an extremely challenging task. Their internecine battles, as bad as fighting IS terror if not more, are at a peak and the resultant developments have had an adverse impact in many areas. One such area is the Catholic Church whose devotees, innocent men, women and children, were the targets of the terrorist attacks. The matter came up for discussion at the Bishops Conference held at the Archbishop's House this week. The special invitee for the event was Opposition Leader Mahinda Rajapaksa. Speakers were strongly critical of both President Sirisena and Premier Wickremesinghe.
At least two of them said that they should democratically work towards the establishment of a new government since the duo have let down the Catholic community. One speaker was to note that a winning political party could work with moderate and responsible Muslim politicians. A Muslim minister from the Mannar District, who even operates a Tamil language television station, came in for severe criticism for the alleged support he had extended to IS extremists.  They lamented that no action has still been taken against him.  On Friday, soon after the poruwa ceremony of his son, President Sirisena drove to Archbishop's House in Borella for a meeting with Cardinal Malcolm Ranjith. Then he hurried back to Colombo Hilton. Such was the significance the President attached to meeting the Catholic hierarchy in Sri Lanka.
Here again, it is President Sirisena who is personally engaged in an offensive to say there is near normalcy in the country. He was to assure the prelate that the security situation had vastly improved and urged the resumption of Sunday mass in Catholic churches. He also urged the re-opening of Catholic schools. Cardinal Ranjith held a news conference where he announced Sunday mass would resume from today. He said he would review the situation before re-opening schools by May 14 so they could do so the next day if he felt the security situation was suitable. Otherwise, he said, it would be after the Vesak holidays.
SLPP-SLFP dialogue
The Easter Sunday carnage also did not auger well for the SLFP delegation that met their SLPP counterparts at the Opposition Leader's office at Sir Marcus Fernando Mawatha on Thursday. There were only two representing the SLPP – G.L. Peiris and Jagath Agalawatte. Dullas Alahapperuma was away in Matara attending a function. The SLFP side included General Secretary Dayasiri Jayasekera and Thilanga Sumathipala.
Dr Peiris began the dialogue by saying that at this stage there was no purpose in talking other issues. National security, he said, was of utmost priority. He said they could discuss that matter. Dr Peiris, the token leader of the SLPP, said that there was no purpose in discussing security issues without referring to Prime Minister Ranil Wickremesinghe's plans to push through the Counter Terrorism Bill. He said even Opposition Leader Mahinda Rajapaksa had asked for a Parliamentary Select Committee to examine the draft in detail. In fact, Defence Ministry officials who took part in the Parliamentary Oversight Committee meeting last Tuesday opined that there was no need for new legislation. They said that the present laws and powers vested in the President were adequate. They said that they were also opposed to many other provisions in the draft.
Then came the unexpected shock at the SLFP-SLPP talks. At least one SLFP member kicked into the party's own goal. They were complaining of the leadership deciding on one thing in the morning and changing it in the evening. Their lament somewhat moderated Peiris's stance. The meeting adjourned just after half an hour. They agreed to meet on May 30. Both sides seem wanting to keep the dialogue going, however aimless it is for now.
Herein lies a very important factor which can change the political landscape of the country. As is clear, most SLFP parliamentarians are disgruntled. This is also evident from the absence of any one of them when President Sirisena met an Opposition delegation or even Cardinal Malcolm Ranjith. They were scarcely identifying themselves in Sirisena's public appearances. The reasons are many. A few of the SLFPers, former ministers, are continuing to use their official vehicles though they are not ministers any more. However, they are now shaken by another event.
This is after the Colombo High Court Judge Gihan Kulathunga on May 6 sentenced P.H. Piyasena, former Tamil National Alliance (TNA) MP for Digamadulla District, to four years rigorous imprisonment for misusing his official vehicle, without returning it upon being unseated as an MP.
The vehicle used by Anuradhapura District parliamentarian and former Minister Duminda Dissanayake has been withdrawn. It has forced him to use an old Land Rover to travel around Colombo. Of course, he has been identified by the SLFP leadership as pro-UNP.  There is an issue over the official vehicle now used by former minister Mahinda Amaraweera, General Secretary of the United People's Freedom Alliance (UPFA). A Cabinet Paper is now being formulated to make a case for Ameraweera to retain his official vehicle.
This is on the basis that he is the Opposition Whip. What of the others? They complain that they have no political future remaining in the SLFP for fear of defeat at a parliamentary election. Thus, some are veering towards the SLPP and are already making informal soundings. Naturally, such a move would further isolate President Sirisena. Needless to say, such a move would further strengthen the SLPP at a time when the UNF has also become increasingly unpopular and is riven by mounting internecine battles.
Another factor that was cause for concern was a revelation made by Speaker Karu Jayasuriya when he met party leaders on Monday, just a day ahead of the Parliament debate on the carnage. He began by urging leaders to tell their MPs to "behave in a civilized manner" during the debate. He said that Parliament was to be attacked on Easter Sunday April 21 at 7.29 a.m. He said it was unclear why they picked on a Sunday since none of the 225 MPs would be present in the House. He said the Australian government had donated new security equipment for use in Parliament. For some time both Ministers and MPs would be subject to searches, he added.
The plot to explode a bomb in Parliament was uncovered on April 24 at Kirimetihena in Balangoda following a Police search operation. Nishardeen Nizalam (27) was arrested allegedly in possession of three mobile telephones, 13 SIM cards, two T-56 rounds of ammunition, six entry passes to Parliament and a sketch of the internal roads in the Parliament complex. Police also found a hidden compartment in the Double Cab Nizalam was using.
Other Police investigations from Colombo have revealed that the suspect taken into custody was a friend of a contractor who had been given the task of reconstructing the road network inside the Parliament complex.  The contractor had earlier sought a map. The examination of the passes had revealed that they were outdated. Police suspect that IS backed terrorists had wanted to attack Parliament, which was not sitting that Sunday, for symbolic reasons, to generate publicity and demonstrate their strike capability. However, it failed.
The Sri Lanka Army's knowledge base of links by Sri Lankan Muslim youth with the ISIS, an investigation by the Sunday Times, revealed is the main cause for the Army's rapid success in unravelling new activity. The information has been collected by the Army's Intelligence arm together with systems that were upgraded during the near three decade long separatist war. The recent story goes back to July 2015 when five Muslim youth joined the ISIS together with their immediate families, numbering 34. It came to light after a person identified as Nilam was killed in combat in Syria. The closely knit group's 34 members had been moving between Iraq and Syria and later operating in Syria. It transpired that an IS 'military' instructor came to Sri Lanka and circulated on the internet various messages to Muslim youth. The theme of this exercise was mental inculcation of IS ideology.
Army trails pro-IS group
The Army began monitoring one social group which was closely connected. Upon reading material on the internet, the comments viewers posted showed they endorsed IS ideology and have been consumed by the propaganda. Views expressed were extremist. It is this group that morphed into Jamiathul Millathul Ibrahim (JMI). It was headed by Umar Mohamed who is now in custody. He is spilling the beans. Towards the end of 2017, divisions erupted in JMI. The issue was over whether they should carry out attacks in Sri Lanka or not. Leader Mohamed had objected and said they should go and fight shoulder to shoulder with "brethren" in Syria. The in-fighting led to a breakup of the JMI.
A small group broke away and did not attend JMI meetings. They took up the position that they would not interfere with other groups with their policy being "live and let live." Later, they joined the National Thowheed Jamaath (NTJ) which was led by Mohamed Cassim Mohamed Zahran. This group came into being in 2016 after they were identified by two different names earlier – in 2012 as Sri Lanka Thowheed Jamaath (SLTJ) and earlier as All Ceylon Thowheed Jamaath (ACTJ), the oldest. In March of 2017, Zahran who was wanted by the Police went missing. From an unknown location he kept on posting highly inflammatory and extremist IS material on the internet. His Facebook account too contained such posts and video footage. He exhorted the killing of what he called infidels or non-Muslims, a barbarous act which goes against the basic tenets of Islam.
A leadership crisis broke out in the NTJ. A section accused Zahran of being a sex maniac, of misappropriating money and being exceedingly aggressive.  Yet, he was backed by the majority. In his absence Thowfeek Mowlavi became acting leader. Some investigators believe Zahran went to South India through illegal means and was hiding there. However, they have no evidence to confirm this. Joining them was a third person – Mohamed Nowfer from Qatar. He has been posting IS materials directed at Sri Lankan Muslim youth when he was in Qatar. Later, in Sri Lanka, Zahran and Nowfer together continued to upload IS video material on the internet. Nawfer has now been arrested in the Kingdom along with another key member Milshan from Saudi Arabia.
Not surprisingly, Dayasiri Jayasekera, the General Secretary of the Sri Lanka Freedom Party (SLFP), President Sirisena's party, told a news conference in Colombo this week that Qatar and Saudi Arabia were funding terrorism. The Sunday Times asked the envoys of Qatari and Saudi Embassies in Colombo to respond to these accusations. An e mail sent to the former and a fax message to the latter, at the request of their respective personal secretaries, went unanswered.
Other than the hard-core cadres taught in Iraq and Syria, the training for local recruits had been minimal and lasted only three or four days. Zahran who conducted them in areas such as Aruppola (Mawanella), Nuwara Eliya, Hambantota and Malwana focused on mental inculcation. His brother Rilwan had been well trained in bomb manufacture and died in the blasts at the safe house in Sainthamaruthu. He has had several injuries to his fingers when testing explosive devices in 2018. Also explosive experts were his other brother, Zain. Contrary to Police claims there have been no training camps like the ones used by Tiger guerrillas.
When Zahran re-appeared, he cunningly ended the leadership crisis. He circulated among Thowfeek, Naufer and Milshan a video. It said that Thowfeek, evidently a non-Sri Lankan did not have a visa. Hence a foreign sounding voice said Zahran would be the leader of the NTJ. The voice also said that more youth should be recruited and trained. There were arguments back and forth. One side was in favour of training cadres and sending them to Syria. The other backed by Zahran insisted that they should go ahead with plans to take on targets in Sri Lanka. With enormous financial resources at their disposal, surveillance of targets began. It was only on Friday that Police arrested a leading tea export firm's employee who held Rs 89 million in a bank account for use by extremist Muslim IS groups.
One of the five members whom the Army identified in July 2015 as fighting with the IS was Mohamed Aroos. He has been in regular contact with Zahran by telephone and has been helping the latter. Aroos has since been taken into custody recently by the US troops operating in Syria and is under interrogation. The explosive the local pro-IS groups used has been further confirmed as Triacetone Triperoxide or TATP, the type used by ISIS. A large stock of bomb making material and detonators, locally available as well as those suspected to be smuggled from India after purchase in the black market, were destroyed when a suicide bomber exploded himself in a hideout in Sainthamaruthu (Batticaloa District) when troops surrounded it.
Evidence has surfaced that Zahran had plans for a second wave of attacks. The wife of Haktun, the suicide bomber who attacked St Sebastian Church in Katuwapitiya has confirmed that large stocks of white cloth had been purchased from a shop in Giriulla. Were they for use as pilgrims at temples or during the Vesak celebrations? There was also evidence pointing to the likelihood of a long-term plan to use it as a disguise during the Esala Perehera in Kandy.
SLPP-Blake camaraderie
Since the April 21 Easter Sunday carnage, international interest in Sri Lanka has increased and several dignitaries have been visiting Colombo. The latest is Robert O' Blake, the former US Ambassador in Sri Lanka and thereafter in Indonesia. Though he was a guest of former Minister Milinda Moragoda's Pathfinder Foundation, Blake who counts wide influence in Washington DC was a key player in the constitutional crisis that began in October last year. He  played a role behind the scenes, particularly talking to two of Sirisena's legal advisors and those in the UNF.
On Tuesday night, former Defence Secretary Gotabaya Rajapaksa attended a dinner hosted for Blake by Ashrof Omar, a leading bhsinessman. There, Blake praised the three Rajapaksas – Mahinda, Gotabaya and paid a glowing compliment to Basil for being the brains behind the new opposition SLPP. The rumour mill took over immediately thereafter. The story did the rounds that the United States was seeking a nexus with the Rajapaksas, a claim which was far from the truth. Such rumours only exacerbated after Opposition Leader Mahinda Rajapaksa invited Blake for a meeting. The latter did use the opportunity to seek Rajapaksa's views on many areas. The most important among them was the question of national reconciliation and issues related to the Tamil community should they assume power.
Why did a dialogue with Blake, a seasoned diplomat well connected in Washington circles and was touring India and Indonesia before coming to Colombo, become necessary for the Opposition? For many months there have been strong apprehensions in Opposition circles that the United States Embassy in Colombo had insulated itself and shunned the Opposition. One senior Opposition member complained "we felt that they were looking at Sri Lanka only through the eyes of a single cabinet minister and a single state minister. We wanted to deliver our own message since he (Blake) understands Sri Lanka and our democracy better."  The aftermath saw US Ambassador Alaina B. Teplitz calling on Opposition Leader Mahinda Rajapaksa at his Wijerama Road official residence on Thursday.
Accompanying her was Anthony Renzuli, the Political Officer who earlier served in Pakistan.
This week's events provide a lot of food for thought for Sri Lankans. On the one hand, like lighting a bulb with an on/off switch, a section of the government has chosen to make the people believe all is well in this island paradise. No matter a contemptuous disregard for Intelligence warnings led to a catastrophe. On the other hand, another larger section, that is taking swipes at the other, believes that it will take a lot more time and effort. Whatever happens, one thing is becoming increasingly clear. Those in the IS extremist group will be identified and punished. What about those local masterminds including ruling politicians? With little or no probe on them, they retain the clout and resources for a replay. They cannot remain hidden. A nation knows their role. Nor can political manipulations make it a forgotten episode since it will haunt the conscience of right thinking people. That is Sri Lanka!