All guns blazing, but what's the use?
View(s):

My dear Field Marshall,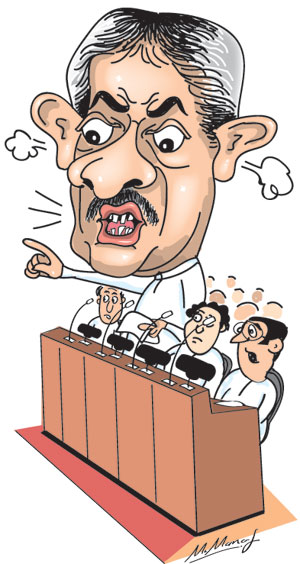 I thought I must write to you after listening to you speak in Parliament the other day, giving us your thoughts about what has happened to our Paradise after the Easter attacks, and what you thought should be done about it – and also about how you are prevented from doing anything about it.
Field Marshall, we also heard you say that your expertise – as the man who spearheaded the previous war against terror – could be of use to the country, and that you were happy to offer your services once again as a minister, but that Aiyo Sirisena does not wish to appoint you for reasons best known to him.
Some Greens have written to Aiyo Sirisena asking that you be appointed minister in charge of Law and Order but he is keeping the job for himself. That is after even Mahinda maama agreed that you know better than anyone else in this government about what needs to be done at this time to curb terrorism.
Your speeches in Parliament didn't spare anyone, be they Blue, Green or from the 'pohottuwa'. You lashed out, not only at Aiyo Sirisena and his henchmen, but also at the Green Man and his colleagues. You said they were all meddling with the fate of the nation for political gain – which we realise too.
You called out Aiyo Sirisena's bluff, describing how he went shopping in Singapore and had a meal at a restaurant, while the country he was supposed to lead was burning. The only action he is supposed to have taken was to instruct the Security Council to ban the Green Man from attending its meeting.
You also said that he was reportedly looking at the ceiling and staring in ignorance at Security Council meetings when the threats of attacks were discussed. You were quite clear that you didn't, even for a moment, believe Aiyo Sirisena when he said that he was not informed of these threats.
In any event, Aiyo Sirisena himself got his sarong in a twist the other day, telling us that he heard of attacks at 10 o'clock in the morning. Now, if that was Singapore time, that would be 7.30 in the morning in Paradise – which was before the attacks – giving him more than an hour to act on it.
On the other hand, if he meant 10 o'clock Paradise time, that was more than an hour after the attacks, and after most of us knew of the attacks, which were announced in the media right away. If that is what really happened, then there is something really wrong in the way he runs his government!
Field Marshall, you criticised not only Aiyo Sirisena, but the Green Man too, because he didn't even talk to you, leave alone ask for your advice, for days after the attack. I think he doesn't mind you having the limelight as long as he is in charge, but he also fears being upstaged by you.
You also had some stern words for Avant Garde Wijey, who makes a lizard blush with his ability to change colours. He is saying 'I told you so'. Well, at the time he claims he warned us about all this, he was in charge of Justice but he didn't do anything about it – so he should share some of the blame too.
Then, you also took a swipe at the chap who, you said, claimed he did everything except remove teeth. I think we all know who that is – and having him as Cabinet spokesman has been entertaining, but hasn't helped the Cabinet or the country, especially when he makes outrageous claims day after day.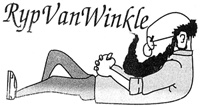 What I was also curious about was that many expected you to take a swipe at Mahinda maama, Gota and the clan. Instead, you said that while you still had your differences with them which you will never forget, you appreciated the fact that they handled national security far better than this lot.
You must surely realise, Field Marshall, that none of what you said will get you the Ministry of Law and Order. These days, Aiyo Sirisena is paranoid about everyone. He does only what is in his own best interests, whether it be sacking Prime Ministers and Defence Secretaries – or shopping at Mustafa's!
It is unfortunate that you, despite all the experience you have on terrorism, are being forced to the sidelines, while a bunch of incompetent Blues and Greens dabble in matters which they know little about, while the lives of the rest of us are at stake. So, soon it may be Paradise lost for all of us!
Yours truly,
Punchi Putha
PS: Aiyo Sirisena retaining the Ministry of Law and Order and not giving it to you is like having Sangakkara in the squad and making him 12th man while sending Upul Tharanga to bat – he will last a little while before getting out! Speaking of comparisons with Sangakkara, he was elected President of the MCC recently. Maybe it is time for you too to have presidential ambitions again, Field Marshall?