Head Start Your International Career in Medicine Right after O/Level s Join our Pre Medical Programme Today!!
View(s):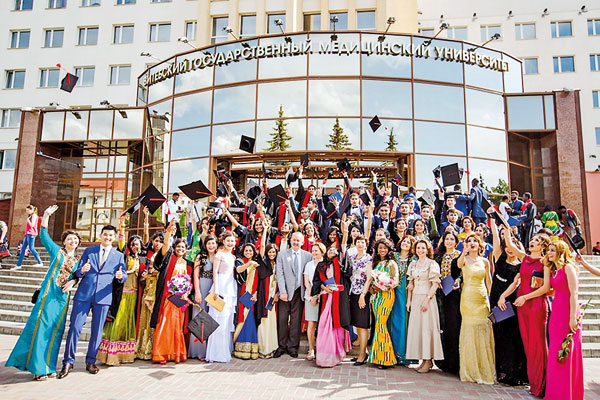 Sri-Lankan Medical University Admissions and the Truth Medical Higher Education in Sri-Lanka is considered elite but not many Sri-Lankan students are fortunate enough to accomplish their target of entering to a State owned University (Faculty of Medicine) through the G.C.E Local Advanced Level examinations. According to statistics provided by the Ministry of Education, even though a large number of Sri-Lankan students sit for the examinations, only a certain percentage (1200 seats approx.) of students are selected for Medical Faculties around the Island. A driving desire to enter for a State owned university has become merely a dream for a majority of Bio students. Most students believe in taking several attempts only to lose track of time and self-disappoint if not being selected. This has been the case for most Parents and students since their knowledge of seeking for other options of becoming a Medical Doctor is lagged behind.
Did you know the High Demand for Doctors in the Overseas is increasing?
World report shows that the Demand for Medical Doctors in countries such as the UK, USA, Australia and Europe is increasing whereas the supply of doctors is very less. Despite the projections of a modest growth in the supply of physicians by 2025, the demand for physicians is growing at a faster rate than the supply.
The demand for physicians is projected to grow by 17 percent by 2025, due primarily to the growth in population size and the aging population. The population below 18 years is projected to grow by 5%, whereas the elderly population over 65, who typically require more care from physicians, is expected to grow by 41%. (Source: News Medical Life Sciences)
Besides that the earning potential for medical doctors is very lucrative in international settings. Doctors earn an average yearly salary of $118,653 in international settings. Wages typically start from $73,488 and go up to $468,935. (Source: www.careerexplorer.com)
The Options available for Sri-Lankan Students to hold the MBBS/MD title
IMC Education provides an opportunity for all Sri-Lankan Bio Students on an embark to achieve the title of a Medical Doctor through a programme designed exclusively for students after O/L's or A/L's at a younger age who couldn't get selected to a Medical Faculty in Sri-Lanka.
1 Year Foundation In Science (Pre-Medical Program) in becoming the Doctor for tomorrow.
The 1 Year IMC Pre Medical Program provides the academic bridge for students to progress successfully to undergraduate Medical studies at the medical school in the Republic of Belarus namely "Vitebsk State Medical University  (VSMU).  IMC Education is the only approved and accredited International learning center in Sri Lanka of Vitebsk State Medical University (VSMU), Republic of Belarus to deliver the Foundation in Science (Pre-Medical) Program in Sri-Lanka.  The Program has been specially designed for students who have completed their O/L's (London/Local) and have the eager and the drive to fulfill their dream of becoming a Medical Doctor at a younger age. If students are looking at working in Sri-Lanka, Foundation in Science (Pre-Medical) programme curriculum gives an option for the students to do their London A/L's parallel to the Foundation programme. If students are not looking at working in Sri-Lanka and seeking for a career abroad can solely complete the Foundation in Science (Pre-Medical) in Sri-Lanka.
Sri Lankan students can choose this Foundation in Science (Pre-Medical) Programme as the successful completion assures students to get admission in to the Doctor of Medicine (MD) programme offered at the Vitebsk State Medical University (VSMU), Republic of Belarus.
About Vitebsk State Medical University (VSMU).
VSMU (Vitebsk State Medical University) is fully recognised by WHO (World Health Organisation) and ECFMG USA, AMC Australia and GMC United Kingdom. Currently, many overseas medical students including more than 350 from Sri- Lanka are studying Medicine (Doctor of Medicine – MD) in the world class medical university – Vitebsk State Medical University. In addition to Sri Lankan students, there are more than 30 nationalities of students studying at VSMU making it one of the most popular medical universities for Sri Lankan students. VSMU established in 1934 is a state university funded by the health ministry of Republic of Belarus. Since VSMU is not a profit focused private university, which is fully funded by the state and health ministry, the course fees are kept at a very low level, making medical education affordable to most families in Sri Lanka. The class and lecture rooms, laboratories, libraries, computer laboratories, clinical hospitals and other clinics at VSMU are all maintained up to the best European Standards and are available without any restrictions to all students. Thus high quality European medical education is truly affordable to everyone without any limitations.
Scholarship Opportunities for Foundation In Science (Pre-Medical) Programme
IMC Education has opened a Scholarship opportunity for all aspired candidates to start off their Foundation in Science (Pre-Medical) Programme up to 75% through a placement examination.
KAPLAN MEDICAL – Your pathway to become a Licensed Doctor in the USA
IMC is the exclusive partner in Sri Lanka representing Kaplan Medical. Kaplan Medical is the world's largest and premier provider of USMLE test preparation that helps thousands aspiring Medical Doctors to become an ECFMG, USA Certified internationally recognised Medical Doctor to start their career in USA. MC Education has created a unique system for VSMU students to be trained for the United States Medical licensing examination (USMLE) partnership with KAPLAN MEDICAL. The VSMU curriculum is developed in a way to support students with their USMLE (United States Medical Licensing Examinations) parallel to their medical degree programmes making the graduate immediately fulfill the requirement in USA and many other countries such as Australia, UK and New Zealand  that accepts USMLE as entry qualification through competent Authority pathway to start a career in medicine.
IMC Education (www.imcedu.com) – The roof of Medical Placements in Sri-Lanka.
IMC Education, Sri Lanka's undisputed leader in Overseas Medical University pathways creating placements to world's leading Medical Universities across the Europe, Eastern Europe, Asia and South America. IMC Education will guide students on choosing the best possible option to match their needs and achieve their career aspirations. Student safety and welfare will be looked after during their entire period of studies through our dedicated overseas offices.
Admissions for 2019 intakes have opened now,
Call: 774421597 or visit www.imcedu.com