MANAGEMENT & SCIENCE UNIVERSITY 24TH CONVOCATION CEREMONY
The 24th Celebrated Convocation of Management & Science University (MSU) was held in Shah Alam, Malaysia on 23RD Feb 2019
View(s):
A total of 2019 graduates have been awarded certificates at their graduation.  57 Doctoral Degrees holders in different subject disciplines, 1171 Bachelor (Hons) Degree holders and 577 diploma holders in various disciplines during this convocation ceremony.  An honorary degree was conferred, and five categories of special awards of excellence presented to 59 recipients from among the graduates.
The first of the three-session ceremony witnessed the proclamation of the new MSU Chancellor, the Raja Muda of Negeri Kedah Darul Aman, His Royal Highness Tengku Sarafudin Badlishah Ibni Sultan Sallehuddin.
In attendance were MSU Pro-Chancellor Prof.Dr. Wan Mohd Zahid Wan Mohd Noordin, MSU President Prof. Dr Mohd Shukri Ab. Yajid and MSU Vice Chancellor Prof. Dr Junainah Abd Hamid.
Among these successful graduates, there were Sri Lankan students also, who completed their doctoral studies (PhD), Bachelor (hons) degree in Hospitality & Tourism Management , Biomedical Science , international business and Diploma in Hospitality & Tourism Management , Biomedical Science and Business Management prgrammes.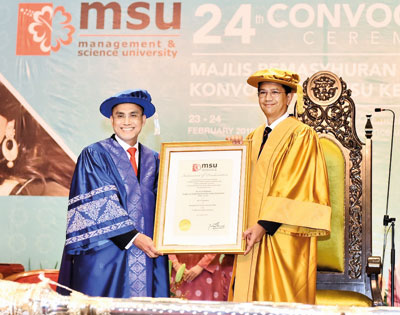 MSU-Malaysia has established the Management & Science Institute (MSI) as a Learning Centre in Colombo to create better opportunities for Sri Lankan students in order to receive one of the  most globally recognized education at home. The MSU is the 217th QS World Ranked University in Asia and Pacific and a Member of the Association of Commonwealth Universities (ACU). The MSU is also a recognized university by the University Grant Commission (UGC) in Sri Lanka.
As being the best teaching and learning university in Malaysia, MSU gives its priority to quality education and for the importance learning experiences towards producing quality and holistic graduates. Besides the incorporating international exposure with the students' learning experience, extensive industrial training components and personal enrichment competency elements are also included as a compulsory requirement into study programmes to ensure the graduates employability.
MSU Chancellor Proclamation
Until now, MSU graduates remain the popularity among employers. A Graduate Tracer Study conducted by the Malaysian Ministry of Higher Education shows a ninety–eight percent (98.6 %) employability rate is having for MSU graduates once they are entering  in to the work environment. This rate is the highest rate among all higher learning institutions in Malaysia.
The research-based PhD programme offered by MSU meets international standards by complementing the thesis work with minimum of three refereed journal publications. The programme is conducted as per the scheduled evaluation process provided by the MSU. This consist a proposal defense presentation, thesis writing work, seminar on work completion and the final thesis defense of VIVA. The research thesis of each Ph.D student was supervised by Malaysian two supervisors assigned by MSU. In addition, local academic advisors constantly provided their guidance for these PhD students for localizing international standards of these research studies. Monthly progress monitoring and all exams were conducted by MSU Malaysia.
Few Testimonials of the Students:
Dr. D. T. Kingsley Bernard
Senior Lecturer /Head of the Department of Information Management/ MBA Programme Coordinator, SLIIT
Chairman, Sri Lanka Council for Agricultural Research Policy (SLCARP)
The doctoral programme in Business/ Management at the Management and Science University (MSU), Malaysia facilitated me immensely to gain world-class knowledge and exposure to excellent research culture. The advice and guidance provided by the world-renowned academic supervisors at MSU, Malaysia helped me immensely to complete my Ph.D. programme successfully which has become a lifelong learning experience and motivated me in achieving my academic goals and objectives. This structured programme at MSU equipped with state-of-the-art teaching techniques had helped me in completing the studies on schedule and publishing a number of academic articles in international journals of academic repute. I am so happy that I took the right decision to pursue the doctoral programme at MSU and my gratitude to MSU for making it happen.  My research-based Ph.D. thesis was on "Entrepreneurial success for women in the micro finance sector in Sri Lanka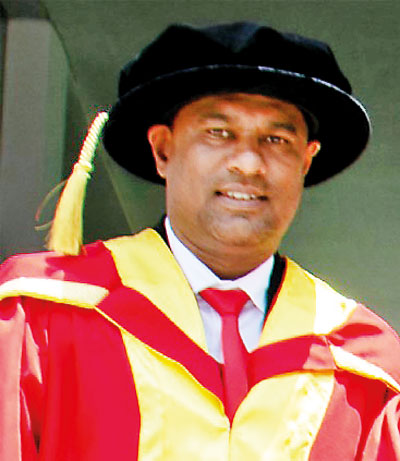 Dr.  Sherin Samantha Padma Mathara Arachchi
Lecturer, University of Colombo – School of Computing
The Doctor of Philosophy in computer science which has been offered by the MSU added great value to my proficiency in the field of computer science. My research-based Ph.D. thesis was on "Integrating a sustainable framework for enterprise resource planning to reduce failure rate". Their Industry based research philosophy in computer science has provided me with an excellent knowledge in order to grasp the challenges in the fast-moving software development industry.   It has been a great privilege to work with such outstanding supervisors in the industry as well as in academia. The ever-willing help and cooperation received from them have contributed towards the progress of my work to such an extent that my endeavor would not have become a reality. The days spent as a PhD student of the MSU, were a unique and memorable experience. I would also like to take this opportunity to extend my sincere regards to all the MSU academic staff and the brilliance of the MSU."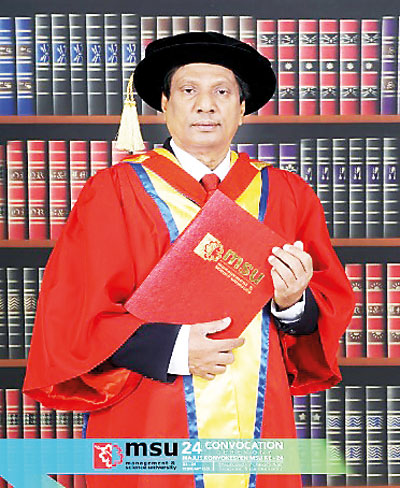 Dr. Dunstan Fernando
Environmental & Social Safeguard Specialist –(ESCAMP)
Making a difference in my academic life" was my goal to achieve. I made a correct choice. PhD studies at MSU definitely added not only the value but also analytical skills to face challenges and to learn about the world. The MSU PhD is extensive and inclusive with a good mix of theory and action research works. It was not easy but the expert guidance by the supervisory panel helped me to reach the successful destination in hydrology with special focus on our traditional irrigation. My research-based Ph.D. thesis was on "Scientific validation of ulpotha restoration with its traditional irrigation". In addition, MSU guidance pushed me to develop a number of articles and publications on ecological studies and hydrology for well-reputed international journals. All these articles were treated as professional writings by journals. Now, I am more confident and enjoy working in diverse disciplines from rural development, statistics, environment, hydrology, safeguards to community outreach with extensive knowledge and skills gathered from MSU. I greatly appreciate the expertise passed on to me by MSU.
Dr. Vilani Sachithra
Lecturer, University of
Sri Jayewardenepura
The doctoral programme in Management/Business at MSU, Malaysia enriches my academic career through excellent research culture. The support provided by the academic supervisors at MSU facilitated me to complete my Ph.D. programme successfully and on schedule on the topic of "Investigation of the Sources of International Competitiveness". I was able to publish a number of academic articles in international journals of high standards and able to participate international conferences. I am extremely happy about my decision to pursue the doctoral programme at MSU.
For more information about MSU programmes and Specially about next PhD & MBA  intake kindly contact Management & Science University local representative, Management & Science Institute( MSI)  , Colombo on enquiry@msi.edu.lk ,sam@msi.edu.lk  telephone Tel: 011 257 6900 /
011 257 6700 Hot line 077 0777 880, or visit us at No 300, Galle Road Colombo 03.
www.msi.edu.lk  or   www.msu.edu.my