An alternative to GCE A/Level: Diploma to Degree pathway offered by Durham College, Canada
View(s):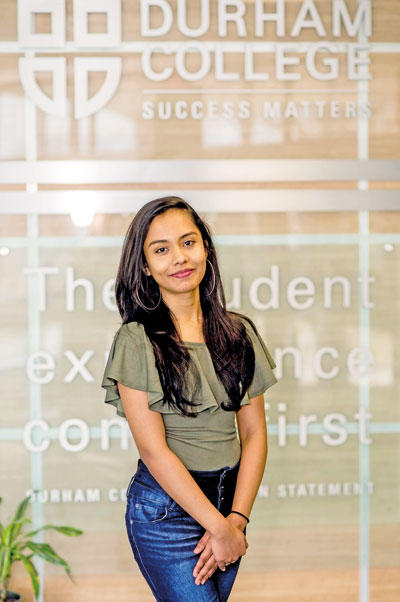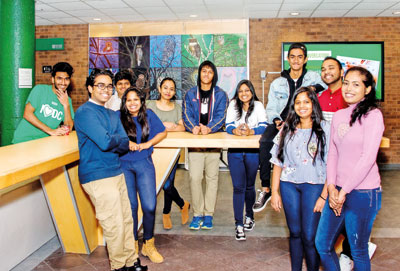 Himeth Dahanayake is an international student from Sri Lanka at Durham College in Oshawa, Canada. He studied at Royal College in Colombo from grade 1 to 11, did his GCE O/Level exam in December 2017 and earned 8As and 1C. Himeth joined the A Level Maths class hoping to write the A Level exam by 2020. Himeth's dream is to become a software engineer in the future and he realised that he needs to excel in mathematics and related subjects if he were to be selected for university and fulfil his ambition. His parents, Thushara and Eranga Dahanayake, however, explored alternative education options for Himeth. They were aware of how competitive it will be for their son to excel in GCE A Levels and be selected to a university as only 18-19% of those who attain the minimum eligibility requirements at A Levels will be admitted to local universities.
As with any parent, Himeth's parents wanted the best possible educational opportunities for their son for what they can afford. So, they embarked on a mission to explore different options and finally decided on a college to university pathway programme offered at Durham College / University of Ontario, Institute of Technology [UOIT] in Canada. The decision was based on several considerations; entry requirements (GCE O/Levels), English proficiency needed for entry, quality of education, pathway to a university degree option, ability to live on or off campus, transportation facilities in and around the city, safety of a foreign student in the city and recommendations from existing students, etc.
Himeth needed to take the IELTS Academic test for college admission. The college English requirement is an overall band score of 6.0 with no sub-score less than 5.5.  Himeth scored a high overall band of 8 with some sub scores at 8.5. With his O Level results and IELTS, he was admitted to Durham College to follow a 2-year IT diploma which has a transfer option to the UOIT.  By studying for 2 more years at the university, Himeth will be able to earn a bachelor's degree.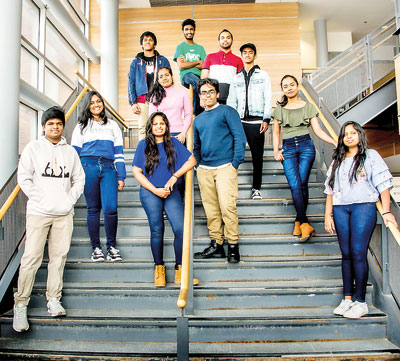 Himeth arrived in Canada in August 2018, just before his 17th birthday and began the first semester of college in September. He was awarded a scholarship of 2,000 CAD on account of his high IELTS results. The credit was applied towards his second semester tuition fee payment. He maintained a high GPA in his first semester and is currently finishing his second semester now.
We caught Himeth in the hallway at Durham College, and asked him a few questions while stepping out into the college quad on a lovely spring morning.
Do you like studying in Canada? If yes, how so?
"Yes, very much. It is a new experience. The study method here is completely different. We accumulate our final grade percentage throughout the semester as opposed to writing a single final exam at the end. It has kept me engaged in my classes on an ongoing basis. And I also like that my education here is not only focused on theoretical knowledge. I have gained so much practical knowledge and experience here that not only do I know concepts of certain systems, but also how to implement them myself".
Was transitioning to a new education system and living in a new country difficult?
"No, both were much easier than I thought. The transition to this new education system was a welcome change. I missed my family a lot at the beginning. But now I am used to it and I am enjoying feeling like an independent and responsible young adult".
Do you think you missed out on anything by not completing your A Levels?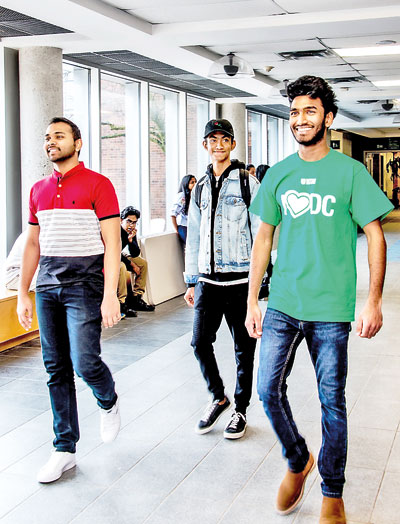 "In terms of studies, I think I am making very good progress here. If I were in Sri Lanka, I wouldn't be doing my AL until 2020. Now, by May 2020 I will already have a Canadian college diploma and will be heading into a Canadian university. I miss my friends back home and playing soccer and rugby with them, but I don't think I missed a better educational opportunity".
You have maintained good grades both in Colombo and in your first semester at Durham College. How did you do that?
"I think I am quite organised. I keep a study plan and allocate time for tasks. I like to finish homework well before the deadline. In Canada, deadlines are super important, you can lose marks for submitting your homework late".
What are your goals for the future?
"My first goal is to successfully transfer to university at the end of my 2 years at college to complete a degree in Software Engineering. After that I might also consider doing a master's degree in information technology security. I am so excited about all the possibilities in front of me now. If I were back home, I wouldn't even be thinking as far ahead as a master's degree or professional career pathways right now"
During this exchange with Himeth we bumped into another one of our students at Durham College, Sandali Alwis. Sandali is a 22-year-old who completed her GCE O Level with 9As.  A student of De Mazenod College, Sandali wrote her A Level exam in 2015. Unfortunately, her A Level results were insufficient to gain admission into local universities in Sri Lanka, so she decided to work until she could find better study opportunities. Through NOVA, Sandali encountered the diploma to degree pathways offered at Durham College and decided that it wasn't too late for her to gain a globally recognised higher educational qualification. We asked her a few questions as well;
Do you think you made the right choice in
pursuing higher education in Canada?
"Yes. Very much so. I like the study system in Canada. If you attend to your daily work promptly, it is not stressful at all. Our final grades are cumulative here, so the expectation is to be fully engaged in our studies from the first day to the last.  I also think it is a wonderful opportunity to be able to live and study in Canada. We get to meet students from all over the world, and the lecturers are very helpful. Oshawa is a lovely city and it is very safe to live. I think the money that my parents spend on my education is fully worth"
When you first spoke to us, your interest was to join a Canadian University directly, what do you think about the college to university pathway option?
"I initially didn't understand the pathway option. In Sri Lanka a lot of our schools are called colleges, so I thought that going to a college is somehow a step down. But what I now realise is that Canadian colleges are well established post-secondary educational institutions. College can be an alternative or a pathway to a university degree, and college diplomas are highly recognised and sought after here, especially in the job market. Beyond that, I am also happy that I made this choice because doing this transition programme has allowed me the time I need to adjust to Canadian learning styles. This pathway was also the most cost-effective option available for me to earn a university degree. So, once I complete my Business Accounting diploma at Durham College, I plan to transfer to UOIT to complete my Bachelor of Commerce degree, and I am very excited about all the doors this pathway programme will open for me".
Both Himeth and Sandali were recruited by Nova Immigration Solutions, who are the representatives for Durham College and University of Ontario, Institute of Technological Studies [UOIT] in Sri Lanka.