Wannabe movie 'heroes' bring terror to Jaffna with swordfights
By S. Rubatheesan
View(s):
Police intel and resources failing to curb new menace in north
Lawless, jobless, dollar-fuelled mentality to blame
Sword-wielding youth emulating the macho violence in their favourite South Indian films have brought fear to the streets of Kokuvil, 3km from Jaffna town, with internal gang wars and increasing criminal activity.
This week alone, more than five incidents of sword attacks by gangs were reported in Jaffna, Madduvil, Chunnakam and Manipay, with houses and vehicles damaged.
A week earlier, a family in Kokuvil received an anonymous letter from a self-claimed armed group ordering it to remove the closed-circuit television (CCTV) surveillance camera fixed to the house. The letter, written in poor Tamil, said members of the gang had been arrested after having been identified through footage from that camera.
A few days later, masked men armed with primitive weapons such as swords and knives barged into the house, wrecked the CCTV camera and threatened the owner with death.
The sight of young men riding high on new, imported racing motorbikes with swords strapped to the bikes might seem like a vivid scene from a South Indian movie but in Jaffna and other sensitive areas these sights are unpleasantly real.
Armed, violent gangs have emerged as a new threat to normalcy in the postwar north, destroying community peace with attacks on targeted individuals and households.
Confirming that the attacks by armed groups are a major problem, Senior Deputy Inspector-General (DIG) of Police for the Northern Range Roshan Fernando told the Sunday Times the provincial police force have vowed to eradicate this menace despite struggling with inadequate resources such as an acute shortage of Tamil-speaking officers.
The police are about to launch a major recruiting drive for 1,000 Tamil-speaking police (see box).
Most of the suspects arrested over involvement of violent gangs are local youths and school-leavers aged from 17 to 25 years. Accustomed to an extravagant lifestyle achieved with money sent from families gone overseas during the war, and lacking any commitment or motivation to responsible living, these youths have become addicted to drugs at a young age and are engaging in violence for the sake of "being in control" and "having fun" as they see demonstrated by stars in Indian films.
"In our area, people are constantly living in fear every moment without knowing what would happen next. It's similar to the wartime years. We don't feel safe," a youth in Kokkuvil said on condition of anonymity. This situation had become the norm, he added.
Increasing unemployment, drug usage, remittance money from relatives in the diaspora and the strong influence of cinematic portrayals of masculine "heroism" have pushed these Tamil youths onto a self-destructive path, local civil society leaders observed, expressing great worry over the future of the community.
On Thursday, a Special Crimes Unit police attached to the Jaffna Police arrested a notorious key suspect in many sword attacks and other criminal incidents, recovering numerous swords and masks used in attacks.
The man was arrested in Chavakachcheri, which falls under a separate police division, and it was suspected that he had been in hiding for over two years with the support of local police.
Heated arguments were exchanged at the Civilian Security Meeting held at the Jaffna District Secretariat recently when civil society leaders alleged police had failed to curb the violence that has been the norm in the region. At one point, senior police officers walked out of the meeting.
"The police are inefficient and corrupt. The failure to take adequate steps to prevent violent incidents has caused people to hesitate in coming forward to help police. A local household owner handed in CCTV footage of armed group attack to police and subsequently it was published on an online media website. Then how can the people trust the police and share information?" queried S. Thavarasa, a former opposition leader of the Northern Provincial Council.
Mr. Thavarasa, a resident of Kokuvil, was one of those who had raised concerns at the Civilian Security meeting over police shortcomings in ensuring normalcy in the region.
Senior police officers in the north argue that these violent incidents and random attacks on households are not a sign of organised crime as in the south, but random actions by notorious armed groups carrying out attacks "on contract" for various vested interests.
These include attacks on families over personal petty issues, feigned attacks on which to build a case for seeking asylum in foreign countries on the basis of claimed death threats, and rivalry between armed factions, with most members being youths or school-leavers.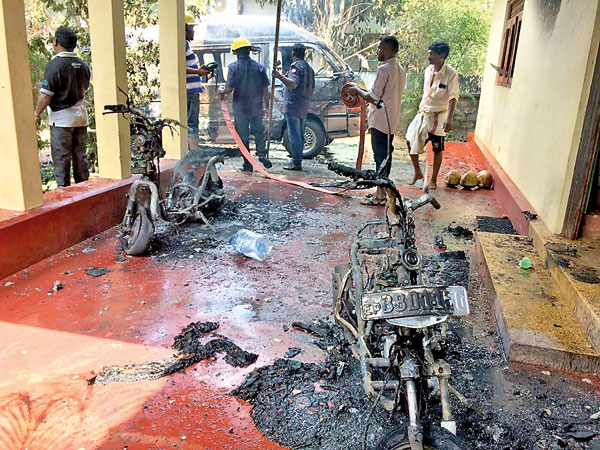 DIG Fernando is of the view that compared to other provinces the situation in the north is normal, and he has given assurances that police have taken additional steps such as increasing patrols in hotbed areas to eradicate the violence.
Special police units have been deployed in across the Kopay, Chunnakam and Jaffna police divisions.
"As responsible police officials, we believe we have been doing our job very well," DIG Fernando said.
"Over the months, we have identified and arrested most of those suspects, who were involved in these attacks and produced before courts, thereafter they were released on bail."
DIG Fernando noted, however, the worrying pattern of suspects, once being granted bail, continuing to engage in similar violence as part of revenge-taking.
Stressing that the population in general in the north is cooperating with police to bring these notorious violent gangs under control, DIG Fernando said the shortage of Tamil-speaking police personnel in the provincial police force is a longstanding institutional problem that needs to be addressed urgently.
Locals give a totally different picture of the nature of the violence and the effectiveness of police in dealing with it.
Civil society leaders alleged police have failed to take timely actions to control the gangs. Sometimes, they said, it would take hours for police to reach a crime scene after being informed of an attack, and sometimes cases are not pursued.
Senior police officials stationed across the region who spoke on the condition of anonymity said that along with the shortage of Tamil-speaking officers, the lack of police intelligence personnel in the provincial force stands in stark contrast to the capacity of security forces stationed in the region.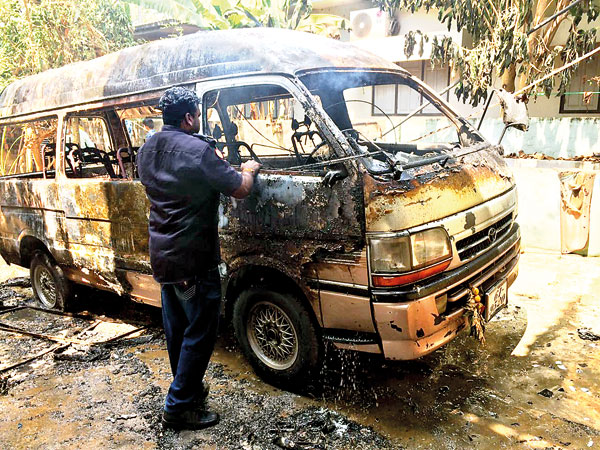 DIG Fernando refutes that claim, stating that the police have a strong intelligence network in the region. "I'm satisfied with their performance," he said.
Although the police are blamed for not doing enough, the emergence of violent gangs needs to be addressed in the context of socio-political and economic issues in the north.
A leading senior criminal lawyer in Jaffna and politician representing Tamil National Alliance, N. Srikantha, affirmed that police were handicapped by a lack of resources and lacked will-power.
He added, however: "It is wrong to assume that judges, lawyers, and police are neglectful in maintaining normalcy in the region. In fact, it is really hard to secure bail for suspects who were arrested for alleged involvement of such criminal activities.
"The increasing unemployment rate, the lack of commitment to earning a livelihood, drug usage, and a lavish lifestyle on foreign remittance money sent by relatives made the Tamil youth take this path. This pathetic situation needs to be addressed by all relevant stakeholders rather than pointing fingers at certain sections of society," Mr. Srikantha said.
Earlier, former chief minister C.V. Wigneswaran asserted that violence in the province could be curbed if the Northern Provincial Council were vested with police powers as the 13th Amendment to the Constitution would allow.
With the council's mandate having expired last year without addressing pressing issues regarding normalcy in the region, the province is currently under presidential rule as administered through Governor Dr. Suren Raghavan, who was appointed early this year by President Maithripala Sirisena. The Governor's Office was contacted for a response.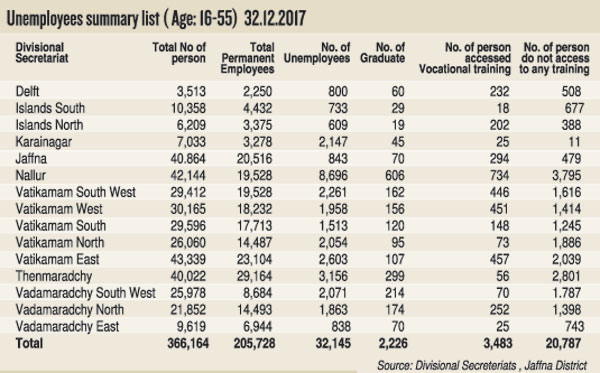 Work needed to make youth drop their weapons

Unemployment, which is highest in the Northern Province, plays a major role in prompting local youths to take up weapons and commit crimes to fund a lavish lifestyle, civil society leaders observed. Unemployment doubled from 5.7 per cent in 2015 to 10.7 per cent in 2018.With no new industrial factories being built and slow-paced private sector investments failing to generate adequate youth employment opportunities in the region, many agitated youths prefer to migrate abroad or secure slots in the government sector.

In Jaffna district alone, 3,483 graduates registered with the District Secretariat to seek employment opportunities either from state or private sector, figures compiled in January 2018 said. Most unemployed (20,787 people) lack any vocational training or skills, the report added.

Officials at the Jaffna Secretariat noted that a significant problem to finding jobs was that many people preferred to enter the state sector and shunned private sector jobs because of their heavier workload, poor allowances and non-flexibility in conditions.
A recent report, "Economic Development Framework – For a Northern Province Master Plan", commissioned by the Central Bank, indicated that emigration will continue to rise without a concerted effort to increase the quality and quantity of work opportunities in the Northern Province.
"Continual investment in upgrading the quality of human resources, particularly of youths, is required to enable higher long-term levels of productivity and better returns to labour from small agricultural producers to skilled labour and professional business and financial management required for industries and service sector firms," the report added.

Govt.  hopes 'home training' will tempt young Tamils into police 

A thousand Tamil-speaking police officers – half of them female – will be added to the ranks in the Northern and Eastern provinces in a major recruitment drive to resolve the longstanding communication gap between police and residents of those areas.

"We are hoping to recruit 1,000 police personnel, including 500 female officers, shortly as a major step to address the longstanding shortage of Tamil-speaking officials in both provinces," said retired Senior Superintendent of Police T. Ganeshanathan, who has been serving in the North for the past three years to improve relations between the police and the local population.

"A gazette notification calling for applications for the posts of police constables, women constables and Sub-Inspectors will be issued by March 20," he said.

Senior Deputy Inspector General (DIG) of Police Roshan Fernando also pointed out the dire need to recruit Tamil-speaking police personnel into the provincial force in order to ensure better community service for locals and strengthen law and order.

"Currently, only 12 per cent (720) of the total provincial force of 6,000 officers can communicate in Tamil," DIG Fernando said.

He noted that most Tamil youths are unwilling to join up for various socio-political reasons and that similar recruitment drives in past had met with little success.

The government hopes a key factor in the new recruitment programme will turn that trend around: a Police Training Institute will be set up in the north so that the new recruits can be trained and deployed near home. Currently all new recruits are trained in Kalutara, in the south, and deployed across the country.

Earlier this week, President Maithripala Sirisena, under whose purview the police department stands, instructed senior police to expedite the establishment of a new institute in North when he inquired about the recruitment of Tamil-speaking police.