Sea, air and ground assault to intercept narco traffickers
By Asiri Fernando
View(s):
The Sri Lanka Navy is seeking to send a liaison officer to the Combined Maritime Forces initiative based in Bahrain to improve intelligence sharing on maritime crime in the Indian Ocean.
Efforts had been made over several years and the navy received favourable feedback from the CMF after a visit last week by Navy Commander, Vice Admiral Piyal De Silva.
Last year, two task forces under the CMF had intercepted more than 4 tons of heroin and 59 tons of hashish, he revealed, pointing out that a large volume of narcotics is shipped across the Indian Ocean and the Arabian Sea.
"Today, we consider the prevention of narcotics trafficking to be one of our primary duties," Admiral De Silva said at a press conference last week.
"We have committed most of our resources to combat this menace. At times, vulnerable fishermen are lured by the prospects of 'quick money' by drug traffickers to help smuggle consignments.''
As a result, law abiding fishermen are inconvenienced when the navy increases patrols and routinely checks deep sea fishing vessels at sea.
At the press conference chaired by Admiral Ravindra Wijegunarathne, the Chief of Defence Staff, the commanders of the  armed forces and the military spokesperson also addressed issues on "drug prevention and military contribution".
The CDS and Lt Gen Mahesh Senanayake, Commander of the Army expect laws to be amended soon to allow the police and armed forces to work more closely together to detect and dismantle narco networks.
"We expect the changes to the laws to come within weeks, not months," Admiral Wijegunarathne said.
"Once legal provisions give coverage to us, the army is ready to apprehend peddlers of narcotics, distributors and addicts, launching operations with other law enforcement authorities," Lt Gen Senanayake said.
He said that only specially-trained people will be entrusted to arrest drug dealers.
"The army, being the largest force on the ground, doesn't mean each and every solider should be deployed for this task. We have identified suitable officers and soldiers who are undergoing training currently," the army commander said.
Several specialised formations are being trained to undertake drug awareness, drug rehabilitation, and detection, Lt Gen Senanayake said. The army assists in several rehabilitation programmes and carries out a year-long programme for drug addicts at the Kandalkadu and Senapura rehabilitation centres in the East.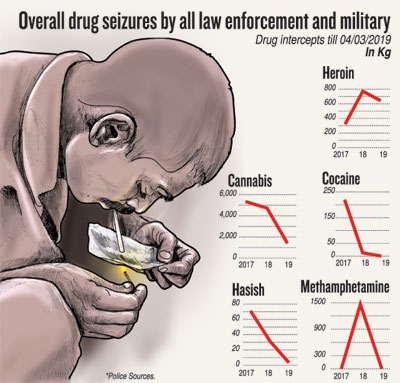 The army is preparing a strategy to combat the drug menace at 'importer, distributor and user' level. The army uses its military intelligence units to track drug dealers and traffickers, which information is then passed on to the police and the STF, the army commander said.
The Sri Lanka Air Force flies surveillance missions over nature reserves to detect illegal cannabis plantations and assists the police and the STF to raid them and destroy the crops, said Air Marshall Kapila Jayampathi, commander of the Air Force. The Air Force  also recently reactivated No 3 Maritime Squadron to further expand maritime surveillance.
Air Force intelligence units also liaise with their military and law enforcement counterparts to identify drug dealer networks he said.
The SLAF has committed 800 hours of flights over the last three years to support the anti-narcotic effort. Also, Unmanned Aerial Vehicles, commonly known as drones, are used to seek out cannabis plantations.
Responding to a question from the press, Admiral Wijegunarathne said the number of detections may only amount to 10% of the total volume of drugs that is trafficked.
"These are vast networks which are highly profitable. As long as the demand persists, the supply will continue," he said. However, the army commander and CDS believe that if a consolidated effort is made, the challenge can be overcome in a few years.
Admiral Wijegunarathne and Air Marshall Jayampathi pointed out that there is no evidence yet to support the theory that Sri Lanka is a 'transit' hub for narcotics. "We have yet to find any drugs leaving the country," they said.
Last week, a team from the Police Narcotics Bureau, returned from Bangladesh, having interviewed two suspects arrested in Dhaka regarding the Dehiwala drug safe house.
A senior police officer, speaking on condition of anonymity to the Sunday Times, said there are multiple drug trafficking networks in Sri Lanka.
"It seems the entire country is fixated on Madush and his operation, but his network is only one of many," he said. He is frustrated that some segments of the press were giving undue publicity to underworld figures.
The different suppliers on the Markan Coast in Pakistan, no longer send a 'resident contact person' to receive orders for drug shipments, they are in touch with Sri Lankan networks directly via encrypted communication apps on smartphones the police officer explained.
"Sometimes, the money for the shipment is paid through Islamic banking methods, which make it harder to track transactions," he said. The police source complained that not enough was being done by the regulators to investigate money laundering by groups to traffic and distribute drugs. There are several known networks, but he declined to name them because of ongoing investigations.
"When a shipment is sent from Pakistan, the packages are not for the same network," he said, pointing out that several consignments for different networks can arrive on one boat. "They are like any logistics company, they will move the goods of many clients on one vessel to be delivered to a drop-off point in the supply chain," he said.
Speaking about the network centred on Madush, he explained that the downfall of Mohammed Siddique's network aided Madush to grow substantially. Siddique was part of Gampola Vidanage Samantha Kumara alias Wele Suda's network. After Wele Suda's arrest and conviction in 2015, Siddique ran his own network briefly until he too was arrested and jailed.
Kanjipani Imran and Nilufer, two of Siddique's close aids had teamed up with Madush once Siddique was arrested in Pakistan and extradited to Colombo to stand trial. "Kanjipani speaks Urdu fluently and knows the suppliers in Pakistan and provides a vital link to the supplier net," he explained. In November 2017, Madush had double-crossed a resident Pakistani who was the local agent for the suppliers by pretending that the police was on to them and arrest was imminent. The Pakistani had promptly left the island the next day to avoid 'arrest', only to later realise he had been fooled.
Madush and a part of this group had walked away with 126kgs of heroin of high purity. A person in the group involved in the double-cross is believed to be one of those arrested at the party in Dubai. He is only known by the alias "Youga".
Last week, Sri Lanka Customs detained a 60-year-old Bolivian, named Roca Cortez Jaime, with 5 kilos of cocaine, concealed in a latex padding material in the lining of his luggage. A Customs source told the Sunday Times that the discovery indicated a recent tactic where liquid cocaine is mixed with latex to form a thin sheet which is used to line luggage and is not easily detected.
Last week, 2,000-plus ecstasy tablets weighing a total of 947 grams were intercepted at the General Post Office parcel post by Customs.