We will have our own anti-corruption laws soon: SLC CEO
By S.R. Pathiravithana
View(s):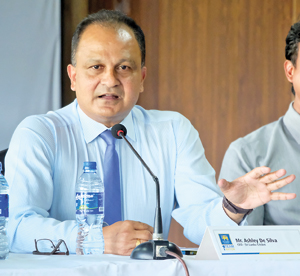 When asked if Sri Lanka Cricket (SLC) would have its own punitive measures with retrospective effect or would it be a case of going by the ICC recommendations with regard to pending cricket corruption allegations, SLC's Chief Executive Officer Ashley de Silva said, "right now we will abide by the ICC recommendations".
De Silva said that Sri Lanka does not have laws to punish cricket's wrongdoers in a court of law and the administrators are in the process of enacting such laws.
"Now we go with the ICC decisions. When you go through the ICC anti-corruption code and when it comes to corruption at international level, the investigations are conducted by the ICC while the local authority does not have any authority to handle any inquiries," the CEO said.
However, he added if the SLC comes across any miscreants, then the local administration has the authority to conduct its own inquiry. "Now that the ICC has carried out these investigations and given Nuwan Zoysa a charge sheet; we have sent him on compulsory leave; so whichever the decision taken by ICC we would abide by it."
An ICC statement meanwhile said:  "Zoysa has been provisionally suspended with immediate effect. He has 14 days from November 1,  2018 to respond to the charges. The ICC will not make any further comment in respect of these charges at this stage."
Prior to this, former Sri Lanka cricket captain and chief cricket selector Sanath Jayasuriya was also charged by the ICC and given fourteen days to prove his innocence. He has already filed his reply with the ICC, the Sunday Times understands.
When asked as to what transpired at the SLC's meeting with the ICC anti-corruption authorities, de Silva explained, "It's about the legislation which we are trying to introduce in Sri Lanka. As it is, there is no actions pertaining to corruption in cricket. A corrupt cricketer can get away. However, in the United Kingdom there is certain legislation that has been passed by parliament. Now, in Britain cricket corruption has become a criminal offence. This is exactly what we are also trying to do. We are trying to get this drafted as soon as possible, then get it approved by the cabinet and make it our law.
"Once that is done we will be taking it to the end. So far, we have only been talking about it, but, no action has been taken. We are trying to bring that in, so that everyone will be aware that if they are found guilty they would have to go through our process. Thereafter, nobody would dare to indulge in wrongful cricket activity in Sri Lanka. What happens now is that if the ICC takes action, you get suspended and you don't get involved in cricket only, but you get away with that. The punishment is only suspension."
We asked: "Does this mean that Sri Lanka is about to introduce punishment for cricket crimes? How soon would this legislation come into effect?"
De Silva said: "We already have had a couple of discussions with the ICC anti-corruption authorities and this is what they also have proposed and we are trying to implement the recommendations. There are few things that are in operation already in the UK and in Australia and we are also trying to introduce a similar system. It would happen as quickly as possible. Our Competent Authority Kamal Pathmasiri, myself and Deputy Solicitor General Sumathi Darmawardena will travel to Britain on Sunday to meet the UK's Chief Prosecutor to discuss the modalities of setting up such a mechanism in Sri Lanka. Thereafter, it is a matter of putting things together".
According to ESPN Cricinfo, Alex Marshall, ICC's ACU general manager, explained why he and his team have been spending a lot of time in Sri Lanka. Marshall said his goal was to "break the cycle of abuse and corruption" that has seeped into Sri Lankan cricket and is threatening young players. He said that there were between 12 to 20 cricket corruptors that they are looking at.