Dinuka and Thilini take top honours
By Susil Premalal
66th National Badminton Championships
View(s):
Dinuka Karunaratna annexed the men's singles title while Thilini Hendahewa won the women's singles at the 66th National Badminton Championships concluded at the Royal Sport Complex yesterday.
After his brother Niluka–the undisputed local star crashed out from the quarter-finals losing to Buwaneka Gunatilleka, Dinuka made sure that the title remains with the Karunaratna's winning the final (2-0) beating Rantushka Sasidu (21/11,21/15) with ease.
In the women's final Thilini recorded a come-from-behind 2-1 win over Kavidi Srimannage. Thilini conceded the first 20/22 but came back strongly in the second set and the third set to clinch the coveted title-21/9 and 21/17.
Sri Lanka's promising double pair of Sachin Dias and Buwaneka Gunatilleka produced a dominance performance to clinch the doubles title beating Hasitha Chanaka an RS Kasun 21/15, 21/13.
In the women's doubles final Thilini Hendahewa and Kavidi Sirimannage combined to beat Achini Ratnasiri and Upuli Samanthika. The winners surrendered the first set 16/21 but hit back in the second and third set (21/13,21/15) to grab the title.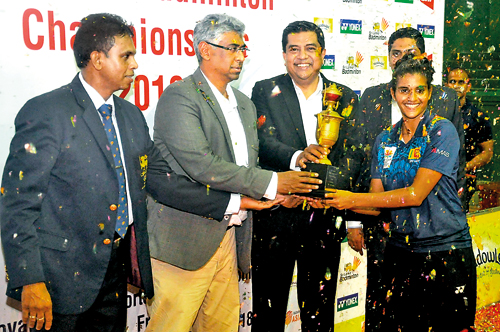 Buwaneka Gunatilleka and Kavidi Sirimannage beat Sachin Dias and Thilini Hendahewa 22/20,21/16 to win the mixed doubles event.
Results 
Men's Open Singles: Dinuka Karunaratna beat Rantushka Sasidu (21/11, 21/15)
Women's Open Singles: Thilini Hendahewa beat Kavidi Sirimannage (20/22, 21/9, 21/17)
Men's Open Doubles: Sachin Dias/Buwaneka Gunatilleka beat Hasitha Chanaka/R.S Kasun (21/15, 21/13)
Women's Open Doubles: Thilini Hendahewa/Kavidi Sirimannage beat Achini Ratnasiri /Upuli Samanthika (16/21, 21/13, 21/15)
Mixed Doubles: Buwaneka Gunatilleka/Kavidi Sirimannage beat Sachin Dias/Thilini Hendahewa (22/20, 21/16)
Women's Over-40 Singles: Vipuli Abeysekera beat Nishanti Vidanage (21/14, 21/19)
Women's Over-40 Doubles: Vipuli Abeysekera/Priyanka Abeyratna beat Nishanthi Vidanage/Lasanthi Vidanage (22/20, 21/17)
Men's Over-35 Singles: Hemantha Kodituwakku beat Thanuja Liganage (21/12, 21/10)
Men's Over-40 Singles: Upendra Jayawrardena beat Subash Janaka (21/19, 21/18)
Men's Over-40 Doubles: Upendra Jayawardana/Clarance Hormer beat Duminda Jayakody/Subash Janaka (21/18, 25/23)
Men's Over-50 Singles: Niroshan Wijekoon w/o from Kamal Gamlath
Men's Over-50 Doubles: Niroshan Wijekoon/R.Pathirana beat Dharshana Senaratna/Kamal Gamlath (21/14, 21/15)
Men's Over-55 Singles: Rohan Fernando beat Adrin Dilima (21/11, 21/13)
Men's Over-55 Doubles: Louie Karunaratna/Rohan Fernando beat Suresh Thavarajah/Lalith Nanayakkara (21/12, 24/22)