'Senior International Masters Badminton Tournament 2018′, Nov. 26-28
View(s):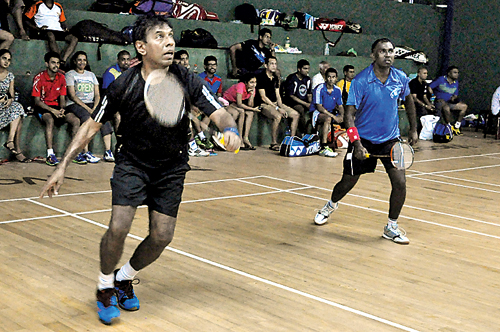 Plans have been finalised to host the 1st International Masters Badminton Tournament, the 'Senior International Masters Badminton Tournament 2018′ organised by the Ceylon Masters Badminton Association (CMBA) from November 26-28, at the Sugathadasa Indoor Stadium. The endorsement of the Ministry of Sports and the World Badminton Federation (WBF) has been received to conduct this tournament.
Over 100 Shuttlers from India, Thailand, Malaysia, China, Taiwan, Australia, Nepal, New Zealand, Indonesia, Hong Kong and host Sri Lanka, which has the most numbers, have already registered.
Entries can be made online at https://ceylonmasters.com/index.php online-registration-portal/, or alternatively at, No. 284 Vauxhall Street, Colombo 2. Entry Fee is US$ 25 net, per person per event.
The tournament will be run under WBF stipulated Rules and Regulations and specific Rules of the CMBA as directed by the Tournament Director.
A player can enter a maximum of 3 events, while the scoring system will be based on the best of 3 games of 15 rally points.
Events and Age Categories are as follows
Events
Men's and Women's Singles, Men's and Women's Doubles, Mixed Doubles
Age Categories:
35+, 40+, 45+, 50+, 55+, 60+, 65+, 70+, 75+
Medals will be awarded viz, Winner- Gold, Runner-up- Silver and Semifinalists- Bronze, with a prize pool of US$ 7,500 to Winners and Runners-up only of each event. The distribution pattern of the Prize pool will depend on the size of the draw, which will be published soon after the draw.
Mobitel, 3M, Victor & Heladiv and Rovin Ads will be the Main Sponsors of the event.
Contact details for this International CMBA 2018 Tournament are:
CMBA, 284 Vauxhall Street, Colombo 2
Telephone: +94 112 332 375 and Hotline: +94 777 996 699
Email: info@ceylonmasters.com & register@ceylonmasters.com