Lanka's cricket revival still possible through professional touch
View(s):

Ana Punchihewa was never a good cricketer, nor would he ever be. Having said that, he had a good drive. On the golf course, he covered a decent 18 holes. So he knew what sport is all about and besides, he also had good business acumen. So he drove his family business with assiduous finesse, until the little Coca-Cola bottler Pure Beverages Company Limited in Sri Lanka became an enviable blue chip, where almost every salesperson wanted to be employed.

Round about 1994, Punchihewa's personal stock had risen and his passage into the realm of cricket came as a matter of fact. In that year, when he got the reins into his custody, he drove the then Board of Control for Cricket in Sri Lanka towards another direction. From day one, he wanted to convert the then small budget entity into a conglomerate, and thus began to float his slogan "The best Test playing nation by the year 2000".

By then the Lankan team had built itself to be an experienced fighting unit under Arjuna Ranatunga, but were always the guys next-door, never accepted into the real Test playing club by the big boys of the game. Thinking outside the box, Punchihewa sought the assistance of the cricket community, scooped out their grey matter in cricket and put out the five-year plan on how to take Lankan cricket into real professionalism. To get some valuable inside tips on how the big brothers Down Under thought and acted, Punchihewa and his men wangled the assistance of coach Davenell Whatmore who said, "I have nothing to teach the Sri Lankans in their technical aspects but, the job here is to change how the Lankans believed in themselves and change their attitude towards the game".

Yet, the catalyst was how the Lankans reacted to the Muralitharan's throwing conundrum. How the Lankan cricket management showed that they could take the game into the international forum and beat them at their own game. Thus, the Lankan cricketers began to believe in themselves. They knew they had a canopy of protection above them and began to react proactively. First, they won some small battles such as beating New Zealand in New Zealand and beating Pakistan in Pakistan, in both Tests and ODIs, and the Singer Trophy Limited Overs series in Sharjah, beating the high-riding West Indians by 50 runs in the final. Then they took charge of the ICC World Cup, which also signalled the end of the Punchihewa saga in international cricket in Sri Lanka.

Following that episode where Punchihewa was ousted against the tide, like what happened a few days ago in real politics in Sri Lanka, it was incomprehensible, but true. Thus the professional canopy was taken out and what took place was a drive towards consolidation of power within Sri Lanka Cricket (SLC) — and in 1999 Sri Lanka's defence of the World Cup in England was a total disaster. Besides that debacle, some feel that the pre-96 unit had grown into a certain culture and pattern of reacting to situations. In spite of that, Asanka Gurusinha and Roshan Mahanama decamped rather prematurely, while Arjuna Ranatunga and Aravinda de Silva played till they played their last innings. Yet, the '96 younger lot such as Sanath Jayasuriya, Hashan Tillekeratne, Muttiah Muralitharan and Chaminda Vaas, along with Marvan Atapattu took the game into the next millennium. Along with them, cricketers such as Mahela Jayawardena, Kumar Sangakkara and T.M. Dilshan, Sri Lanka too grew up with the same confident mentality – "Yes, we are good as anyone else". So that the cricket bandwagon moved on unencumbered, even through conflicts.

Throughout the post-World Cup win period, there has been hardly any opportunity for cricket's administration to grow in stature. There were more government intervened Interim Committees than elected bodies, and even the elected bodies were drawn between two business families – Thilanga Sumathipala and the Dharmadasa brothers Jayantha and Upali, while the Ranatunga influence was a telling factor in spite of them having the reign for only eight months, when Arjuna Ranatunga headed an Interim Committee.

I guess the only significant change that occurred during that time was changing the name from the Board of Control for Cricket in Sri Lanka to Sri Lanka Cricket.

Chronologically, the people who headed Sri Lanka's cricket administration since Ana Punchihewa (1994-95): 1996 Upali Dharmadasa, 1996-98 Thilanga Sumathipala, 1999 Rienzie Wijetilleke (Interim Committee), 1999-2000 Thilanga Sumathipala, 2000-2001 Vijaya Malalasekera, 2001-2002 Hemaka Amerasuriya, 2002-'03 (Interim Committees), 2003-04 Thilanga Sumathipala, 2004-05 Mohan de Silva, 2005-07Jayantha Dharmadasa, 2008 Arjuna Ranatunga, 2008-'09 S. Liyanagama, 2009-11 Somachandra de Silva (Interim Committees), 2011-12, Upali Dharmadasa, 2013-15 Jayantha Dharmadasa, 2015-16 Sidath Wettimuny (Interim Committee), 2016-2019, Thilanga Sumathipala and 2019 Kamal Pathmasiri to date.

Fittingly, Kumara Dharmasena recently pointed out to the Sunday Times that Sri Lanka's cricket, ironically, failed to evolve since the 1996 World Cup win. The reason is that bad management in the eyes of those in power, politically, and the short term solution of Interim Committees.

The impending situation has brought forth no solutions to Sri Lanka's cricket woes. Sri Lanka was rather lucky that cricketers such as Muttiah Muralitharan, Chaminda Vaas, T.M. Dilshan, Kumar Sangakkara and Mahela Jayawardena, who learned their ABC's in international cricket, while under the '96 professional guidance and the confidence they gathered under the tutelage of the seniors of yore, sustained the game. Yet, since their departure, the Lankan cricket system failed to grow.

For a moment, we will not agree with the argument that Lankans now are short of talent. But, they are brilliant in patches. The Test series against Australia and beating Pakistan in their home turf in UAE are some of their achievements. When they click, they are as good as any other International cricketer or unit. But, it does not take long for the Lankans to reach the other end of the tether.

Once, Sri Lanka was easily the best fielding unit in Asia but now our team has become the worst lot of butterfingers. This happens not because they prepare in small doses, but it is the lack of confidence when it comes to real international competition.

Talking about the rest: — First it was the injuries, then his batting began to flop. Now, he is only a shadow of what he was. Who thought Angelo Mathews would be dropped from the side for not being consistent?

Lahiru Thirimanne – at one juncture he was the future of Sri Lanka cricket. Now he is fighting for a place.

Out of the present lot of players, how many have faced sudden pitfalls. Kusal Perera, at one juncture, was Sanath Jayasuriya reborn to international cricket. He played and won matches like that, but now, he keeps fighting for a permanent place.

Kusal Mendis was the 'in thing' in Sri Lanka cricket. But today, he is short of confidence and can hardly middle the ball.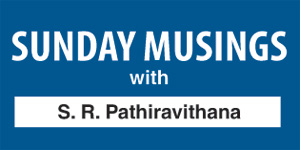 Dhananjaya de Silva started like an eagle but lost his confidence halfway through. Now he is very mediocre.
In short, can we boast of a real International class player, besides Rangana Herath who is just about to retire! We are now going through the same predicament that the West Indies are facing. They did not change with the times and tried to live under the shadows of Clive Lloyd and Brian Lara. Now they have a lot of promising players, but no match-winning combinations. Two other sides facing similar situations are Pakistan and Bangladesh.
Of the Asians, the only side which grew with the times is India, and they have used their TV-viewer billions in good stead. They used those billions of rupees to grow their cricket, and now they have too many match-winners in their larder.
However, the core of the Lankan predicament is that, we have far too many hiccups in our cricket administration, for more than one obvious reason. That is why we say the onus is now on past players such as Bandula Warnapura, Roshan Mahanama, Sidath Wettimuny, Kumar Sangakkara, Graeme Labrooy, Ken de Alwis and Amal Silva — people with the corporate background, get into the system and stem the rot. If not, we have more to lose than what a cricket weevil suck cricket dry could achieve. Let's begin to change the system NOW!