Is it the end of the road for Mathews?
By S. R. Pathiravithana
View(s):
Are national limited overs Captain Angelo Mathews' days numbered?
With his falling personal standards, can Angelo Mathews hold on to his position as captain in a broader sense? Right now his bowling is almost a thing of the past. He is playing as a specialist batsman and he is faltering at that point. Even in his catching, the sharpness has dropped and in the overall act as a captain, he is also uninspiring. These are some of the accusations that are levelled against the national cricket captain in the wake of the Dubai Asia Cup debacle. Is Mathews fit to lead battle at the forthcoming ICC World Cup?
However, there is no point in painting the town red with slogans and the best is to ask the national selectors for their impression. That is exactly what the Sunday Times did when we confronted chief selector Graeme Labrooy in the aftermath. "May be that is one of the key questions that we have to address, when selectors sit to think about it. Then we have to see how the coach ascertains the situation. At the same time how Mathews himself feels about the predicament – what he thinks about it and take it from there. We do not want to jump into conclusions." This was Labrooy's assertion. Having said that Labrooy added that he was hoping to meet Mathews during the weekend for a discussion on the subject.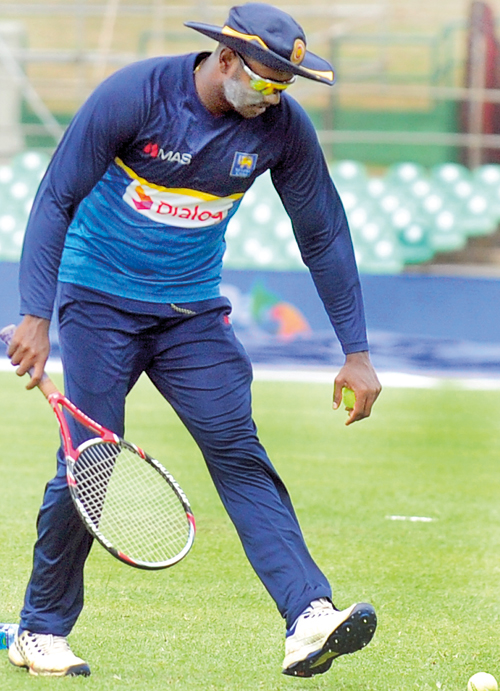 When asked what his impressions on the overall situation were, Labrooy said "As a group of selectors we were very confident that we picked the correct side for the Asia Cup. For the last six months, we have been working in preparation for the one-dayers especially for the World Cup. But, when it came to the Asia Cup we changed our stance and said – this is a tournament and not a bilateral series, so we got to win this tournament. So, our strategy of selecting the team along with the coaches' input was to find a side that could win us the Asia Cup.  Specifically we brought back Dilruwan (Perera) because we needed a specialist off spinner — a bowler with experience. That was because Akila (Dhananjaya) was not available for the first game – we did not know when he would be available.
"That was part of the strategy we had and most of our selections were based on what the captain and the coach had opined, or what they presented to us. Then we discussed players who could fit into that formula, and see how it could be taken forward. Then we would select fifteen or sixteen and once that was done, we would leave it to the captain and the coach to select the final playing XI. The coach generally do communicate with me as chairman of the selectors, may be forty eight hours before a game saying that is going to be their thinking and how the wicket is and this is how we are going to select the final XI.
"So don't think we had an issue on the eleven that played. But basically how they played and what they played and the delivery was very poor."
The Sunday Times then inquired about certain players including captain Angelo Mathew's not being match fit? Labrooy replied, "I would say all players were match fit. They all have been playing cricket. The only person who had not played much cricket was Lasith Malinga. The rest had been playing cricket since the West Indies tour. But the question was whether they were fit enough for a fifty over game and to play two games in three days. We had Mathews who after the South African series went to Australia to attend to his thigh injury . He was out for four days. Then we had some senior players in Lasith Malinga, Dilruwan Perera and Upul Tharanga who are not 21 or 22 anymore. You cannot expect them to be as quick as Kusal Mendis or Akila Dhananjaya. So, we knew that. But, it was a gamble we did take."
We pointed out that our cricketers faltered at the point of delivery and we are in preparation for the ICC World Cup tournament but, our fielding is questionable. The playing combination is not settled as yet. Labrooy said, "I would say – We have thirty players, not more than that. Still from the selected and missed out was Dinesh Chandimal. All the other batsmen have been in form. They have been scoring during tours. It is just that they did not deliver, as expected. I have been to most of the training sessions, I have been to almost all the match situations played at Kettarama and the players looked top of the form. On wickets which were somewhat similar to the ones in the Dubai and Abu Dhabi, our batsmen were good middling the ball. We would have liked to have had Nuwan Pradeep for that tour, but we left that option, as he was not ready, but, young Dushmantha Chameera after a seven month break bowled well. That was one plus that we had. But, we think the opposition outplayed us".
Then in answer to T.M. Dilshan wanting to make a comeback, Labrooy said that a player who been out of the game for over two years is a bit, farfetched. And in a lighter vein he added 'Then why not ask Kumar Sangakkara to make a comeback'.