Setting the stage for next generation of stars
View(s):

Sri Lanka's number one Sports Hub, ThePapare.com, will power the Under-19 All-Island 'A' Division Boys and Girls Schools Basketball Tournament for the third consecutive year.

'ThePapare Basketball Championship 2018,' Sri Lanka's premier school's basketball tournament, will shoot off at the nets of Gateway College, Colombo, on Sunday, September 16 at 2.30pm with the commencement of the girls` tournament. The boys` tournaments will commence at S. Thomas` College Mt. Lavinia on Tuesday, September 25 from 2.30pm onwards. Four top teams from four groups will then feature in the quarter-finals and qualify for the semi-finals and the grand finale, which will be played under lights at the Hendry Pedris Stadium on October 5.

ThePapare Basketball Championship was initiated in 2016 with the undertaking of enhancing the game of basketball in Sri Lanka. Twenty-six schools participated in the 2016 tourney while S. Thomas' College, Mt. Lavinia emerged as the boys' champions and Good Shepherd Convent won the girls' title.

ThePapare Basketball Championship 2017 crowned Royal College, Colombo as the Under-19 Boys champions for the year while Holy Family Convent and St. Joseph's Girls School, Nugegoda celebrated joint championships in the Girls category.

Starting from the quarter-final stage in this tournament, matches will be streamed live and exclusively on ThePapare.com, Dialog Now (Channel No. 1) on Dialog Television and on mobile with MyTV from any mobile network. The quarter-final stage is scheduled to commence on September 30 with all matches played under lights at the Hendry Pedris Stadium.

ThePapare.com along with the Schools Basketball Federation of Sri Lanka has taken the initiative to introduce a Schools Basketball Rules Book, to be strictly adhered to during all school's basketball tournaments. Keeping in line with said Rules book, the top 20 ranked schools will be granted admission into the 'A' Division Under-19 category and the rest will follow in 'B' Division.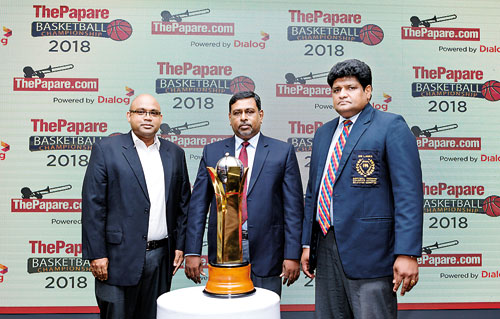 ThePapare.com is also proud to announce its first ever jersey sponsorship for all participating teams in the 2018 tournament. Each team will receive customised jerseys designed to suit their school colours.
"ThePapare.com is delighted to partner with the Basketball Federation to power this unique tournament bringing together local and international schools in the country. Our objective is to empower the sport and build visibility for the game in Sri Lanka, as well as to help build camaraderie amongst schools. We wish all the teams the very best, and look forward to a great tournament and experience throughout the next few weeks," said Mangala Hettiarachchi, Senior General Manager – Global and Content Services, Dialog Axiata PLC.
The President of the Schools Basketball Association, Sanath Jayalath speaking at the occasion said, "We are happy that ThePapare.com is partnering with us for the third consecutive year. The players were motivated to play the tournament with the value addition of live streaming of the tournament as well. This year's tournament will be more intense with outstation schools participating and we invite everyone to be a part of it."