Team Sri Lanka in Mexico for First Global Challenge 2018
View(s):

Over 150 teams from across the globe gathered at the Arena Ciudad de Mexico in Mexico City, Mexico, last week for the First Global Challenge (FGC) 2018.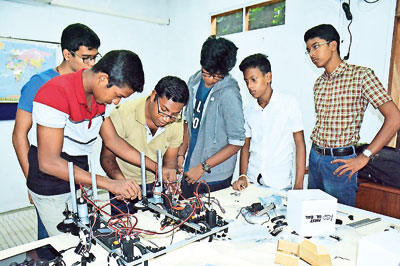 The FGC is an annual international robotics competition, which takes place in a different nation each year. Themed around the 14 Grand Challenges of Engineering identified by National Academies of Engineering, each year a different Grand Challenge takes center stage in an effort to foster understanding and cooperation among the youth of the world as they use their abilities to solve the world's problems.
This year, the members for team Sri Lanka for FGC 2018 include Lasith Kodagoda and Navod Vitharanage from President's College Embilipitiya, Sherwin Leonard from St John's College Jaffna, as well as Dao Thanh Cong, Felix Deemer, Daniel Joung, Hamza Anver and Syanthan Selvakumaran from Elizabeth Moir School Colombo. The teachers in charge of the team are Mr. Satchithananthan, Mr.Rathnasinghe, Miss Fernando and Mr Aruliah.
In 2017, Elizabeth Moir School was selected to represent Sri Lanka in the inaugural International Robotics Olympiad in Washington, D.C. The school was also equally keen to ensure that this incredible opportunity be shared with students from other schools in the island, and invited students from President's College, in the southern region of Embilipitiya, and St. John's College, Jaffna, in the north, to join the team for FGC 2018.
The theme for this year's competition is "Energy Impact" and teams will compete to fuel power plants, initiate renewable energy plants, and build a resilient transmission network. Team Sri Lanka has been hard at work over the past four months, building and testing their robot, and the team's representatives were in high spirits on the eve of their departure to Mexico.
To find out more about Team Sri Lanka, and support their progress follow them on https://www.facebook.com/Team-Sri-Lanka-FIRST-Global-2018-243443799549717/