'Burning birds' passes 50 days
View(s):

'Devena Vihagun'- 'Burning Birds' directed by Sanjeewa Pushpakumara passed 50 days of continuous public screening on August 17.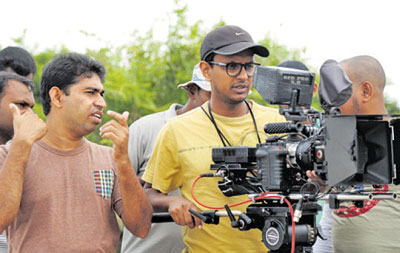 A special copy of the film named 'Director's Cut' is now being screened under the adults only tag at 4.15 pm at Regal Cinema, Colombo. The version includs a few unedited scenes from the original. The original version was released in Rithma circuit cinemas by the National Film Corporation (NFC) on June 29.
A feature direction by young Sanjeewa, 'Devena Vihagun' won a number of international awards including the Special Jury Prize (the second place) at the 17th Tokyo FILMeX International Film Festival, the Best Picture and Young Jury Prize at the 15th Geneva International Film Festival (FIFDH) and the Best Actress award in the Asian World Film Festival 2017 in Los Angeles for Anoma Janadari.
Written by Sanjeewa, the film reflects a story behind a noble mother and a daughter who sacrifice and dedicate their lives to provide a better life for their children and siblings after the killing of the husband and father by an unknown armed group.
A production with an international collaboration including France, Doha Qatar, Sri Lanka and the Netherlands, "Burning Birds" was produced by Antonin Dedet and Dominique Welinski on behalf of Neon Production in France and Sanjeewa Pushpakumara on behalf of Sapushpa Expressions in Sri Lanka.
'Devena Vihagun' cast includes Mahendra Perera, Samanalee Fonseka, Anoma Janadari, Chandani Senaviratne, L‍eonie Kotalawela, Pubudu Chathuranga, Priyanka Samaraweera, Dasun Pathirana, Tissa Bandaranayaka, Shyam Fernando, Dharshan Dharmaraj, Sanjeewa Dissanayake and Dharmapriya Dias.