Mercantile Volleyball Tournament in Sept.-Nov.
By Lakshman Ranasinghe
View(s):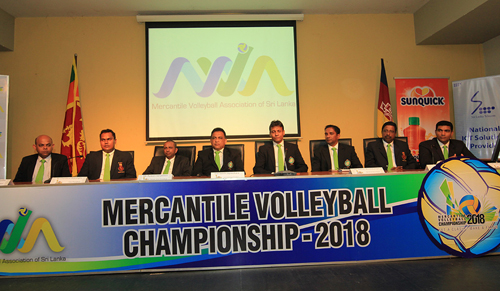 The 7th Mercantile Volleyball Tournament will be held at the Maharagama National Youth Services Centre (NYSC) courts in September and November.
Prize money of Rs. 1.5 million  will be on offer at this year's event, to be conducted under 3 categories – Super League, Championship and Division 'A'. Apart from the prize money, the Best players among Men and Women will receive motorcycles and scootys respectively. Trophies will be awarded to the Winners and Runners-up.
The Preliminary Rounds are scheduled for September 1 and 2, while the Finals will be held on November 10 and 11.
The main objective of the tournament is to popularise the National Sport and to widen its interest in the Mercantile sector. Over 100 teams participated at last year's event and the Mercantile Volleyball Association (MVA) hopes for a much larger response this year.
Applications close on August 20. Further details can be obtained from 0710 682 682 / 0776 485 456 or, log on to www.mva.lk / E-mail: mvasrilanka@gmail.com
Applications can be posted to The Mercantile Volleyball Association, 33, Torrington Place, Colombo 7, with 'Mercantile Volleyball 2018′ marked on the top left hand corner of the envelope.
The Awards to be presented 
Super League

Men- Winner: Rs 150,000 + Trophy; Runner-up: Rs 100,000 + Trophy; 3rd Place: Rs 50,000 + Trophy

Women- Winner: Rs 100,000 + Trophy; Runner-up: Rs 50,000 + Trophy; 3rd Place: Rs 25,000 + Trophy

Championship

Men- Winner: Rs 100,000 + Trophy; Runner-up: Rs 50,000 + Trophy; 3rd Place: Rs 25,000 + Trophy

Women- Winner: Rs 80,000 + Trophy; Runner-up: Rs 40,000 + Trophy; 3rd Place: Rs 25,000 + Trophy

Division 'A'

Men- Winner: Rs 30,000 + Trophy; Runner-up: Rs 20,000 + Trophy; 3rd Place: Rs. 10,000 + Trophy

Women- Winner: Rs 30,000 + Trophy; Runner-up: Rs 20,000 + Trophy; 3rd Place: Rs 10,000 + Trophy