Impressive Lankan settles for the third place
Asian Under-20 Sevens Series
View(s):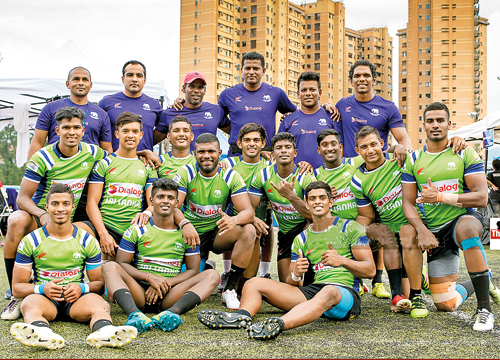 Sri Lanka secured the third place after beating Singapore 26-12, after a near flawless playoff second half at the one-off Asian Under-20 Sevens Series at the Kings' Park in Hong Kong yesterday.
After allowing Singapore to breach the defence and take an early lead the Junior Tuskers bounced back but trailed the first half 7-12. Eventually Sri Lanka made a serious approach in the second half to completely outplay the Singaporeans and finish off in style with a tally of four tries and three conversions, against the two tries and a conversion.
Hong Kong emerged undefeated champions of the tournament after pulling off an exciting 5-0 win against South Korea in the Cup final. Hong Kong earlier beat Singapore by 19-0 while Sri Lanka went down to South Korea 17-22, during sudden death, in the semi-finals matches.
The hosts completed their mission with an unbeaten tag and also defeating South Korea twice within a matter of five hours. Sri Lanka too gained similar accolades by defeating Singapore twice within the same phase.
Sri Lanka finished on top of Group 'B', winning all three games — against China (26-14), Chinese Taipei (38-15) on Friday and Singapore (22-12) earlier yesterday, before taking on Group 'A' runners-up South Korea in the first Cup semi-final.
After leading 17-7 at halftime, Sri Lanka was eagerly pressured by South Korea who managed to bounce back and level the crucial game at 17-all at full-time.
The South Koreans did not waste much time to penetrate the Sri Lankan defence and claim a 22-17 win. The winners scored from four tries and a conversion while Sri Lanka recorded their points from three tries and a conversion.
Three Sri Lankans — Dinuk Amerasinghe, Harith Bandara, Janindu Dilshan and Avishka Lee — finished among the list of Top 20 try and points scorers at the end of the two-day competition.
Amerasinghe — a product of St. Anthony's College Katugastota,  finished overall fifth with 25 points to his name off five tries while Bandara claimed the overall ninth spot with 21 points, after scoring a try and making eight conversions. Dilshan claimed 19 points and the 15th spot with a tally of three tries and two conversions while Lee had 15 points to his name and finished joint 19th position with three tries.
Chinese Taipei beat Thailand 33-17 to win the Plate Championship after failing to impress during the group stage. Chinese Taipei beat Malaysia 26-12 in the first semi-final while Thailand overcame China by 15-7 in the other qualifier. China beat Malaysia 24-12 to win the 7th/8th Playoff.
In the Women's category, China thrashed hosts Hong Kong 33-0 to win the Cup title in the competition played simultaneously with the Men's championship, Thailand beat Singapore 19-0 to win the third place.