Mobile-home travel, an evolving vacation getaway
View(s):

Booking a hotel is probably the first thing one does when it comes to a vacation getaway. Another evolving travel concept in Sri Lanka is the mobile-home travel, where you hire a motorhome and drive to your vacation hotspot. The motorhome will be your hotel room from the beginning till the end of the tour. This is one of the booming travel concepts that is gaining popularity in Sri Lankan.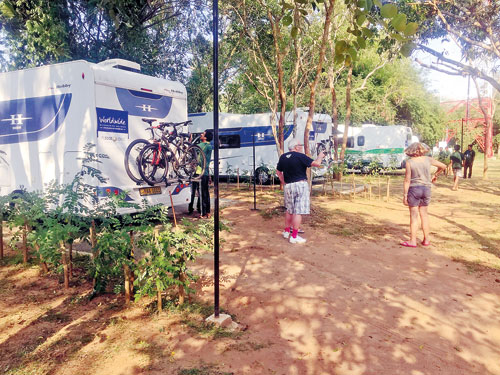 The Mirror Magazine recently caught up with the only caravan and motorhome renting company in Sri Lanka, 'GoOutdoors' to talk about their unique concept of a mobile home travel vacation. The company's General Manager, Dilhan Gunatunga shared a glimpse of the potentially evolving industry. 'GoOutdoors', being a local company incorporated in September 2014, a subsidiary of Fairway Holdings, the group has ventured into the leisure sector with a view of providing people affordable, unique and eco-friendly holiday experiences. "We are the only company in Sri Lanka and South East Asia to offer this type of mobile motor-home travel. Our motorhomes and caravans are purpose built by leading manufacturers in the UK, Germany and Italy."
Local and foreign travellers, companies that promote outdoor activity and adventures, media and movie production companies and caravan and motorhome clubs are some of the clients of GoOutdoors, Mr. Gunatunga said.
A motorhome can accommodate up to five guests and is rented out at Rs. 25,000 per day including a driver. Caravans in Nuwara Eliya are rented at Rs.12,500.00 for two guests and Rs.15,500.00 for four guests while caravans in Wilpattu are Rs. 8,500.00 for two guests and Rs.10,500.00 for four guests. There are two static parks for GoOutdoors caravans in Nuwara Eliya and Wilpattu that provides water and power facilities. Also anyone who owns a caravan or motorhome can use any of the locations by paying a rental fee.
Mr. Gunatunga stressed, "You need a special license to tow a caravan which is not allowed in Sri Lanka where we have placed our caravans at these locations for people to rent once they arrive. There are no restrictions for motorhomes to be parked in public locations however Sri Lankans by nature are curious to find out everything and that your privacy can be restricted. Habarana and Pasikudah are new locations we are looking at for static parks for caravans." There are also drive-in parks for motorhomes in Anuradhapura, Kandy, Kirinda, Mannar, Sigiriya and Tangalle.
A motorhome is always rented out with a driver which ensures peace of mind for guests. They could also be driven on highways with no restrictions. All vehicles are comprehensively insured and have a public liability cover. The caravans and motorhomes are of two international brands; Hobby, a German brand and Roller Team, an Italian brand.
The scope for mobile home travel in Sri Lanka is endless, it gives guests the freedom to travel in their own time and pace. Given that more travelers are seeking an experience or experiential travel, we are confident this mode of holidaying will catch on, noted Mr. Gunatunga.
He also mentioned that outbound tour organisers are given the opportunity to let tourists know the option of using caravans or motorhomes as part of their travel experience. Having four individuals share a motorhome of caravan can make for a positive team building experience. Even when it comes to meals, we have done research on what is available in the local supermarkets today and can suggest menus to guests not familiar with outdoor living but want to experience it. This is possible since our team have spent extensive time traveling around the country in motorhomes.
For more information visit www.gooutdoors.lk