Fresh sounds with a dash of soul
Purnima Pilapitiya catches up with up and coming band Unscripted
View(s):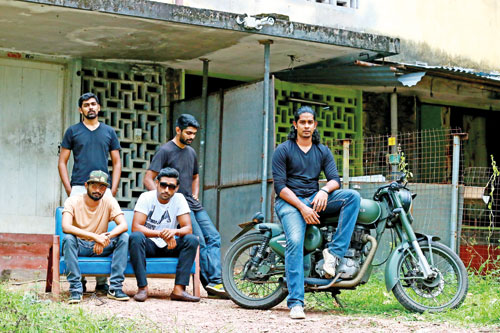 The local English music scene sees a lot of variety these days. Gone are the days of acoustic groups to bands exploring funk, jazz and lots of reggae which fans have readily embraced. Step in Unscripted; a group of young musicians with a lot of experience from different musical backgrounds creating a very unique sound of their own. It's why they themselves can't describe their music in any one word except for being "unscripted" they laugh apologetically, at the risk of sounding cheesy.
Unscripted's risk taker approach isn't a short lived cliché waiting to fizzle out. The band has been through two lineups before settling on the current crew- all of whom have been in the music scene for the past 8 years. The group spanning from 21-26 year olds consist of Kasun Karunatilake or "KK" (Vocals / Rap), Shane Von Vince'nt (Vocals / Guitar), Shamika Makalanda:- (Guitar), Saveen Makalanda (Bass), Charith Fernando (Drums / Vocals) and Joel Fernando (Guitars/Vocals) who have played in metal, funk and rock bands before deciding to take their casual jamming sessions to a more serious musical level. "At first we didn't think it would be a success Shamika and KK add." They got a chance to test their concerns while performing at the Chillum Sessions organized by stoner grunge band Durga last year, taking an even bigger gamble and playing a few of their originals as well.To their surprise, people loved it.
Since last year, the band's risk to experiment with genres has paid off. Their regular gigs include popular watering holes in Colombo to events down South. They released their first EP last year- H.U.S.T.L.E. the title song- a rap-blues rock track with a dash of soul is fresh and offers Sri Lankan music lovers a different sound. The track even scored an equally memorable music video complete with clay animation which may even be a first in the local music scene. But beneath the soulful melodies and laid back percussion H.U.S.T.L.E literally stand for How U Survive Through Life Every day. "It's pretty dark "admits KK, who jotted down the first two verses in two days. Suddenly our bearded clay hero slumped on the pavement in his office clothes, between an empty beer bottle (it even playfully labeled beer)and a little green pill echoes very real pictures of very real people we meet every day and their battle against the daily grind.
The band also grabbed attention with their cover of Anderson Paak's neo rap-soul "Room In Here" which they stripped down, adding their own spin to an almost unrecognizable cover. Between Shamika's smooth guitar and the alternatively velvet and gravelly vocals of Joel and Shane and KK's conversational rap the cover peaked at no. 1 on the Yes FM home grown countdown followed closely by "Desire" which came in at no 2. Despite their growing popularity staying away from becoming too commercial is the band's unusual mantra for them to last. To Unscripted, staying authentic to their unboxable style of music is how they describe success. These days they're working on releasing an album and a few more singles. In a few years they hope to expand into Sinhala music and take their special brand abroad "we'd like to get signed to a label one day," KK thinks aloud.
Follow their YouTube
channel on UNSCRIPTED SL