Mr. World Sri Lanka 2018 ends on a high note
View(s):

Siyatha Mr. World Sri Lanka 2018, co-sponsored by the popular men's wear brand Vantage, had its grand finale amidst much glamour at the Hilton Colombo recently.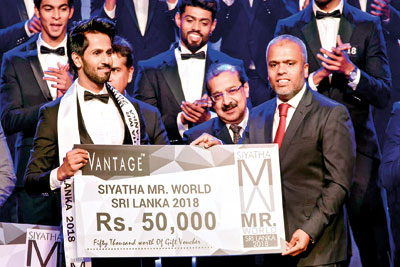 The three week long competition, designed to test the contestants through many challenges, ultimately crowned Manoj De Silva as the overall winner of the Mr. World Sri Lanka 2018 title. Vantage took pride in recognising Mr. World Sri Lanka 2018 at the grand finale by providing a valuable gift pack. The Grand Finale saw 18 contestant's model fashions in segments such as National Dress, Black Tie, White Shirt and Professional Model, which was sponsored by Vantage.
Speaking about Vantage's co-sponsorship of Mr. World Sri Lanka 2018, Rasmy Raheem – Chairman – Ebony Holdings said, 'The purpose of the pageant was to find the world's most desirable man and the highest quality clothing from brands such as Vantage play a huge role in creating this persona. Therefore, we were honoured and excited to take such a leading role in support of Mr. World Sri Lanka 2018. The competition was fierce and thrilling, exactly as it should be, and we would like to congratulate Mr. World Sri Lanka 2018, Manoj De Silva for his great achievement. I must express my gratitude towards the organisers and the contestants for their cooperation and dedication they have put on to make this event a success.'
Vantage is a highly recognised, top quality men's clothing brand of Sri Lanka's premier clothing supplier, Ebony Holdings. Adding much colour to the contest, Vantage also had its own mini pageant titled 'Vantage Man In You' which showcased some of Vantage's top-notch offering and selected the contestant with the best personality, corporate look and etiquette as the winner. The winner of 'Vantage Man In You' segment Sajith Pererareceived a cash award and gift voucher from Vantage. Titles for Best Corporate Personality, Mr. Talent, Mr. Sports and Fitness and Extreme Challenge were also awarded with the 'Vantage Man In You' mini-pageant title.