Drug war and trafficking terrorists
'Sicario: Day of the Soldado'
View(s):
'Sicario: Day of the Soldado', the newest Hollywood crime thriller starring Benicio del Toro and Josh Brolin , who in the lead roles will be released from June 29 in theatres in Colombo and the suburbs.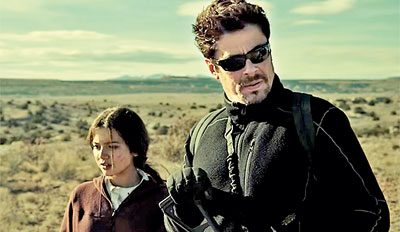 Directed by Stefano Sollima and written by Taylor Sheridan, it is the sequel to the 2015 film Sicario and stars Benicio del Toro and Brolin, who reprise their roles from the first movie along with Isabela Moner, Jeffrey Donovan, Manuel Garcia-Rulfo and Catherine Keener.
The film narrates how the drug war on the US-Mexico border has escalated as the cartels have begun trafficking terrorists across the US border. To fight the war, federal agent Matt Graver re-teams with the mercurial Alejandro.
After discovering that Mexican drug cartels are smuggling Sicario terrorists across the U.S. border, the CIA sends Matt Graver (Josh Brolin) and former undercover operative Alejandro Gillick (Benicio del Toro) to eliminate the problem. They kidnap Isabela Reyes (Isabela Moner), the daughter of a drug lord, in a false flag operation designed to incite war between rival cartels. The mission goes awry when it is discovered by the Mexican government, prompting Graver to order Reyes' death; when Gillick refuses, he turns rogue to protect her as Graver assembles a new team to hunt them.
'Sicario: Day of the Soldado' will be released by Sony Pictures, while internationally released by Lionsgate.
The film will be screened at the MC – Colombo, Empire Arcade and other centres.