Buddhist pilgrimages from Ebert Silva Holidays
View(s):

Ebert Silva Holidays offers 'Sambuddha Vandana' the unique pilgrimage packages to Buddhists around the world to follow the footsteps of the Buddha in India and Nepal in safety and comfort in the season starting July 2018. This spiritual journey to the land of the Buddha is indeed a cherished dream of every Buddhist and often a treasured gift given to parents by their children.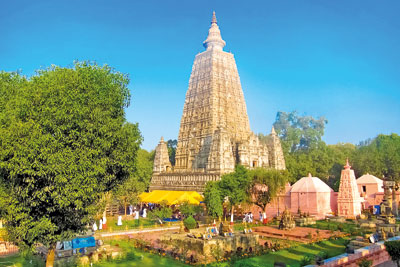 In the Mahaparinirvana Sutra the Buddha stated that there are four main sacred sites associated with his life that should be visited and venerated by every Buddhist. These revered sites being, Lumbini, the birth place of Prince Siddhartha, located in Nepal, 27 kms from the India – Nepal border, Bodhagaya, the most sacred site to all Buddhists around the world, where the ascetic Siddhartha attained Enlightenment, Saranath, the place where the first sermon was delivered and Kusinara, where the Buddha passed away. Thus, a journey in the footsteps of the Buddha, worshipping and venerating the revered sites associated with the life of the Enlightened one is indeed a treasured spiritual experience for every Buddhist.
As the second pilgrimage season in India commences in July, Ebert Silva Holidays offer deluxe 8 days pilgrimage group packages and exclusive tailor made tours to preferred itineraries to the client's selected dates. The clients will have the choice of selecting the luxury hotels they wish to stay at each sacred destination and travel on the airline of their choice. These spiritual journeys cover the four main sites of worship with other sacred places such as Nalanda, Rajgir, Sankassa, Sravasti, Vishala and sightseeing in Delhi among others.
Exclusive highlights of the Ebert Silva Holidays special packages are the rare opportunities offered to view and worship the sacred Buddha Relics enshrined at the National Museum in New Delhi found in the city of Piprahawa, 93 kilometres from Lumbini, identified as Kapilavastu, the capital of the Sakyas. Visiting the sacred site where the Satipattana Sutra was chanted in the city of New Delhi is also an exclusive highlight. Other special features of tours are the opportunities to prepare and offer kiripindu and to observe sil in Buddhagaya.
For more details call or 0718 555 668 or 0112814700 and e mail: esholidays@eureka.lk