Mahinda Rajapaksa College crush Manthindana by 8 wickets in inaugural big match
View(s):

Mahinda Rajapaksa College Matara led by Dumindu Duranda crushed Manthindana College by 8 wickets in their inaugural big match played at the Uyanwatta Stadium recently. The inaugural game between the Under-15 teams of the two schools was scheduled to be a 50 over game but had to be reduced to 34 overs preside due to damp ground conditions.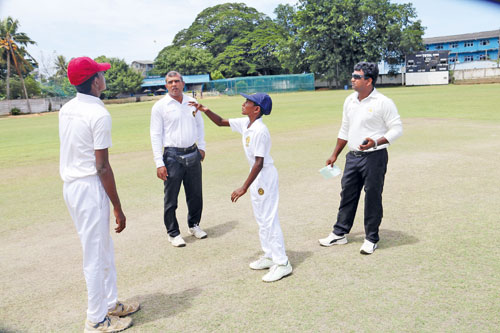 Electing to bat first Manthindana posted a total of 152 for the loss of five wickets in their allotted 34 overs. Rasindu Thamalsha scored an unbeaten 48 off 103 balls with eight boundaries while skipper Sadev Mihiranga chipped in with 23 scored off 24 balls with 4 boundaries.
The total was boosted by 52 extras — 7 byes, 42 wides and 3 no balls. Yasanth Priyalaksha captured two wickets while Durnda Dumindu and Kaveesha Nirvan captured a wicket each.
The Mahinda Rajapaksa College batsmen powered by an unbeaten 52 by Tharusha Hasaranga and 20 plus scores by Yasanth Priyalaksha and Dumindu Duranda won the game in 16.4 overs with eight wickets in hand. Ashen Udayanga and Arusha Dilshan shared the two wickets to fall.
Manthindana 152 for 5 wickets in 34 overs (Rasindu Thamalsha 48n.o., Sadev Mihiranga 23, Rathika Sansindu 14n.o., Maneth Pahasara 12, Yasantha Priyalaksha 2 for 24, Kaveesha Nirvan 1 for 8, Duranda Dunidu 1 for 35)
Mahinda Rajapaksa Matara 154 for 2 wickets in 6.4 overs (Yasantha Priyalaksha 24, Tharusha Hasaranga 52n.o., Duranda Dumindu 28, Raveesh Kashmika 13n.o., Ashen Udayanga 1 for 39, Arusha Dilshan 1 for 44)