'Lalan Villa' Luxury living in rustic forest
By Sanath Weerasuriya
View(s):
Ruhunu National Park or popularly known as 'Yala National Sanctuary' is one of the top tourist destinations in South province. Arguably it is the best leopard sanctuary in Asia.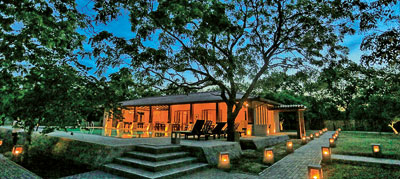 The Park has become the most sought after destination for both Sri Lankan and overseas visitors throughout the year. After a beautiful rainy season in November/January, Yala is slowly getting dry and brownish. Dry weather will continue till April and May onward will open the sighting season of elephants, leopards and other wildlife, making Yala, the busiest place in the Province.
Lalan Yala Villa is situated in the Deep South in Kirinda, off Kirinda Yala road, just 12 kms away from famous Yala National Park. The property which was opened to the public in August 2017, is the latest addition to Lalan Leisure, the subsidiary of Lalan Group of Companies.
Lalan Yala Villa comprises of comprises of 5 family chalets, each comprising of 2 king size beds and having the capacity to accommodate 4 guests and one double room.
The property boasts of providing a spacious en suite bathroom at each room as well as equipped with all modern amenities such as flat screen Cable TV, tea and coffee making facilities and a safe overlooking the beautiful pool and the organic vegetable plantation, where guests can relax after a tiring game drive..
'Total of 22 adults can be accommodated at the property, which offers both an adult and kids swimming pool along with separate dining and lounge areas. The most important is we created this place specially to cater for families, who need a relax holiday from the hustle and bustle of the city. Domestric and drives quarters too are available for families' said Wasantah Warakagoda, the CEO of Lalan Leisure.
The eco-friendly Villa is a favourite place for many wildlife enthusiasts who find its wild atmosphere ideally suited to unwind after a safari.
Lalan Villa is surrounded by untouched nature. It offers a variety of outdoor activities and guests can enjoy bird watching.
'The concept of Lalan Villa is to provide our guests the opportunity to enjoy the simple rural lifestyle in a typical village in Sri Lanka without compromising on any of the comforts that modern day life provides' Warakagoda further added.
The resort caters to the guest who wants to be pampered and be provided a personalised service.
'Guests can either book the individual chalets or the entire property' said Rajiv Yasmith, the Sales manager of the property.
The property has an in house chef Deva, who has years of experience in traditional Colonial Estate bungalows, supported by Kamalinee. Apart from the wildlife environment, Lalan Villa is known for its cuisine. Even guests can either bring their own provisions or let Deva take care of everything.
'We generally serve Sri Lankan dishes but on request, I can prepare any kind of cuisine to suite the guests' preferences. Outside BBQ is possible on prior request' said Deva.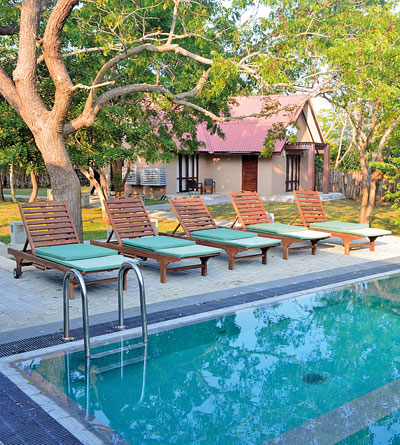 'Picnic breakfast or lunch can be provided for those who wish to do an extended safari. Also we offer our guests the unique experience of a dinner out in the open jungle or by the pool. Deva and his team is ready night laying out an array of cuisine for guests whilst they enjoy the beauty of night life in the open wilderness' Wasantha added.
'We at Lalan Villa do not provide guests with only the accommodation and food, but also an array of activities which enable adventure lovers to get some value added to their stay at the Lodge' said Dushantha Silva, one of the partners of the property and who arrange all wildlife safaris to nearby Yala, Bundala and Lunugamvehera.
'Lalan gives its guests a remarkable once in a life time experience with most adventurous camping facilities at the edge of the Park. Uda Walawe is also about one hour drive' he said.
'Two trails have been marked out by our staff where guests can enjoy a bicycle ride through a typical chena village. A two hour ride through jungle, paddy fields, lakes and during the rainy season is an experience'.
Kirinda, Sithulpawwa ancient Magul maha Viharaya, Katharagama and Nimalawa Arannaya (Rock monastery) are in close approximate to the Lalan Villa.
The Lalan Group is a highly diversified company whilst predominantly engaged in the Plantations Sector. Lalan Group strives to control and deliver the total chain of any product they engage in, such as the Rubber industry, where Lalan manages and owns the complete chain from planting to retailing numerous rubber based products to the end customer worldwide.

Lalan Leisure was born out of the immense beauty and luxurious environments in which Lalan owned and managed their Plantations.

'As such Lalan Leisure has embarked on a mission of selecting and adopting wonderful unique locations for the enjoyment of the locals and tourists. Udapola, Iona and Kudaoya plantation bungalows offer unique experience to all its visitors' said CEO Warakagoda

'Suriyakanda, Agrapatana, Gammaduwa, Deraniyagala – off the beaten track, and unknown locations to most, Lalan Leisure has beautiful luxurious bungalows for you to explore' he added.

The room rates for 'Lalan Villa' ranges from Rs 10,000/- (SFB) to Rs 14,000/- (FBD). The FB triple rate is Rs 18,000-. The whole Villa coasts Rs 45,000/- and Rs 65,000/- for 12 pax on FB basis.

For more details call 0714553089 and 0772105494 or log onto
www.lalanleisure.com
Pix by Neil Siriweera