'Fragments and Figments'
View(s):

'Fragments and Figments': A Collection of Cultural Essays, written by freelance critic Uditha Devapriya, was launched at the Western Province Aesthetic Resort recently.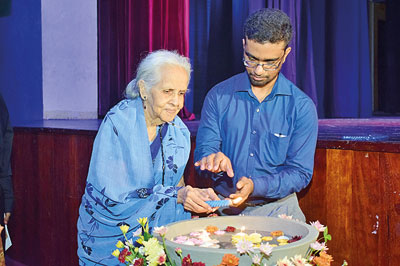 The launch ceremony was a resounding success, with the active participation of several distinguished members of Sri Lanka's cultural and literary spheres. Malinda Seneviratne and Dr. Dayan Jayatilleka, the Chief Guests of the event, delivered speeches revolving around the author and his work, while veteran actor Ravindra Randeniya delivered the welcome address.
Highlights of the event included the live performance of three popular and old songs, including two from films directed by Sumithra Peries, who was present at the ceremony. The two film songs included the nostalgically successful 'Ran Tikiri Sina', which marked 40 years since its first recording on March 31, 1978 and which was performed that night by its original vocalists, Victor Silva and Nirasha Perera.
'Gehenu Lamayine' from Peries's debut Gehenu Lamayi was also sung, as was 'Paawe Wala', bringing down the curtain on the event. Veteran media personality and announcer Thilaka Ranasinghe and renowned English announcer and artiste Lithmal Jayawardhana were the compères for the night.
Uditha Devapriya in his speech contended that unless the field of criticism is nurtured and maintained well, there's no real way through which those art forms can be conveyed properly to the outside world, observing that the young are key stakeholders in the movement to propagate those art forms and artistes.
For more information call 0774597276 / 0718670679 and via email at
udakdev1@gmail.com