Damayanthi sings Buddhist songs
By Susitha R. Fernando
'Sitha Niwana Gee'
View(s):
Veteran award winning singer Damayanthi Jayasuriya's latest collection of Buddhist songs, 'Sitha Niwana Gee' (songs that calm the mind) will be released on April 23 at the Buddhist Cultural Centre at Sambuddaththa Jayanthi Mawatha, Havelock road.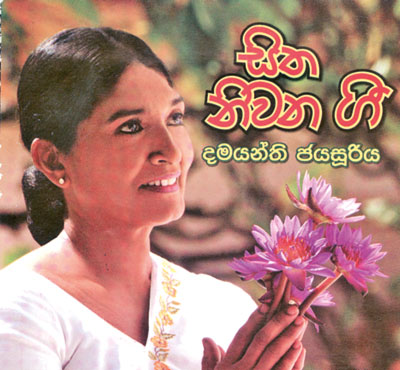 The maiden collection of Buddhist songs by Damayanthi were penned by a group of versatile and veteran lyricists including the Ven. Rambukkana Siddharatha, the Ven. Thrikunamale Ananda Maha Nahimi, the Ven. Madapatha Dhammasara thera, the Ven. Wennapuwe Chandananda thera, Prof. Sunil Ariyaratne, Kularatne Ariyawansa, Dr. Praneeth Abhayasundara and Jayampathi Algama. The duets are sung together with Edward Jayakody and the music was composed by Dr. Rohana Weerasinghe, Lionel Algama, Nanda Malani, H. M. Jayawaradena, M. Y. Chulasinghe, Ajith Dharshana Jayaweera, Dharshana Wickrematunga and Indrajith Mirihana.
At the launch Prof. Pathegama Gnanissara thera and the lecturer Navalapitiya Anuradha Sudhammika Therani will deliver special talks, while the State Musical Orchestra of the Cultural Affairs Department led by Janaka Fonseka will provide the musical backing.
Damayanthi started her singing career as a child joining 'Kanitu Sarasaviya' and 'Lama Ranga Pheetaya' of the SLBC Commercial Service (Sinhala).
'We first joined in singing choruses, then duets and then went solo. I can remember at the beginning, I was not even tall enough to reach the microphone. We could hardly hear our voices in the group songs. But that was a great experience' said Damayanthi reminiscing her beginning as a child singer.
She was soon rewarded for her talent and at the age of 16 years Damayanthi was selected as an 'A' Grade singer in the Swadeshiya and Commercial services of the SLBC. Gifted with a screen voice, Damayanthi was soon became popular as a playback singer for leading actresses like Malani Fonseka.
Then followed a long singing career in cinema. She sang for some of the box-office record breaking films like 'Aradhana', 'Binari Saha Sudu Banda' and 'Dinuma'. She still feels excited about the opportunity she got to sing with Mohideen Beig and H. R. Jothipala. Her song 'Unmadawu Premadare' in H. D. Premaratne's 'Saptha Kanya' which was sung along with Kamal Addararachchi became an evergreen hit.
Damayanthi, who is contented with her career, says that she got the opportunity to sing to the music of almost all the leading music directors like Dr. Premasiri Khemadasa, Sarath Dasanayake, Sarath Wickerme and H. M. Jayawardena.
When the teledrama industry was introduced to the country, Damayanthi was one of the first to join it. Starting with 'Hiruta Muwawen' teledrama, Damayanthi has sung for many teledramas.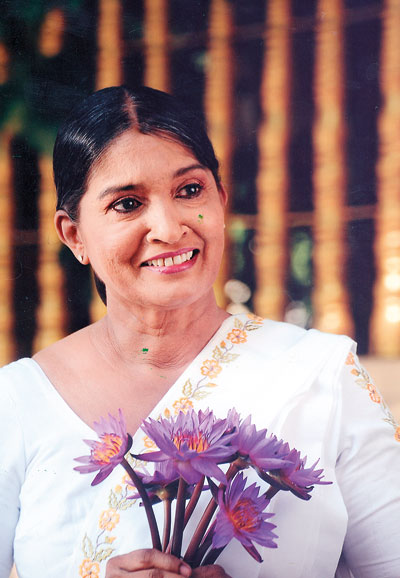 Starting with internationally recognised Bunka Award, Damayanthi has won a large number of awards including Presidential Awards for her singing.
'Sitha Niwana Gee' is also a part of this journey as the Buddhist songs were done not to earn money but solely to spread the message of love and goodwill.
The compact disc of Buddhist songs is a collective effort by those attending 'Sithum Piyasa meditation centre' in Siyambalape and she is grateful to the Ven. Hanthane Dammagaveshi Thera and a group of devotees who attend there.