Blistering barnacles! Guess who's come to China-town, Singapore?
By Rajitha Weerakoon
View(s):
Guess who we stumbled on while wading through the crowded roads of old Chinatown in Singapore? Taking us completely by surprise was Captain Haddock of the ever-popular Tintin Adventure series, clad in black naval uniform and standing sentinel at the doorway at believe it or not, an exclusive Tintin shop! Tucked away on the downtown Pagoda Road, the shop would have gone unnoticed had our curiosity not been stirred by the larger than life figure of the lovable Naval Captain at the entrance, beckoning the swarms of tourists passing by, to step in.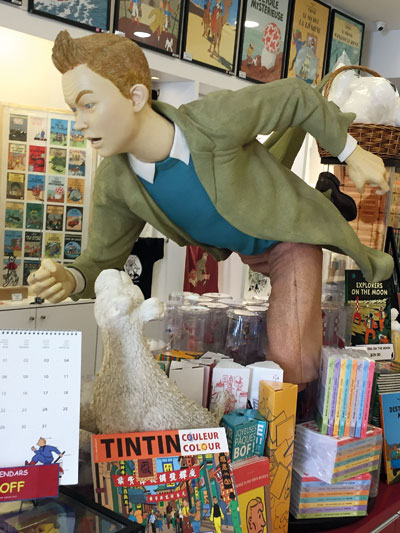 On entering the shop, right before us was a life-sized figure of Tintin on the run, his spiked fluff of blond hair flying and diving towards us in mid air. Alongside was his faithful terrier, Snowy, probably chasing Rastapopoulous, the villain? Or, following a vital clue?
Keeping up the momentum were more Tintin characters and the famous objects that were part of Tintin adventures which the novelty shop offered its fans to browse through and relive the thrills of the journalistic encounters of this famed young boy reporter.
This is especially so for those who grew up with Tintin –idolising the cartoon character, who without confining himself to reporting, trespassed on dangerous territory while chasing after stories. Whether it was on land, sea, air, the moon, or even skirting volcanoes, he kept those hooked on his exploits virtually on the edge of their chairs.
The merchandise, an extensive array of Tintin memorabilia consisted mostly of 12cm resin figurines of the journo, clad in various kits as he figured in the numerous adventures and misadventures, with his smart snow terrier and the hilarious Captain Haddock of "billions of billions blue blistering barnacles" fame who often found himself tipsy yet helped Tintin solve many a complicated mystery.
More or less a display gallery, the Tintin shop, besides the main characters, had both Tintin's friends and the crooks. There were the bungling detectives, the identical twins Thomson and Thompson, moustached and dressed identically in black suits and bowler hats awaiting the next move. Professor Cuthbert Calculus, slightly stooped with his thick round rimmed glasses, was very much part of the gallery as the preoccupied scientist. How his half deafness created hilarious situations due to his misunderstanding what he was told!
A special feature of the gallery was that the more popular Tintin episodes were arranged as individual entities that revived memories and aroused humour. There was Tintin's arch-enemy, Rastapopulous, who provided Tintin a good excuse to move to various exotic locations. Remember how he created panic and suspense? There were Muller and Musstler as well, in the act as villains.
The gallery did not leave out the formidable Bianca Castafiore, the soprano intensely disliked by Captain Haddock. And who, blissfully unaware of the high drama unfolding under her very nose, belted out her famous classical operatic numbers at such a high pitch so as to shatter glass.
There were Alcazar, the knife thrower, Nestor, the Captain's butler and Marlinspike Hall, the country house of the Captain, the numerous replicas of rockets, air planes, cars, bikes as well as adventures amongst volcanoes and explosions that thrust visitors into the throes of the Tintin mystery world.
The quaint old-fashioned shop is run by Gabriel Tan. Syamirul Zainal is its young retail assistant. Both Singaporeans, they acknowledge that the shop is now a landmark in Chinatown and tourists come looking for the shop to buy Tintin memorabilia. Then there are Singaporeans who visit Chinatown especially to buy a comic or a video and browse around the shop.
Mementos included artefacts, sculptures, posters, stickers, notebooks, canvas bags as well as Tintin watches, clocks, games, puzzles, mini bowls, coasters and mugs with Tintin figurines on them. Collectors' delight was the full range of Tintin books, also sold in digital format. Videos of Tintin comics were played continuously on a large screen.
Mostly snapped up by tourists however were t-shirts with Tintin, Captain Haddock or Snowy on them. However, disallowing tourists to take selfies in the company of their idols, was a disappointing factor for the tourists. Nevertheless, the shop takes you back to an era when Tintin made its mark well before the electronic blast of animated cartoons and movies.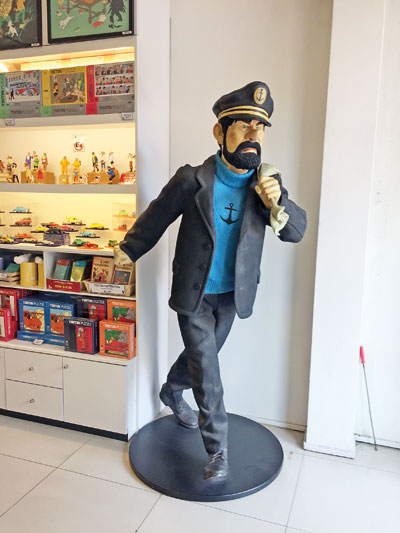 Created by Belgium author Herge, whose real name was Georges Prosper Remi, the Tintin series has fans across the world. There are seven exclusive Tintin shops around the world in London, Japan, USA etc with the main shop set up in Brussels – Herge's hometown. The Tintin shop in Singapore opened in 2010, is the newest and the largest outside Belgium with life-sized figures of its main characters on display. But instead of choosing Singapore's plush showpiece of Orchard Road or other ultra modern hotspots, it is situated in the heartland of Chinatown's street market – where a bustling mix of old and new shops sell inexpensive Chinese souvenirs, crafts, trinkets and garments with Indian shops and Chinese restaurants adding to its distinct bazaar atmosphere.
Chinatown is the cradle of Singaporeans, being the main landing area for those who made the arduous crossing from China. In 1819, they made a trading settlement with the British East India Company based in Singapore and when its head Stamford Raffles planned an orderly city, segregated by ethnicity, the Chinese, forming the largest ethnic group, were allocated land in 1843. Chinatown was thus born.
Busloads of tourists who visit Chinatown for its history, its colourful and cultural sights and in search of souvenirs, have one more stop now. To Tintin fans, it is a shrine.