Lankan journalist to cover Royal Wedding
View(s):

Anne- Marie Mediwake one of the most highly-regarded Canadian television newscasters has been invited to broadcast the coming Royal Wedding in London, England.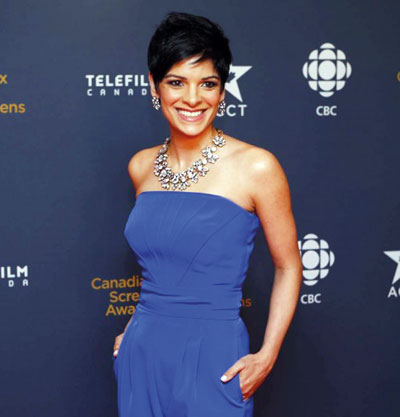 Anne Marie Abeyesinghe Mediwake was born in 1975 in Kandy, Sri Lanka. She is the daughter of Mervyn Mediwake of the well-known Mediwake family from Dumbara in the Central Province emigrated to Canada with her parents, Mervyn and Muriel. She has an elder sister, Naomi and younger sister, Becky.
She has won the highest accolades available to Canadian television broadcasters and has headed up the primary TV news broadcasts on the Canadian Broadcasting Corporation and the Canadian Television Network.
Anne- Marie started her television career as a teenager in Lethbridge in 1993, where she used to write and produce shows related to children and youth for a local television based in Alberta. In the 90s Anne-Marie worked at various stations in Alberta, her home province, where she was eager to try everything related to television.
After spending around six years in Alberta, she went to Toronto where she worked as a reporter for CTV. Her focus and hard work paid off when she was offered a producing role for 100 Huntley Street in Toronto after overseeing the only interview with the Lang family; whose son was the sole victim in the Taber High School Shooting.
During her time at CTV, she co-hosted the award-winning 21c, a current-affairs programme aimed at Canada's younger generation. She also worked with the Canada AM and CTV National News and with Lloyd Robertson. Mediwake also co-anchored Global Television's Toronto flagship newscast.
In 2011, she was named Toronto Woman of the Year.
Anne- Marie is married to Darryl Konynenbelt, a journalist. In 2007, the couple expanded their family with triplets and chronicled their experiences with pregnancy and birth in the wildly popular and hilarious National Post column called the Triplet Journal. She has even walked the runway, lighting up the catwalk with her winsome smile in a Scottish inspired red dress during the 2010 Heart Truth fashion show in Toronto. The couple has triplets Annabel Abeyesinghe, Maxim Bandara, and Libby Abeyesinghe, born on June 14, 2007.