Dilum's documentary 'Great Elephant Gathering' awarded in Japan
View(s):

Dilum Alagiyawanna's maiden documentary film "The Great Elephant Gathering of Asia" Documentary Film on Minneriya Elephant Gathering won the Best film award for the behaviour of animals at the Japan Wildlife Film Festival 2017 on Tuesday.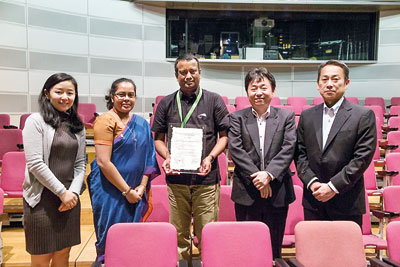 Produced in partnership with the Department of Wildlife, the film competed with 208 Wildlife Documentary Films from all over the world. Dilum's film was among 31 nominations.
"I'm so proud that my maiden film has been nominated for the Japan Wildlife Film Festival," Dilum, the director and the producer of the film posted in F6acebook after winning the award.
Started in 1993, the Japan Wildlife Film Festival is organized biennially – every odd year in Japan. With the cooperation of Wildscreen in Bristol, U.K. and Jackson Hole Wildlife Film Festival in Wyoming, U.S.A., it has become the largest event of its kind in Asia and Pacific Rims.
The festival receives over 400 film entries from over 40 countries and is attended by some 40 thousand members of the public who come from all over Japan. The Japan Wildlife Film Festival is a four-day event, where nominated films are screened at several theaters and open to the public free of charge.
The Festival gives the Japanese public an excellent opportunity to view high quality natural history films. In addition to the screenings, the festival organiser invite several of the nominees and other filmmakers to give special seminars on the making of their films.