Hooked on marathons
Joshua Surendraraj talks to Hassan Esufally who aims to be the first Lankan to run in the seven continents
View(s):
"With anything that's difficult in life, you'll get to a point that is a make or break. And in those moments you have to realize why you started, how far you've come and not how far you have to go." This is the mantra that Hassan Esufally keeps telling himself, as he prepares to be the first Sri Lankan to run a marathon in all seven continents.
When we meet on a lazy Saturday afternoon, an energetic Hassan is in his running gear clearly planning to hit the gym after our interview. He trains six days a week and rests on the seventh, we learn and sometimes sneaks in a swim or a cross training session on rest day too.
What motivates a person to run? "It really has to be intrinsic. I think that you have to know why you're doing something. To me personally, I like that feeling of achievement and I enjoy the training," he explains.
Studying at the British School in Colombo, Hassan moved to Melbourne for his higher studies and it was there he spotted a newspaper advertisement about the Melbourne Marathon, which was scheduled to take place in three months.
"It piqued my interest enough to tell my friends that I'd be signing up for it." They laughed at his unreasonable time frame, yet he thrived on the challenge, wanting to prove them wrong.
Training rigorously for the next three months he completed his first Marathon and was hooked.
When he graduated there were four things that Hassan wanted to do in life. One was to get married to the love of his life Rashida, which he did. The second was to live, work and travel around Australia, the other was to take part in the IRONMAN 140.6 Asia-Pacific Championship in Cairns (which is a 3.86km swim, a 180km bike ride and a 42.2km full marathon run) and finally become a member of the 7 Continents Marathon Club.
Hassan had to train for ten months for IRONMAN. But when he finished the triathlon, which is considered to be one of the toughest in the world, it gave him confidence and "the 7 Continents Marathon Club" challenge seemed a possibility.
As part of his new mission, Hassan has completed the Melbourne Marathon (October 2014 and 2016), Stockholm Marathon (June 2017) and the Colombo Marathon (October 2017). His next conquest will be the Boston Marathon this April, the Big Five Marathon in Africa in June, the Inca Trail Marathon in August and the Antarctic Ice Marathon in December.
Each Marathon is a challenge in itself and he takes it one step at a time. The tracks are different. Furthermore the climate also changes in each continent and this requires adapting to as well.
"In Melbourne, the surface was more flat, whereas in Stockholm it was a little hilly, but the weather was cooler. Colombo was by far the hottest and toughest given the weather and humidity which dehydrates you," he recalls.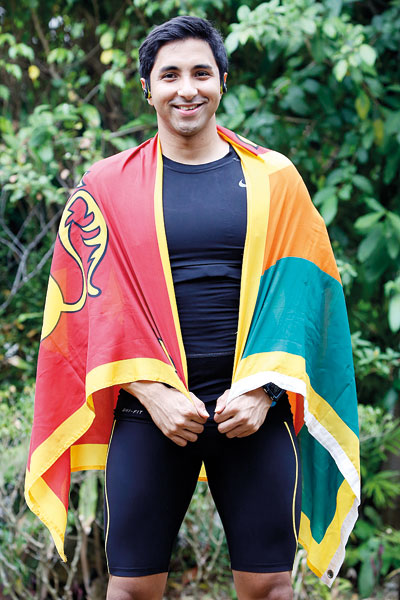 Hassan's training sessions consist of four runs a week -two intense runs, a long run and an easy run. He also does strength and conditioning twice a week.
He prefers to travel to the marathon destination at least two days prior so that he can acclimatize to the conditions. He explains that for an endurance event you train for a certain time and then you hit your peak but it's not the full distance. Then you taper down to the full thing once again. "So I travel during that tapering down process."
Boston will be similar to the Stockholm Marathon, in terms of weather conditions. "But the turf will be different because it's more downhill, which is good." The African route is in the African Savannah, so you're running with the wild animals.
The Inca trail is another experience, which ends up at Machu Picchu. "Given that I'm Sri Lankan, I think I'll be alright for those three. But Antarctica is a completely different ball game," he says.
In Colombo, Hassan tries to go about his runs by 6 a.m. because of the heat. "To be honest, I wasn't always a morning person." Rather he uses a series of tricks to help himself wake up, like his alarm, which requires him to solve a maths problem to turn it off.
Training aside, Hassan eats healthy; his diet includes five small meals a day, with a portion of protein and carbohydrates and also lean protein and complex carbohydrates.
We talk about what goes on in his mind, during a race, to which he replies that music takes a lot of the pain away. "I use a lot of technology as well. I have Bluetooth earphones, a Garmin GPS watch and heart rate monitor so that I can keep track of my pace and my heart rate etc. That way my coach in Melbourne can also track me." He also focuses on his nutrition and water intake etc.
"A lot of those thoughts run through my mind, because you cannot run blindly. And by the time you know it the race is close to being over."
Did you ever feel like giving up? I ask and he admits the thought has crossed his mind. But then "I remember why I started this. And I'm looking to bring pride to Sri Lanka and that's a big motivator."