Blue Wave Hotel: Introduces luxury living in Arugam Bay
By Sanath Weerasuriya
View(s):
For years, Sri Lanka was trying hard to come out of 'Beach Destination' tag for the sake of other attractions. Sri Lanka is the only country in the world blessed with almost every natural attraction in the entire globe compact into 65,000 square kilometres. That is why once, the world renowned scientist/ writer Arthur C. Clarke noted that a 'lifetime' would not be enough to explore the nature, beauty people, history and art of Sri Lanka.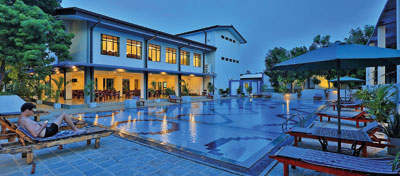 Out of popular beach destinations, what could be a better place than Arugam Bay, one of the world's top ten surfing destinations to talk about.
Located in the heart of Arugam, 'Blue Wave' hotel offers modern and comfortable accommodation within a ten-minute walk to the famous Arugam Bay surfing area. The resort attracts surfing fans during peak season of June to October and peace lovers during the rest of the year.
Blue Wave is one of the biggest resorts in the destination Arugam Bay.
Blue Wave Hotel, started in November 2015, fills a major void for high end accommodation for the area, which was a great need as up-market tourist accommodation in the area, which is mostly limited to small hotels and guesthouses.
It is a popular resort not only for surf lovers, but adventure high end tourist visiting the deep south of the Eastern Coast looking for different cultures, adventure and wildlife.
The Blue Wave Hotel offers renowned service and comfort with its intimate 31 bedrooms including 30 deluxe rooms and one suite with modern amenities, free wi-fi, 24 hour service, a large swimming pool, a well equipped gym and open air restaurant.
The cuisine at Blue Wave Hotel is always on 'healthy and up market' levels with fulfilling the guests requirements. Dine at open pool front restaurant with delicious seafood and Sri Lankan cuisine is an experience for everybody.
'Our cuisine is always supervised by our team of Chefs. Blue Wave Hotel offers a vast range of local and international cuisines, an a la carte menu with signature and fusion dishes, BBQ facilities and we always cater to the guests requirements' explained T.H.D. Denzil, the Executive Chef of the Resort.
'There is no flexible meal times and we are always ready to accommodate their culinary requirements of the guests. Sea food is very popular, as hotel gets the fresh catch straight from the sea. Our seafood is never refrigerated and the freshness stays until the seafood is cooked' Sous Chef Shiran added.
Nature and adventure lovers to the 'Blue Wave' will be faced with a multitude of choices as the national parks – Kumana, Lahugala and Gal Oya are in close proximity.
Popular Buddhist Shrine Muhudu Maha Viharaya in Pottuvil, Komari -the legendary landing place of Queen Viharamaha Devi, Magul Maha Viharaya, Kudumbigala, Panama Village and Okanda are other attractions of the region.
For more details, call 0634929929, 0766929929 or log onto www.arugambayhotels.com
Pix by Ranjith Perera