Birthday gift to Father of Lankan cinema
'Vaishnavee'
View(s):
Dr. Lester James Peries' latest story made into a film by Sumithra Peries, 'Vaishnavee' (The Goddess) will be released on April 5, coinciding with the birthday of Dr. Peries, the 'Father of Sri Lanka cinema'.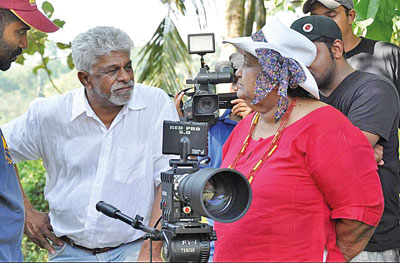 'Vaishnavee', is a fantasy set in 1930's Sri Lanka. A puppeteer is arranged to be married to a young girl, but after she elopes with her lover, the grieving man carves a puppet in her likeness that comes to life, setting in motion a fantastical chain of events.
The film stars Yashoda Wimaladharma and Thumindu Dodantenna in the lead supported by Vasanthi Chathurani, Jayalath Manorathne, Veena Jayakodi, Rohana Baddage, Mahendra Perera and Iranganie Serasinghe. Technologically the film is a landmark in Sri Lankan film industry as it is the first film to be shot with the latest Red Epic camera, creating the foundation for next generation digital cinema in the country.
Behind the screen, Donald Karunarathne is the cinematographer, Surangani Wijewickrama is the costume designer and it is the last script written by award winning script writer Tony Ranasinghe.
The film will be released at Regal cinema Colombo and number of other theatres including cinemas of the CEL circuit.