Chic and casual soft drapes
View(s):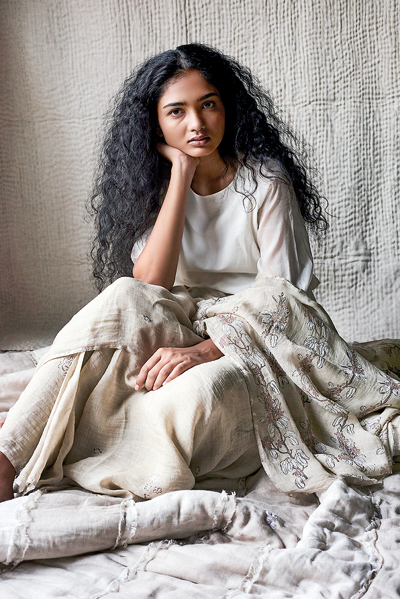 Indian designer Anavila's latest collection "INBETWEEN Spring Summer '18 will be launched simultaneously in India and Sri Lanka. The Sri Lankan launch will be at Rithihi, the exclusive saree store on March 17 and 18. 'Inbetween', sees Anavila's new line, all soft pastel hues and delicate floral imagery in whites, beige and muted tones of rose, periwinkle and soft yellow, bringing out the essence of lazy summer days.
With Anavila's signature block printing combined with batik, jamdani and khatwa as well as cross stitch, used to create lovely motifs, the collection comes in soft silhouettes – flowing blouses, breezy kurtas, delicate sarees. Separates in linen, khadi and soft silk blends are also featured.
With handpicked collections that celebrate indigenous craftsmanship Rithihi has become a sought after name among Colombo's discerning shoppers looking for fabric quality, comfort and elegance in design.
Anavila Misra's philosophy is all about 'being one with the environment'. Linen is her passion and she  developed her signature line of handwoven linen sarees, using indigenous textiles, techniques and crafts. Promoting the saree for the younger wearer as an everyday garment, she adds the edge factor through multi-functional blouses and peeping petticoats, designed for comfort and flexibility. Dispensing with traditional drapes, she encourages wearers to drape as they wish.
Anavila has gone places in her career – she was on Grazia's 100 Most Influential People in Fashion of 2017. Recognised by the industry for adopting sustainable practices within the luxury fashion arena, she has had many awards come her way, among them the Vogue India Fashion Fund's Sari Award (2016), FICCI FLO For innovative design (2016), Femina Women Jury Award for Arts and Design (2017) and recently the Condé Nast Traveller and Forest Essentials Excellence Award.
See her in Colombo next weekend at Rithihi.