In defence of SL armed forces
By Chandani Kirinde
View(s):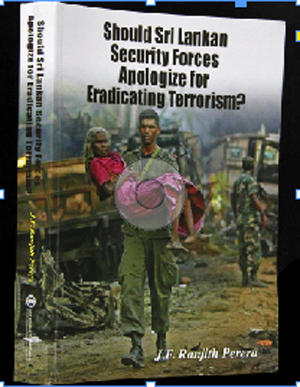 In the aftermath of the defeat of the LTTE in May 2009 by Government forces, many books have been written both in praise of the role of Sri Lanka's security forces during the war as well as criticism of them. The latest book that tries to put the record straight on the role of the military personnel during the war is by J.F.  Ranjith Perera, a former Director General of the Ceylon Tourist Board who is also the author of several other books.
Titled "Should Sri Lankan Security Forces Apologize for Eradicating Terrorism?"  the author in his book  makes a case   in defence of the armed forces   detailing  in depth the atrocities committed by the LTTE over the decades in which thousands of civilians  were killed and political leaders of all communities assassinated and how the security forces personnel  eliminated  a deadly menace that had plagued people of this country for years.
The book takes the reader through the military operations which were done with "minimum causality to civilians" by creating "no fire zones" with the security forces operating under internationally accepted military laws despite the type and nature of the enemy they were up against.
On the contrary, he notes, that the terrorists were not governed by any military laws or practices and were only governed by the law of the jungle.
Mr. Perera says that  it is regrettable that the Sri Lankan forces who  deserve  global  praise for eradicating  a deadly terrorist group  are being unfairly  accused of  human rights violations with enormous amounts of funds  of the  LTTE used to  dilute this achievement .
The author says the objective of his book is to place before the readers the sequence of events and the authentic facts relating to the final stages of the war against the LTTE terrorists and highlight how the security forces conducted themselves in discharging their duties.
Mr. Perera says he hopes the book will catch the attention of readers particularly in European countries as well as the USA, Canada, Australia etc. as well as Sri Lankan Tamil diaspora as well as senior officials in Human Rights organizations and they will begin to appreciate the role played by the Sri Lankan forces in eliminating a terrorist group and setting an example by their conduct.
There is no doubt this will not be the last word on the events that led to the defeat of the LTTE in 2009 but different views on the subject will enrich the readers and enable them  to come to their own conclusion about this issue.
The book is published by Sarasavi Publishers (Pvt) Limited.
| | |
| --- | --- |
| Book facts | |
| Should Sri Lankan Security Forces Apologize for Eradicating Terrorism? by J.F. Ranjith Perera | |