Rs 12m worth Audio Visual Studio for Sri Palee Campus from Japan
View(s):

An agreement to establish an audio visual studio equipped with modern cameras, valued at Rs 12 million, was signed by the Ambassador of Japan in Sri Lanka Kenichi Suganuma, and Vice Chancellor of the University of Colombo (UoC), Senior Professor Lakshman Dissanayake, at College House of the University of Colombo this week.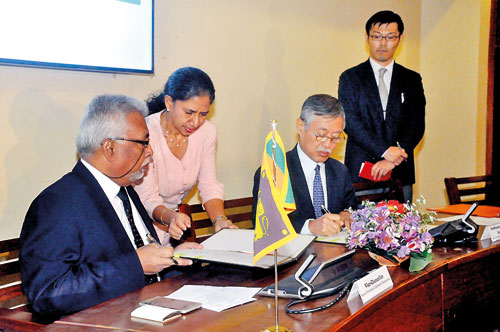 This project is an Educational donation by the Embassy of Japan in Sri Lanka, for the Sri Palee campus. Professor Dissanayake, speaking at the event, said the studio will be immensely beneficial for the university students. "This project will contribute to capacity building in the field of next generation media training and also placing the Sri Palee campus as the central point of media experts' learning," he said.
Ambassador Suganuma said, "Japan is trying to promote cooperation not only in the Educational sector, but also collaboration in Mass Media and the Digital Transmission system which will create essentials for Technologists and Studio Technical organisations familiar with Digital systems and Japanese Broadcasting Standards." adding that, this Project will encourage cultural conversations and mutual understanding between Japan and Sri Lanka.
Professor Ranjan Hettiarachchi and Dr Dharmakeerthi Sri Ranjan, Senior Lecturer Dr Tudor Weerasinghe and Heads of the Media Departments of Sri Palee Campus, as well as other distinguished guests, participated at this event.