Stepping into our own 'magical' world of nano
Sri Lanka Institute of Nanotechnology (SLINTEC) branches into academia, opening a new chapter in its field of research. Kumudini Hettiarachchi reports
View(s):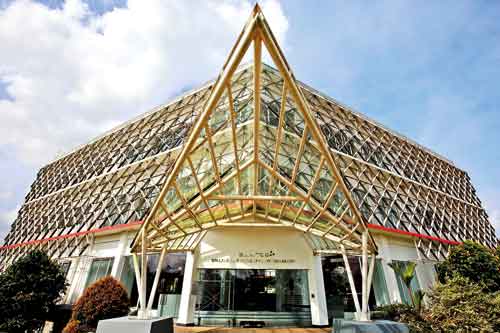 A top a small hill in Pitipana, Homagama, off the Thalagala Road set amidst a lush 50-acre block is a building, the sight of which stops the visitors in their tracks. It looks like a space station but a closer view makes it crystal clear that it is all to do with science and technology.
Taking the shape of a hexagon with atoms aplenty adorning it, we are on the doorstep of the Sri Lanka Institute of Nanotechnology (SLINTEC), just about to enter into a world of wonder right here in Sri Lanka. It nestles within the Nanotechnology & Science Park of the Techno City designated by the Megapolis Ministry.
Several are the groundbreaking patents in the agriculture and apparel sectors that have emanated from SLINTEC, a private company formed through a public-private partnership, said Chief Executive Officer Harin De Silva Wijeyeratne.
While SLINTEC is the first public-private research institute in the country, making significant progress, it has brought under its wing another vital aspect, academia, with the launch of the SLINTEC Academy in September last year.
"SLINTEC Academy has taken the initiative of introducing Master of Philosophy (MPhil) and Doctor of Philosophy (PhD) Degree Programmes in Nano and Advanced Technology to provide high-quality post-graduate education to those interested in this field," explains Vice Chancellor Prof. Veranja Karunaratne.
The academy's Chancellor is MAS Holdings Chairman Mahesh Amalean who is also SLINTEC's Chairman.

The need is obvious, with Sri Lanka estimated to be having only about 5,000 scientists currently but requiring at least 20,000 to increase high-tech exports which would be facilitated by more and more research and development activity, it is learnt. Research capacity building with highly-trained scientists in nano and advanced technologies should be a top priority as it is the need of the hour for Sri Lanka.
Pointing out that the vision of the SLINTEC Academy is education and discovery through research and innovation, Prof. Karunaratne stresses that true education must lead to discovery. After learning from books, one must discover new knowledge. (See box please)
A day's walkabout at SLINTEC provides us with an insight into the "unique" facilities available here and also the 'academic-industry amalgam' at work.
Last November, the success story of the Nanotechnology Laboratory that is SLINTEC was presented to the world by Science, Technology and Research Minister Susil Premajayantha under the theme 'Innovating Sri Lanka' when he met the United Nations Conference on Trade and Development (UNCTAD) Secretary-General Dr. Mukhisa Kituyi.
Placing SLINTEC, well and truly, as a pioneer and trendsetter in nanotechnology and advanced technology research, with the vision of 'Inventions – Beyond the Horizon', Minister Premajayantha has explained how this Nanotechnology Laboratory was initially capitalized by government funds, but where the private sector is successfully running its operations and that the country is planning to follow similar approaches for other technologies as well.
Before the mind-boggling tour, SLINTEC Academy Provost Prof. Nilwala Kottegoda goes back to 2005 when Minister Tissa Vitarana suggested through a Cabinet paper how Sri Lanka could benefit from the 5th Industrial Revolution that is Nanotechnology by setting up a National Nanotechnology Initiative (NNI).
However, it would need a lot of money and the government could not afford it. Then a Sri Lankan expatriate scientist, Prof. Ravi Silva, of the University of Surrey came on board and coaxed the private sector which would be the target industry of the NNI to throw in their dice with the government. A textile industry giant, MAS Holdings, did so along with four more major corporates – Brandix, another textile industry giant; Dialog which was interested in health monitoring and remote health care; Loadstar, one of the largest solid rubber tyre manufacturers; and Hayleys dealing in agrochemicals. Later joined Lankem.
By 2008, the Cabinet paper was approved and the first Public-Private Enterprise (PPE) in the country saw the light of day in a garage in 2009, with 50% investment from the government and 50% from the private sector.
Eight months later in August 2009, a well-equipped laboratory was constructed in Biyagama and the government picked a few scientists to work there. It was in 2013 that SLINTEC moved to its beautiful home in Pitipana and now many more drawings are on the table, with a second hexagon due to come up in 2019.
Prof. Kottegoda opens the 'magical' world of nanotechnology to us when she describes how the word nano indicates "very small". Nano with the symbol 'n' is a unit prefix meaning "one billionth" in the metric system for time and length. One nanometre is about the length that a fingernail grows in one second. Nanoscience and nanotechnology, meanwhile, are the study and application of extremely small things and can be used across all the other science fields, such as chemistry, biology, physics, materials science and engineering.
Numerous examples she provides us, the uninitiated. The diameter of a cross-section of a human hair is 80,000 nanometres. If you make something small enough between 1 and 100 nanometres, it is a magical range and its behaviour will be different from its bulk counterpart. Gold bangles, if broken into two are still gold but broken into 100 nanometres will change its colour to red-blue as in a rainbow.
Nature is full of nano technology, says Prof. Kottegoda. Nelum lives in the mud but is clean – the water droplets on its leaves glimmer like crystal. The self-cleaning surface does not allow the water or dust particles to be absorbed. This is the technology that is being used to produce self-cleaning textiles, with no dirt or sweat getting adhered to the material.
The gossamer wings of butterflies and the rainbow-coloured feathers of peacocks are nano-scale optic concepts, she says, urging us to look at the gecko, the humble huna, on the ceiling. "Why doesn't it fall off," she asks, explaining that the gecko grips the ceiling with its millions of nano-level tiny hairs on its feet, as it moves with ease. This is the basis for  Spider Man. The spider-web, meanwhile, is the strongest and most flexible nano material spray adhesive.
Thereafter, we get a close view of all the sophisticated instruments and techniques.
SLINTEC's achievements include filing for 15 patents, 13 in America and two in Sri Lanka, with the 'jewel' being three patents on nano-fertilizer being sold to Nagarjuna  Corporation Limited in India for US$1 million and generating the first royalty revenue (Rs. 7.8 million) stream from a successful research project with Textured Jersey, according to SLINTEC's Chief of Research & Innovation, Prof. Gehan Amaratunga who is  Professor of Electronics Engineering at Cambridge University in England and spends half the year at SLINTEC.
The other vital members of the SLINTEC team are Chief of Process & Engineering Systems Ananda Hettiarachchy and Science Team Leader Prof. K.M. Nalin de Silva.
SLINTEC, meanwhile, has also expanded its research portfolio to include synthetic organic chemistry to develop Advanced Pharmaceutical Ingredients (APIs) and nutraceuticals. A contract has also been signed with Laugfs Gas to build a pilot plant to check the feasibility of converting Ilmenite to Titanium Dioxide.
Another major move is the creation of an Endowment Fund through the concept of sponsoring a 'Brick for Science' at Rs. 1 million each.
Balancing lab knowledge with real world industries
The totally Sri Lankan venture that is the SLINTEC Academy, approved by the University Grants Commission, is SLINTEC's degree administration and knowledge dissemination arm. It is a private but not-for-profit degree awarding campus dedicated to creating world-class research graduates.The MPhil in Nano and Advanced Technology, open to graduates of all branches of Science, Engineering, Agriculture and Medicine, is a full-time two-year research programme. It is need-blind but financial assistance provided is need-based and applicants with exceptional merit are being offered full or partial scholarships. The MPhil holders can next move to a PhD Programme within the SLINTEC Academy itself; seek an opportunity in any best-ranked international university or work within the Sri Lankan industry, government agencies and organizations with a strong research culture.

"Nano and Advanced Technology is the way forward," says Prof. Veranja Karunaratne, explaining that through the understanding of its theory and application, students will carry out research in Smart Agriculture, Apparel, Water Purification, Healthcare and Mineral Resources, Innovative Rubber Products, Advanced Synthetic Organic Chemistry, Synthetic Biology, Energy Harvesting and Storage, Advanced Engineering Materials and Advanced Surface Coatings and Packaging.

Of the internal faculty of 30, 27 are PhDs from leading universities who prepare students to read, analyze and critically understand published scientific papers (accessed through 'Science Direct'), empowering them to learn the art of scientific writing and publish their research findings in high-impact journals.

"Here, with the academic-industry amalgam, students will learn how to balance scientific knowledge gathered in the lab with the research demands of real-world industries. How to manage scientific expectations of the industry and work with them to take the laboratory's 'proof of principles' to development, leading eventually to commercialization," he adds.