Appreciations
View(s):

A rare gentleman politician and close friend

Dr. Ranjit Atapattu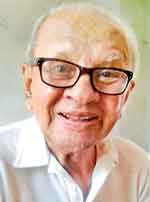 The news of Ranjit's sudden passing reached us and one had to accept it with immense sadness. My association with him spans over 75 years beginning from the time we both joined Royal Primary School at the tender age of five. Since then our friendship continued and grew stronger over the last many years. I deeply cherish a photograph of us, with Ranjit in the front row all bedecked in feathers and braids, as he played a major role in the play Hiawatha by H. W. Longfellow staged by the Royal Primary School. Seated by him are his close school friends Nihal Senaratne, Hema de Zoysa, Major General C.H. Fernando, Geevaka de Zoysa, Lalith Jayawardane and I.
This close bonding continued when all of us joined Royal College proper in 1945 under the able stewardship of  Principal  E. L. Bradby. Even today the so-called 45 Alumni Group meets regularly, but in sadly more and more depleted numbers. At Royal, Ranjit played rugger for the first fifteen and participated in the well known Bradby Match as scrum half against Trinity College. After Royal he entered Medical College and passed out as a doctor. Our paths went different ways after I entered the Law Faculty in Peradeniya, but still our bonding continued.
Ranjit Kaniska Parakrama Atapattu was born on April 29, 1933. He hailed from a very well known family in Tangalle with his father, Don Peter Atapattu, serving as a Member of Parliament from March 1960 to March 1970. Atapattu Snr. who lived in his traditional, ancestral stately home in Tangalle, served as Parliamentary Secretary to the then Minister of State, J. R. Jayewardene. With his father in active politics, it was no surprise that Ranjit had imbibed the art of politics from a very early age. Having passed out as a doctor,  he wasted no time working in Government Service but got back to his roots and set up practice in his ancestral home. Large crowds thronged his dispensary and I for one know that most of his patients from a less privileged background were treated absolutely free of charge. His reputation and popularity as 'apey dostara mahattaya' grew so much that after his father's demise, when he contested the Beliatta seat in July 1977 he was elected without difficulty.
Ranjit continued to serve in Parliament in the Second National State Assembly and in the First and Second Parliaments under the Republican Constitution until 1990 for a period of over 12 years. In the Second National State Assembly he was a non-cabinet minister but in September 1978 he was appointed as Minister of the Colombo Group of Hospitals. Four years later in May 1982 he was appointed as Minister of Health in the cabinet and seven years later appointed Minister of Labour and Social Welfare.
During the 70s and 80s this country was fortunate to have two very distinguished, committed and scrupulously honest Ministers of Health – Gamini Jayasuriya, Member for Homagama and soon after Ranjit Atapattu, Member for Beliatta. Both these politicians served with utmost dedication, integrity and honesty – a very rare phenomenon in these troubled days.
Cupid struck an arrow and soon Ranjit married Dreda de Silva who had her education in the UK and graduated with a BA degree. They were truly blessed with an only son, Druvi, who following his father footsteps passed out as a doctor and now works dedicatedly as a Director of Oasis Hospital. Druvi followed his father to Royal College where he became Head Prefect.
During the last one or two years, Ranjit was immensely worried and concerned about his dear wife's illness and Druvi and his wife, Himali, both doctors, persuaded Ranjit and Dreda to give up their Bagatelle Road apartment and live with them at their Buller's Road home. Ranjit was very happy with this arrangement knowing well that with two in-house doctors his wife was in the best hands.
I recall a few incidents regarding Ranjit's political life. Twenty years ago when he was Minister of Health he suffered a heart attack and was admitted to the Intensive Care Unit of the General Hospital. Prime Minister Premadasa who was very fond of Ranjit knew that Ranjit and I were close friends. He summoned me to his office and said he had made arrangement for a top cardiologist of Lankan descent from the US then visiting Sri Lanka, to see Ranjit. He wanted me to make the necessary arrangements. He also said that if necessary, he would help to ensure that Ranjit was flown to UK to receive treatment. This came to pass when Ranjit and Dreda flew to the UK.
Mr. Premadasa was so close to Ranjit that when the UNICEF Director James Grant offered Ranjith a posting in New York, he said he would normally not permit his Minister of Health to resign and accept an overseas assignment, but would agree in this instance because it was Ranjit. So Ranjit and Dreda went to New York for two or three years for Ranjit to work with UNICEF. This made it possible for Druvi to follow and complete his medical studies abroad with his father financing him.
During the last six months Ranjit was becoming rather frail and I was happy to have helped him to meet some old friends at a luncheon for parliamentarians and staff hosted by Speaker Karu Jayasuriya to which I too was invited. Ranjit, no longer being an MP, had not been asked. I told the Speaker this would be a good chance for Ranjit to meet old friends and Mr. Jayasuriya urged me to bring him along. Ranjit was overjoyed to meet and greet over 100 of his old friends on that occasion.
The other occasion was when I asked Ranjit if he would like to attend an oration in memory of my late brother, Prof. Nissanka Seneviratne, a former professor of physiology at the Colombo Medical Faculty, who had taught Ranjit as a second year medical student. My brother had always told me that he was a good student. Ranjit happily agreed and I took him to his old haunts in the Medical College and to a new Auditorium. He was delighted to meet so many of his old doctor friends and professor and lecturers in the physiology dept.
I have nostalgic and fond memories of our close friendship. I recall how at every Royal College old boys function, one could not stop Ranjit from getting on stage to sing the good old songs and bailas. He was indeed such a kindly honest person.  My heartfelt sympathies to Dreda, Druvi, Himali and their two lovely grand children. Ranjit adored his grandchildren, 12-year-old twins, a Royalist and a Visakhian, who made him immensely happy.
May he attain the supreme bliss of Nibbana.
 Nihal Seneviratne
---
She leaves behind a legacy made up of all facets of her life
Rowena Ahlip
A shining light has gone out of the Malay Community in Sri Lanka with the passing away of the doyen of the Padang Triumvirate  (the Colombo Malay Cricket Club, the Sri Lanka Malay Association and the Sri Lanka Malay Association Rupee Fund), aunty Rowena Ahlip in September 2017, just two months short of her 101st birthday.
It was only in November last year that she turned a glorious hundred years, when past and present spread across the globe, from Down Under to Up Yonder, counting four generations, gathered at her Mount Lavinia residence to celebrate the life of this remarkable lady and rejoice in her hundredth birthday.
While not wanting to mourn her death, let us rejoice in Aunty Rowena's life. In doing so, I wish to go back in time and provide some insight for people who may not remember that there was a world before the advent of  facebook, world wide web and the internet.
The eldest progeny of that great Malay statesman and cabinet minister in then Ceylon's first post independence government, the late Dr. T.B. Jayah, I have known Aunty Rowena for well over 50 years, which is more than two thirds of my lifetime. In 1972, as Assistant General Secretary of the Colombo Malay Cricket Club, which is the oldest Ceylonese cricket club, it was my privilege to have been in the committee organising its centenary celebrations and the Golden Jubilee of the Sri Lanka Malay Association alongside many stalwarts of the Club including Aunty Rowena.
Playing a pivotal role, I greatly benefitted in enhancing my organisational skills, thanks to aunty Rowena's counsel. Whatever she embarked on, she did it with great finesse and it was indeed a pleasure to have her on board the continuing committee.
For everyone who has known Aunty Rowena, especially her dear children, she was a loving matriarch devoted to family and friends. For her six children and their spouses, nine grandchildren and eleven great-grandchildren, she was not only a repository of memories from every family and holiday occasion or party —  but someone who was always vibrant. To her children who grew up in her warm and loving home, she was more than a mother – she was an inspiration.
She leaves behind a legacy made up of all facets of her life. To my mind, a portrayal of her time in this world is that she chose to LIVE until death without spending the time dying until death occurred.
May her journey through the gardens of Jennah be devoid of all obstacles and in the fullness of time may Allah SWT grant her the bliss of Jennathul Firdouse.                                                    Branu Rahim
---
An amazing mentor, teacher and friend to all of us
C.G. Weeramantry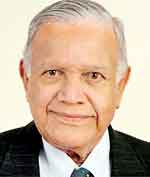 I first met Judge C.G. Weeramantry, or Judge (as we called him) in December 2007, when by luck, I received the opportunity to intern at the Weeramantry International Centre for Peace Education and Research (WICPER). I had read and heard many stories about the great Judge Weeramantry and his contribution to the legal world, and was truly intimidated prior to meeting him. To my surprise, I was introduced to a humble and kind gentleman, who would always have a beautiful smile on his face. It was hard to imagine that this gentleman was the former Vice President of the International Court of Justice (ICJ).
Subsequently, I had the privilege to work for his organisation for about four years, and got to know this wonderful human being quite intimately. Judge's greatest strength and driving force was his wife, Rosemary (Madam). A strong willed lady with a jovial spirit, Madam ran the "show", enabling Judge to focus on his legal writings. Judge was also blessed with five wonderful children, and eleven grand-kids, all of whom treated us like we were part of the family.
Judge was a wealth of knowledge on various topics such as history, religion, law and the environment; he was gracious enough to impart this knowledge to professionals and students alike. His constant message to the world was that we should utilise our resources sparingly, protect the environment and fulfil our duties and responsibilities towards future generations.
Judge was a rare human being; generous and nurturing in spirit, with a heart full of love for all humanity. He was an amazing mentor, teacher and friend to all of us.  The gift of legal teachings he presented to the world and his work towards the abolishment of nuclear weapons will inspire generations to come.
Dearest Judge, thank you for all you did for each and every one of us. It is one of the greatest honours of my life to have known a gentleman such as you.
Heaven is blessed and richer now, with your presence. May you be blessed always!
Janani Wijetunge Palihakkara
---