Shuttlers may not be there at Gold Coast Games
By S.R. Pathiravithana
Commonwealth Games
View(s):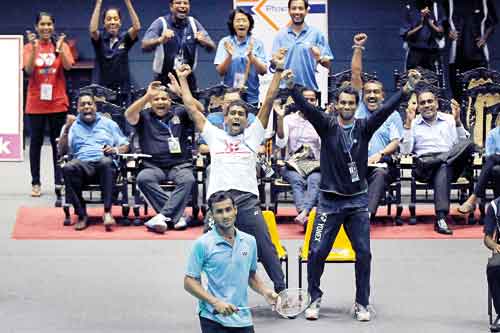 This may the first casualty in the 2018 Commonwealth Games which is scheduled to be held in April next year.
According to National Olympic Committee Secretary General Maxwell de Silva, Commonwealth authorities are discussing whether to allow Sri Lanka's badminton team to participate at the 2018 event in view of an international ban on the local body.
The ban was imposed after the local sports authorities appointed an interim committee in violation of the world body's rules.
De Silva told the Sunday Times, "Sri Lanka's Badminton Federation was suspended by the Badminton World Federation in mid October for violating international rules and regulations and they had ample time to rectify and resolve the impasse, but, upto now they have not done anything about it.
"Now the Commonwealth authorities are ascertaining if SLBA should be struck off the list and they have been given time till December 31 to rectify the matter". However it is learned that is very unlikely that the present impasse could be untangled before the stipulated date.
On October 24, BWF Secretary General Thomas Lund in a letter to the Lankan Badminton Interim Committee Chairman Nishantha Jayasingha informed the SLBA that under clause 13.5 of the BWF constitution, they had been suspended.
The World Badminton body at that point had determined that the SLBA was not in a position to govern the sport in an independent and autonomous manner under clauses 5.2 and 5.3 of the BWF constitution.
According to clause 13.10 of the WBF constitution, a suspended member of the BWF shall be deprived of all rights of membership. At present, NOCSL is in a quandary as already there are two Badminton Officials working with the matters pertaining to the 2018 Commonwealth Games.
The Games which would be held at the Gold Coast will be held from April 5 to 21, 2018. Sri Lanka will take part in Athletics, Badminton (pending), Swimming, Diving, Boxing, Cycling, Beach Volleyball, Gymnastics, Wrestling, Weightlifting, Table Tennis, Rugby, Shooting Squash and Para-sports.
Meanwhile it is learned that Sports Minister Dayasiri Jayasekera himself has taken up the task to talk to the WBF authorities in Malaysia to resolve the Badminton ban imposed by the authorities so that their passage to the Gold Coast games is assured.