FFSL hit by acute referee shortage
By Naushad Amit
Over ten matches called off yesterday
View(s):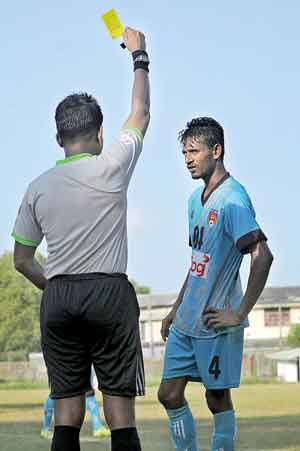 The scheduled matches for the weekend of the Dialog Champions League and FFSL Premier Division I Championship have been forced to be postponed due to the 'shortage' of referees the Sunday Times learns. As much as nine Dialog Champions League games and three Division I Championship matches have been affected by the so-called 'shortage' of referees, which most club officials claim was a 'self-inflicted' by the organisers, the Football Federation of Sri Lanka (FFSL).
According to a number of officials of the teams competing in the ongoing Dialog Champions, the last minute news was a surprise for them as they were fully prepared for their respective matches slotted to be played yesterday and today.
"We really are unaware of the real background of the situation. But we came to know that the referees have been not paid by the FFSL, which is beyond our control. As football clubs with responsible and willingness, we are abide by the FFSL rules and regulations to attend and play the games. But we have been told that the games will not proceed this weekend," a concerned club official, who wished not to be named, stated.
When the Sunday Times inquired on the sudden development from the FFSL hierarchy, its President, Anura de Silva confirmed that there is a 'shortage' of referees. But it is understood that is not the actual reason behind the development.
By mid day yesterday nine Dialog Champions League matches — Matara SC vs Crystal Palace at Matara, Super Sun vs Renown at Kalutara, Colombo FC vs Air Force SC at Longdon Place, Navy vs New Youngs at Welisara, Solid SC vs Army at Anuradhapura, Blue Star vs Negombo Youth at Kalutara, Java Lane vs Saunders at City League, Pelicans vs Upcountry Lions at Kurunegala and Moragasmulla SC vs Police at Rajagiriya and three Premier Division I matches of Comrade SC vs Geli Oya SC at Badulla, Old Bens vs Thihariya Youth SC and Ratnam SC vs Serendib SC at Kelaniya were scheduled to be played. The FFSL Media Unit had sent in email notifications of official postponements of certain matches with the reason 'due to unavoidable circumstances'.
"There is a shortage of referees and because of that we had to postpone all the matches scheduled for this weekend. This decision was made mainly to balance the points table, which will probably be unbalanced if we had to forego a certain number of matches," de Silva stated.
However certain parties claim that the football referees have been not duly paid for their services even after the two ongoing competitions have reached the halfway mark. But de Silva confirmed that such a problem does not exist and the reason behind the postponement of this week's matches was mainly due to a 'shortage' of referees.