Unrealistic projects in the rubber sector
By Dr. C.S. Weeraratna
View(s):
Mr. Padman Lindamulage (PL) in his article on "Complexities in the Rubber Farming Sector" in the Business Times of October 22 has highlighted how extension services in the rubber sector were brought under the Rubber Development Department(RDD) from the Advisory Service Dept(ASD) which was under Rubber Research Board. PL has also made several recommendations to improve the rubber sector which I hope will draw the attention of those concerned. As I indicated in my piece published in the Business Times of June 25 the extension staff which played an important role in the development of the rubber sector in the 1980s has dwindled to 20 at present from 150 in the 1980s. This is likely to be a factor responsible for the decrease in rubber production to 79 million kg in 2016 from 152 million kg in 2010.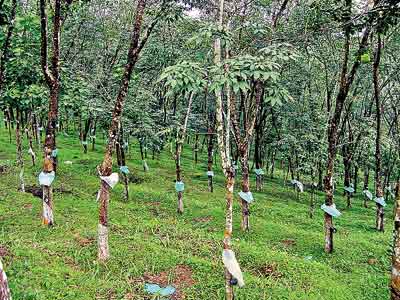 The recently established Sri Lanka Rubber Secretariat of the Ministry of Plantation Industries came out with the Sri Lanka Rubber Industry Master Plan 2017 – 2026, A National Agenda for Rubber Industry Development of Sri Lanka. According to this plan, the rubber sector is constrained by a shortage of workers including rubber tappers and shortage of land, mainly in the wet zone districts such as Kalutara, Kegalle and Ratnapura where rubber is cultivated, due to diversification of crops, urbanization, etc. With these limiting factors, the Ministry of Plantation Industries has come out with the rubber sector master plan which has 24 projects, with many objectives. Two basic objectives of these are:
1. Increase the area under rubber to 169,000 hectares by 2025:
The present extent under rubber is around 130,000 ha and as indicated above during the last 10 years it has not increased substantially. There is a demand for land for housing, factories, etc in the wet zone where at present most of the rubber is cultivated successfully. Also, to increase the area under rubber a large number of budded stumps will be required. There are six rubber nurseries under the Rubber Development Dept and the output of these nurseries has decreased during the last few years due to many factors. Bud wood nurseries in the appropriate locations will be necessary to produce quality budded stumps. The extension service has a vital role to play in motivating farmers to cultivate rubber. As indicated in my earlier article, in the 1980s there were nearly 150 rubber extension officers, working for the Rubber Research Board (RRB) to assist the RSH in the eight districts to grow, process and market rubber. However, at present there are only around 20 RRB extension staff and as a result the rubber extension programme appears to be very weak. According to Central Bank reports the total extent under rubber does not show any substantial increase during 2010-2016, and has fluctuated around 130,000 ha during this period indicating that there is a dearth of new investments in the rubber sector. When all these factors are considered the objective of increasing the area under rubber to 169,000 hectares by 2025 is unrealistic and unlikely to be achieved. Increasenational rubber plantation yield to 1,700 kg per ha year by 2045: This objective is to be achieved in another 27 years. The average per ha yield of rubber has continued to decrease from 1566 kg/ha in 2011 to 819 kg/ha in 2015. In such a scenario the objective of increasing the average yield to 1,700 kg/ha is unrealistic and unlikely to be achieved.
According to the Rubber Secretariat, all 24 projects to be implemented under the first Master Plan would require investments of approximately US$500 million (Rs. 75 billion). One wonders whether spending so much on unrealistic, unachievable projects can be justified.
What should be done
1. There are rubber lands in which the annual production is very low. A survey needs to be done to identify these unproductive rubber lands, which need to be diversified. Such lands may be put under pasture and have cattle. This will reduce our expenditure on milk imports, and also degradation of the lands will be reduced resulting in less silting of the reservoirs and reduce incidence of floods. There are many other crops such as spices and energy yielding crops such as glyricidia and fruit crops which could be cultivated on the unproductive rubber lands. These crops would give better returns to the cultivators. An indepth study needs to be carried out to determine appropriate land use in the unproductive holdings/estates giving due consideration to factors such as climate, topography, availability of labour, etc.
2. Those rubber lands which are not going to be diversified need to be managed better. In this regard, infilling, cultivation of better rubber clones and their effective management including better fertiliser and pest management practices, , increased rate of replanting, reducing soil degradation and conservation practices are essential.
3. Around 65 per cent of the rubber holdings belong to the small holder sector. There are nearly 100,000 rubber smallholders (RSH) who need to be provided with technical know-how of the activities involved from land preparation to processing, so that the rubber production is increased qualitatively and quantitatively. In this regard the extension activities are important. As suggested by PL it is essential that a better extension service by a trained staff is provided to the RSH.
Carrying out these activities will not cost $500 million and it may not be necessary wait another 27 years to make our rubber sector more viable.
(The writer is a former Director, Advisory Service Dept of Rubber Research Board. He could be reached at csweera@sltnet.lk)