Carepoint car service diversifies to 'Spice and Curry'
By Bandula Sirimanna
View(s):
Sri Lanka's car servicing business is growing faster to meet the increasing demand from the large car population numbering over 6.8 million in the country.
To meet this demand in a small way, a young entrepreneur of Ratnapura, Manju Liyanarachchi with passion for cooking has launched Carepoint car servicing centres, providing cost effective yet high quality services in Colombo suburban areas.
Within eight years, he has established seven car servicing centres in Ja-Ela, Negombo, Talawatugoda –Pitakotte, Nugegoda, Pannipitiya, Maharagama, Wattala, Ethul Kotte, and Balummahara-Gampaha.
"We are committed to providing the highest quality in car detailing, car wash, lube and other car care related products and services that help maintain our customers' vehicles in best order and retain the values and the condition of the vehicle for longer," Manju Liynaarachchi, Head of Carepoint Pvt Ltd told the Business Times.
It employs a trained and professional team to offer a complete range of services for all types of vehicles, from a basic exterior wash to high-tech service offerings.
Renowned for expert knowledge, state-of-the-art technology and uncompromising service standards, Carepoint has become popular as a trusted brand among local motorists, he said.
After the success of his business, he thought of offering a food service with something different not only for his Carepoint customers but also for residents living in close proximity to his auto servicing centres, he pointed out.
At this point of his business career, his passion for cooking since childhood has motivated him to open a 'Spice and Curry' local traditional food restaurant in the heart of Nugegoda recently.
He said that owning his own restaurant has been a dream "ever since he was a child", as he used to practice cooking following his mother's traditional ways of cooking using indigenous ingredients.
In his youth, he received inspiration by cooking rice and curry for his family members and friends. This was the beginning of his formal cooking at his newly opened restaurant with the able support of his wife, he disclosed.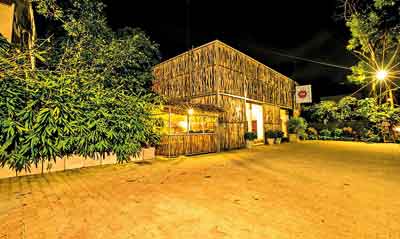 Sri Lankan curries also feature main ingredients and local spices in dishes like cashew curry, and jack fruit curry, brinjal pickle, beetroot Curry, gotu kola, sambol etc. The secret to his food taste, Manju said, is their signature curry powder. In addition to curry leaves, the spice mixture includes coriander, cumin, cinnamon, cardamom and lemon grass; he said adding that when he has free time he joins his wife and other chefs at the restaurant in cooking food.
He said, "Lifestyles of the people are steadily changing. So are their food habits and values". "The present trend is the variety of food items and taste and people are fed up with the same kind of taste they have experienced day in and day out at home and even in restaurants outside."
"Spice and Curry will cater to them and each of our visitors is experiencing a new beginning to their food consumption patterns," he said adding that "they are confident that the new restaurant will fulfill their taste buds to the highest degree."