Schools cricket steering concept ready for delivery
By S.R. Pathiravithana
View(s):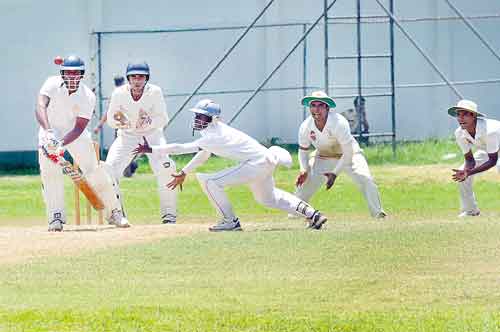 The much-talked-about schools junior cricket project is scheduled to get underway from the next season. According Colonel Manjula Kariyawasam of the Ministry of Education they are hoping to launch this programme within the next few weeks.
This is concept that was mooted by Education Minister Akila Viraj Kariyawasam with the intention of taking the Lankan school cricket arena come in line with national and international developments.
Lankan school cricket which at one juncture was hailed as one of the best in the world recently have failed to impress especially in the under 19 age category.
The Sunday Times, meanwhile, understands that the three-year project under the guidance of Schools' Cricket Governance Structure will run from 2018 to 2020, with its objective being developing and guiding the junior cricket structure and Sri Lanka Cricket develop its own junior schools' provincial structure.
The programme headed by a consultant will be assisted by a project manager. At the same time, there would be an advisory committee that would include top cricket personalities such as Sidath Wettimuny, Muttiah Muralitharan, Mahela Jayawardena and Roshan Mahanama. In addition, the Chairman of Selectors of Sri Lanka Schools Cricket Associaition (SLSCA) and an SLSCA vice president would sit in the committee.
The schools module of the Ministry of Education will have a steering committee to develop and nurture the structure while the SLSCA will be entrusted to conduct the school cricket season according to the given structure.
Firstly, the under 13 tournament will not be a competitive tournament, but, the steering committee will include rules and conditions that would sustain the edge of the competition. Only the under 15 and under 17 tournaments will be competitive.
Seven Provincial Centres would be developed, leading to the setting up of around seven High Performance Centres to produce physios, masseurs and trainers, besides the coaches.
At the same time, the Sunday Times learns that finances for this project would be obtained from the national budget in November. The ministry would ulitise part of the allocation to obtain duty free cricket equipment for junior cricket segment.
It is learned that the steering committee is also hoping to moot an incentive scheme for the principals and coaches of schools which produce national caps. Sometimes, there would also be a scheme to recognise the talent who come up with national recognition.
An insider of the programme told the Sunday Times, "The ultimate beneficiary of this programme would be Sri Lanka Cricket. With this programme, we are formulating the real provincial concept – from the under thirteen level. Once that is developed and put in to the same frame of the SLC's High Performance module, it would be ground breaking".