Navy impress at National Sailing championship
View(s):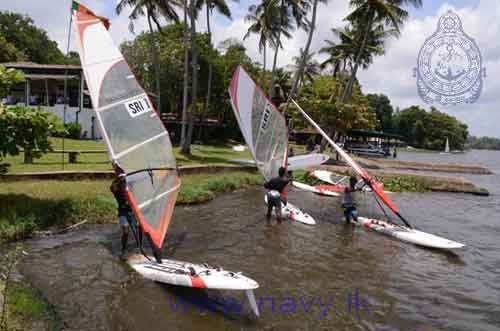 Proving their prowess in sailing, the Navy sports personnel were able to secure an impressive tally of victories at the National Sailing Championship 2017, which was worked off at the Bolgoda Lake.
The Navy, fielding a strong contingent of competitors, were able to clinch all top places by winning the first, second as well as the third places in the GP 14, Enterprise, and Laser Standard categories. They also won the first, second and fourth places in the Laser Radial category as well as the second and the third places in the Windsurfing event, putting on display their versatility in aquatic sports. SLN women competitors also proved impressive in taking on their opponents and cruised to clinch the top two places, thus augmenting the Navy's victory.
The event, organised by the Yachting Association of Sri Lanka to coincide with the Golden Jubilee of the Ministry of Sports, saw the participation of 85 competitors and 71 sailing boats representing all leading sailings clubs in the island.
SAILING NATIONALS 2017
The Yachting Association of Sri Lanka, the National Sports body for Sailing Sport in Sri Lanka organised the SAILING NATIONALS 2017 in conjunction with the Golden Jubilee of the ministry of sports at Ceylon Motor Yacht Club, Bolgoda Lake.
Final Results
Optimist Class (Under 15 years of Age)
1st – Jehan De Silva (S. Thomas')
2nd – Zai Pestonjee ( S. Thomas')
3rd – Sahanya Wevita ( Royal)
 Laser 4.7 Class (Under 19 years of age)
1st – Kethaka Weerasuriya (S. Thomas')
2nd – Nisal Walpola (Royal)
3rd – Mayuka Siriwardene (Royal)
1st – JMPL Jayasuriya (Navy)
2nd – PDDS Rajapaksa ( Navy)
3rd – Radheeka Jirasinha ( Royal                                              Colombo Yacht Club)
1st – KGCUS Bandara (Navy)
2nd – UD Rajapaksa (Navy)
3rd – KVN Dimal (Navy)
1st – WAR Nishantha & MG                                     Gnanawardene (Navy)
2nd – WMC Marambe & Soyza (Navy)
3rd – Dissanayake & Ratnayake (Navy)
1st – KCDe Soyza & TDS Perera (Navy)
2nd – Appuhamy & Senaratne (Navy)
3rd – WPUS Kumara & Attanayake                           (Navy)
1st – Chameera Gunawardene( Bentota                     Windsurf Club)
2nd – Priyantha Gunawardene  (Navy)
3rd – Yohan Gunasekara  (Navy)