Unprecedented crop failures, extreme weather destroy rice harvest
View(s):

In an unprecedented turn of events, the rice harvest has failed for three consecutive seasons, creating a need for rice imports once more.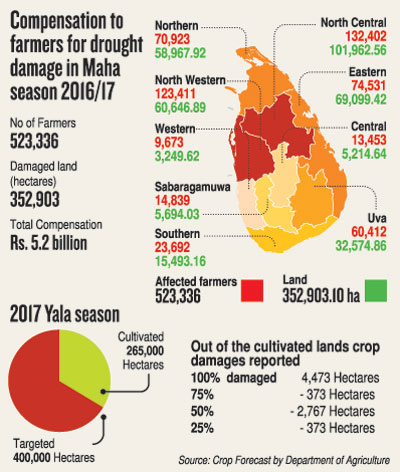 From the Yala season of 2016 up to this year, the harvest has failed and rice production has hit a 10-year low.
The government plans to import more than 500,000 metric tonnes of rice within the next few months. A metric tonne is 2,204.6 pounds.
Since May his year, private importers have brought in more than 400,000 MT of rice.
The crop forecast report of the Department of Agriculture, reveals that the rice production in Maha 2016/17 and Yala 2017 would be enough for just 7.72 months.
The cultivation of rice has also suffered from various factors including drought and floods.
According to the Agriculture and Agrarian Insurance Board, 14% of the total land area is cultivated with paddy, which is about 964,268 hectares.
Duminda Priyadarshana, head of marketing, food policy and the agri-business division of the Hector Kobbekaduwa Agrarian Research and Training Institute, said due to the massive destruction caused by flooding during the 2016 Yala season, and in 2016/2017 Maha season, and by the drought during this year's Yala season, rice production declined.
He said for the first time in history, three consecutive seasons, the 2016 Yala, 2016/2017 Maha and 2017 Yala have failed.
"Nearly 150,000 Hectares were devastated by floods and torrential rains during the 2016 Yala season, while during the 2016/2017 Maha only half of the paddy lands were cultivated because the rainfall was not sufficient,'' he said.
According to data from the AAIB Agriculture and Agrarian Insurance Board, in the last Maha season, 137,950.42 hectares of paddy lands were not cultivated and the crop failed in another 179,796 hectares. Also, 35,157 hectares were cultivated with alternative crops due to the severe drought.
Although the target was to cultivate 400,020 hectares of paddy land, in the last Yala season only around 263,307 hectares were grown. However, out of that, crop damage was reported in a significant land area.
According to the crop forecast report by the Department of Agriculture, there was total damage in 4,473 hectares of cultivated paddy lands. In 373 hectares there was 75% damage. In 2,767 hectares, half of the crop was damaged. In 785 hectares, the crop damage was 25%, Mr Priyadarshana said.
In the last Yala season, there was reasonable cultivation in Polonnaruwa and Batticaloa, while in Anurdhapura and Ampara, the two major paddy cultivating districts, only 28% and 67% were cultivated respectively, due to the shortage of water.
Mr Priyadarshana said the Yala harvest will not be enough for the next few months and the harvest from the next Maha will only come to the market in February next year.
"But the millers may be selling their stocks at comparatively higher prices as they did not have enough stocks to sell for three seasons," he said.
Meanwhile, the AAIB chairman, Sydney Gajanayake, claimed the largest amount of compensation in the history of the board was paid in the last Maha season, to farmers badly affected by the drought. He said more than Rs 5.2 billion was paid to 523,336 farmers covering more than 352,903 hectares in nine provinces.
The largest amount was paid to 113,225 farmers in the Anuradhapura District amounting to more than Rs 1.132 billion, followed by Kurunegala District, where Rs 1.045 billion was paid to 104,594 farmers.
Mohammed Rizwan Hameem, chairman of the Co-operative Wholesale Establishment, the only government institution importing rice, said, in addition to the first stock of 10,000 MT of white nadu imported from India, another 70,000 MT of white nadu will also be imported this month. In the next few months, 100,000 MT of rice will be imported every month from India, Pakistan, and Myanmar. Mr Hameem noted that by December 31, 500,000 MT of rice would have been imported.
"About 200,000 MT of white nadu and 100,000 MT each of samba, white raw and broken rice will be imported," he said.
Meanwhile, the All-Island Farmers Federation, national organiser, Namal Karunaratne, charged that incompetent agricultural policies had resulted in the decline in rice production. He said government policies discouraged local farmers.
He said that the rice mafia is mainly controlled by politicians.
Mr Karunaratne also fears a severe a shortage of seed paddy, which will adversely affect the next Maha season, as the government lacked a mechanism to buy stocks from farmers.
"The quality of rice imported from other countries is also lower compared with local varieties so they are inexpensive,'' he said. He added that sometimes vendors mix local and imported rice varieties to make a quick buck.